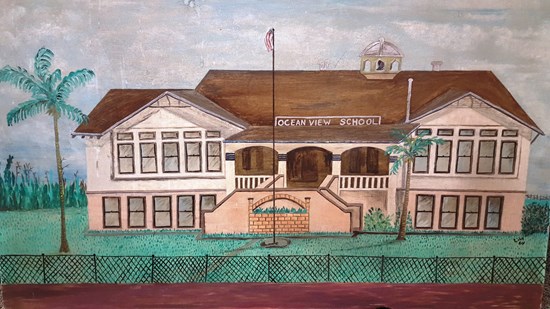 Advocating for lower class sizes and focusing on increasing student achievement while navigating the new Common Core standards are some of my primary goals for the next four years.
Expanding renowned GATE programs to more schools in OVSD and advocating for more innovative magnet school programs like the newly opened STEAM program at Lake View are top priorities for me.
Ocean View School District is on the right track, with stable and experienced administrative leadership in the superintendent's office along with highly competent teachers and staff dedicated to students.
With our vision and plan for repairs and upgrades to school facilities, OVSD will be the premiere educational destination in Southern California providing upgraded and modern facilities along with first class learning opportunities.
As your school board president for three terms, I have built a team that makes partnerships, not politics, a priority. School improvement in the Ocean View School District is an ongoing process. Parents and teachers now have a seat at the table where quality education decisions are made. Our schools are on the right track, and I will continue to work diligently so that we can do even better. Despite our challenges, our students are involved caring citizens and academically motivated learners.
Measurable results include: improving student achievement, providing challenging academics, decreasing class sizes, and increasing the number of art, music, and after-school programs. We have also improved technology and are committed to providing safe and healthy learning environments for all students.
During my twenty-year career as a math and science teacher, I have learned the importance of actively listening and collaborating with parents, teachers, and staff to increase efficiency, resolve issues, and empower the people who work with our students. Students in the Ocean View School District are my top priority. I am proud to have been endorsed by hundreds of teachers, parents, and community members. I am proud to have been re-elected to serve the Ocean View School District Community for another term. Thank you for your support, we are Ocean View Strong!
News
Friday, November 17, 2017 8:24 PM
Oak View Students, Families and Staff to Benefit from Funding Provided by Barona Grant!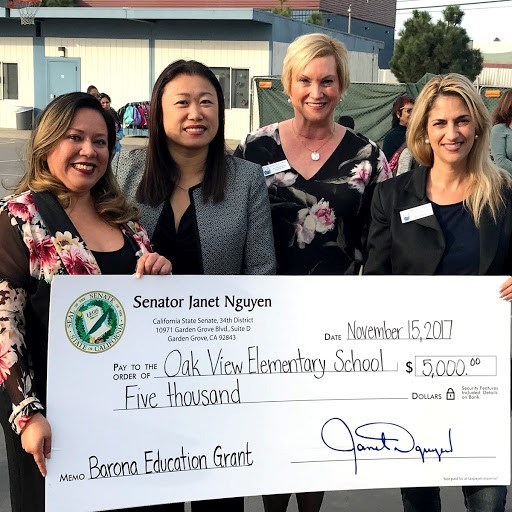 Huntington Beach, CA-Oak View Elementary School recently became the recipient of a $5K technology-focused Barona Grant, which will benefit the students and staff at Oak View Elementary School and the Oak View community through the Family Resource Center (FRC). The grant was announced and a large $5K check presented by California State Senator Janet Nguyen to Principal Dr. Rosa Guerra in front of more than 800 students during the morning's Patriotic Assembly. The Barona Grant provides for the purchase of nine Chromebooks for Oak View Elementary students, as well as several more Chromebooks and desktops for Oak View families to use at the FRC. We are pleased to have the opportunity to partner with the Family Resource Center and provide new technology tools for our Oak View students. The laptops provided by this grant will benefit an entire community. We greatly appreciate the hard work of State Senator Janet Nguyen and the generosity of the Barona Band of Mission Indians. Thank you to Senator Nguyen from the OVSD Board of Trustees.
---
Friday, November 17, 2017 6:23 PM
OVSD News-Felix Avila named ACSA 2018 Negotiator of the Year!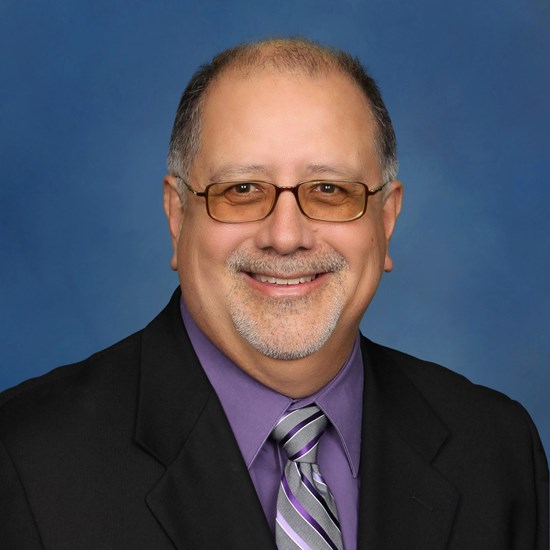 Sacramento, CA-OVSD Assistant Superintendent for Human Resources, Felix Avila, has been named the Association of California School Administrator's 2018 Negotiator of the Year! The announcement was made today by ACSA. Mr. Avila is being honored for his outstanding contributions in the areas of labor relations and negotiations as our District's Chief Negotiator with the Ocean View Teachers Association and CSEA Chapter 375. ACSA will honor Mr. Avila as "2018 Negotiator of the Year" at a special awards ceremony during ACSA's Negotiators' Symposium in San Diego on January 17, 2018. He will be presenting at the Symposium in partnership with Mr. Leipper on the topic of, "Improving Labor Relations and Negotiations through Collaboration and Partnership." This will be a special day for Mr. Avila and the entire school district. Congratulations from the OVSD Board of Trustees.
---
Tuesday, November 14, 2017 11:00 PM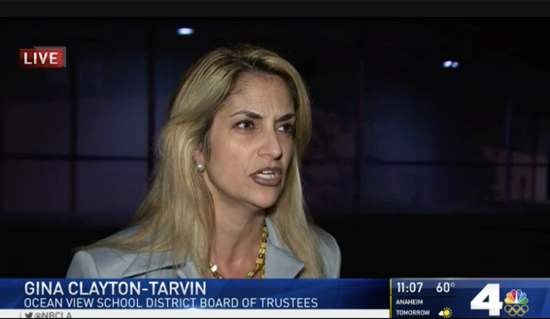 Huntington Beach, CA- Critical Safety Information from OVSD. Gina Clayton-Tarvin spoke with KNBC4 about the need for parents and guardians, to speak with their children about the importance of being vigilant in awareness when walking to and from school. There is a predator in the community who attacked a 7th grade Spring View student and assaulted her, touching her in an inappropriate manner. We encourage parents and others to share with your child the importance of walking home in pairs or groups, safe school routes, being aware of your surroundings at all times, and avoiding cell phone distractions while walking. Please take a moment to watch this report and share. If you have any information to report regarding this incident, please call the Huntington Beach Police Department Crime Tip Line at 714-375-5066. Description of assailant: White Male, 25 yrs of age, 5'7" – 5'8" tall, 150 Lbs., brown wavy hair, scruffy facial hair, and driving a small black car with tinted windows with dark rims.
---
Saturday, November 11, 2017 12:10 PM
Measure R Community Meeting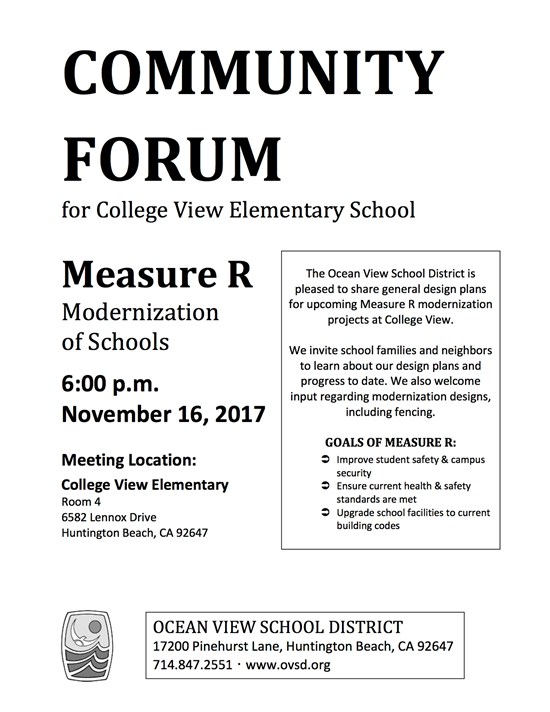 Measure R Community Outreach Meeting – November 16th at College View. As the superintendent and staff shared during the Special Board Meeting, the School District has developed a communication plan for each phase of the modernization. The first meeting is next week at College View on Thursday, November 16th, 6:00 p.m. in Room 4.
---
Thursday, November 9, 2017 11:52 PM
OVSD News-Veterans Day Observed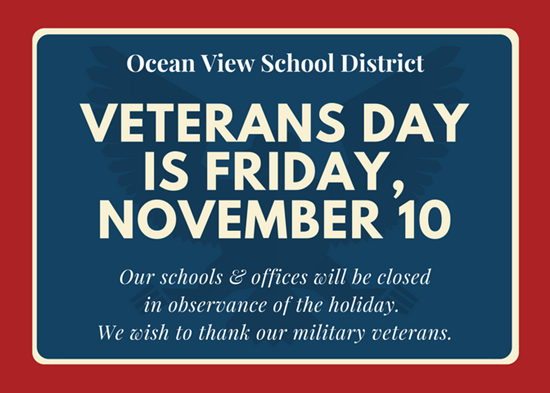 Friday, November 10, 2017 will be observed for Veterans Day. Please take a moment to pause and think about the many veterans who have honorably served our country.
OVSD thanks all who have either served or have family members who are currently serving in our armed forces. All district schools and offices will be closed in observance.