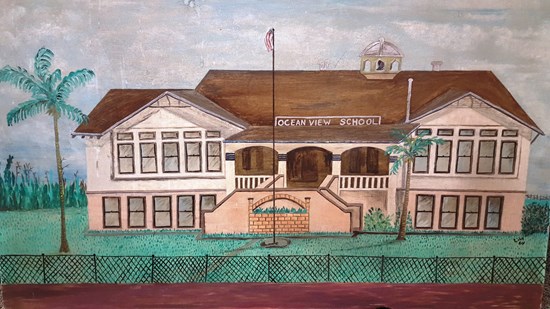 Advocating for lower class sizes and focusing on increasing student achievement while navigating the new Common Core standards are some of my primary goals for the next four years.
Expanding renowned GATE programs to more schools in OVSD and advocating for more innovative magnet school programs like the newly opened STEAM program at Lake View are top priorities for me.
Ocean View School District is on the right track, with stable and experienced administrative leadership in the superintendent's office along with highly competent teachers and staff dedicated to students.
With our vision and plan for repairs and upgrades to school facilities, OVSD will be the premiere educational destination in Southern California providing upgraded and modern facilities along with first class learning opportunities.
As the board president for the past three terms, I built a team that made partnerships, not politics, a priority. School improvement in the Ocean View School District is an ongoing process. Parents and teachers now have a seat at the table where quality education decisions are made. Our schools are on the right track, and I will continue to work diligently so that we can do even better. Despite our challenges, our students are involved caring citizens and academically motivated learners.
Measurable results include: improving student achievement, providing challenging academics, decreasing class sizes, and increasing the number of art, music, and after-school programs. We have also improved technology and are committed to providing safe and healthy learning environments for all students.
During my twenty-one year career as a math and science teacher, I have learned the importance of actively listening and collaborating with parents, teachers, and staff to increase efficiency, resolve issues, and empower the people who work with our students. Students in the Ocean View School District are my top priority. I am proud to have been endorsed by hundreds of teachers, parents, and community members. I am proud to have been re-elected to serve the Ocean View School District Community for another term. Thank you for your support, we are Ocean View Strong!
News
Friday, January 12, 2018 5:29 PM
Measure R Update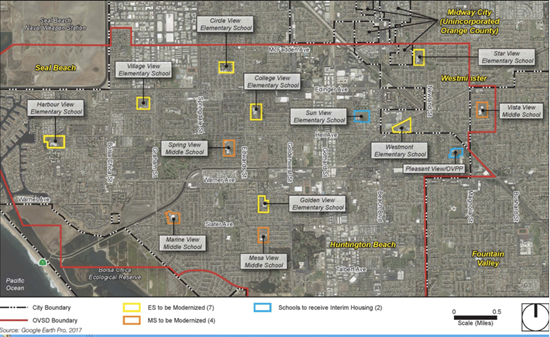 Huntington Beach, CA-OVSD Measure R bond funds will modernize 11 campuses including 7 elementary and 4 middle schools. Student safety improvements including camera systems, security fencing, emergency systems, fire-life-safety, etc. will be included in the modernization plans. Plumbing, electrical, HVAC, and other infrastructure projects are set to begin as well. Educational technology, playground equipment, play areas will be upgraded. During modernization, OVSD will provide Interim Housing at the Sun View and Pleasant View Schools. Installation of temporary prefabricated buildings, at these two sites, to house students from campuses undergoing modernization will occur. The School District will be developing sequencing plans for next phases of school modernization projects. Lastly, phase one will begin with College View and Westmont Schools in fall 2018.




---
Wednesday, January 10, 2018 2:54 PM
OVSD News-Check Us Out!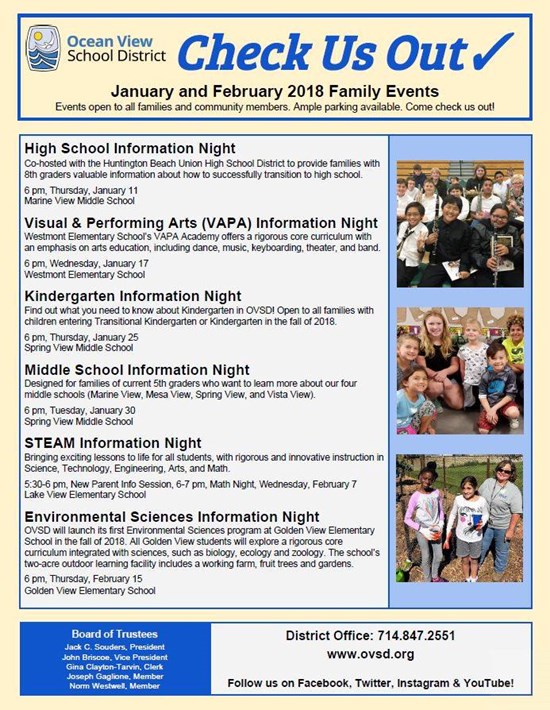 Huntington Beach, CA-OVSD is hosting a variety of family information nights throughout January and February about kindergarten, transitioning to middle school and high school, and our innovative programs, including a new Environmental Sciences program! You're invited to our informational nights to learn more about what is going on in OVSD. Please share these dates with your friends, co-workers and neighbors. We hope to see you at one or more of these events!
---
Tuesday, January 9, 2018 2:19 PM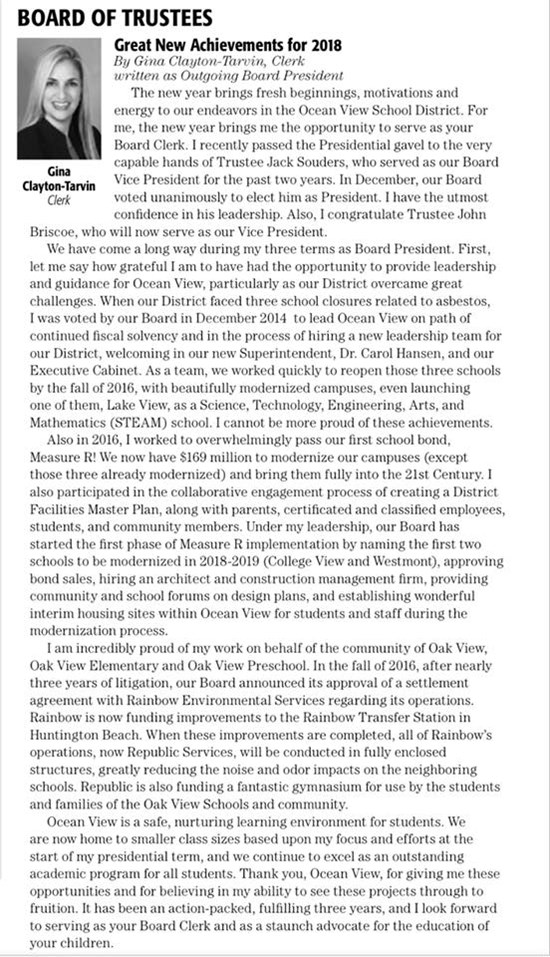 Huntington Beach, CA- A message from Gina Clayton-Tarvin:
As the outgoing OVSD Board President and incoming Board Clerk, I penned my last article for the School News Roll Call. I'm pleased to have been able to share news with the OVSD, HBCSD, FVSD, and WSD communities for the last three years through this publication. I look forward to reading updates from our new board president, Jack Souders and to continue working for our students in 2018. For the full article and news from all of the OVSD schools, please follow this link above.
---
Monday, January 1, 2018 12:36 PM
Happy New Year 2018!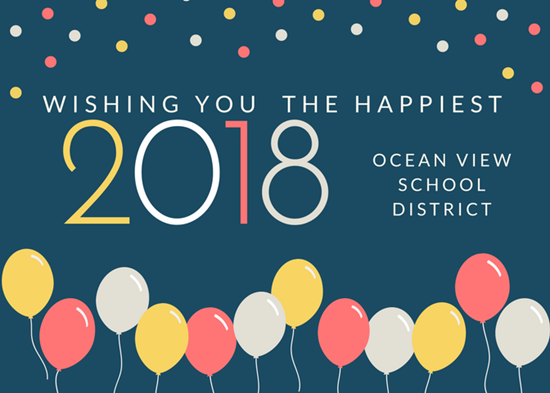 Huntington Beach, CA- Happy New Year 2018, school resumes on Monday, January 8th!
---
Saturday, December 23, 2017 3:20 PM
Happy Holidays from OVSD!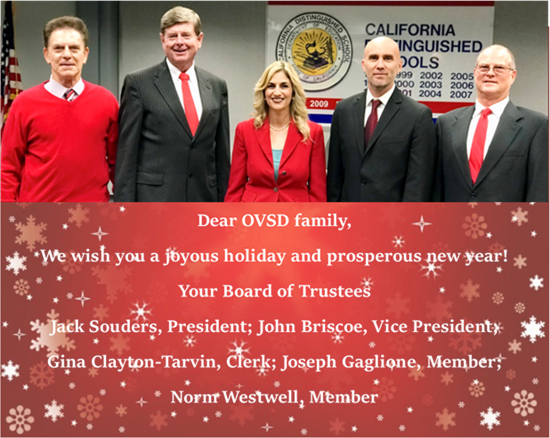 We wish all of you, our OVSD family, happiness and joy this Winter Break. Happy Holidays from your Board of Trustees!