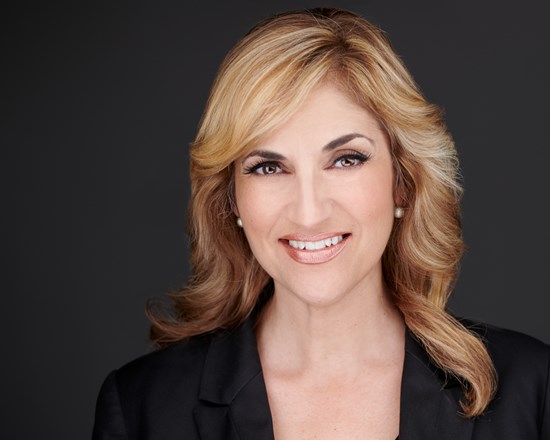 COVID-19: A Message from 2021 OVSD Clerk Clayton-Tarvin
Hybrid in-person school resumed on February 1, 2021 (Virtual Academy remains the same).

Students have been attending school on campus with our Hybrid Learning Model. The Board of Trustees has held several meetings to review the Hybrid Model/Schedule and to consider possible modifications. Overall, things are going well but we are always looking for ways to improve. Teachers are increasing their expertise in delivering instruction each week. Small student cohorts have limited co-mingling of students and staff, which has reduced the possibility of exposure to COVID-19 on school campuses. We are happy to report that our safety protocols are working. We have had over 5,500 students and staff at our school sites for the past 4.5 months and we have lower than average positive COVID-19 cases with no known spread on campus. However, COVID-19 rates are significantly increasing in our community, state, and nation. However, the Board directed staff to look at future plans to develop options to increase the number of hours of direct instruction time between teachers and students, and more hours on campus in a modified schedule for the split-week hybrid. This will require negotiations with teachers and classified staff. Transitioning to any new schedule will take time to adequately prepare facilities and staff, and communicate with families. A Special Board Meeting occurred on December 3, and the superintendent provided an update on progress made regarding a modified and enhanced Hybrid schedule. Safeguarding the health of students and staff, while endeavoring to provide the best education possible, is a delicate balancing act. We will continue to strive to keep students and staff safe, while addressing our students' academic, social, and emotional needs.
News
Friday, February 12, 2021 10:51 AM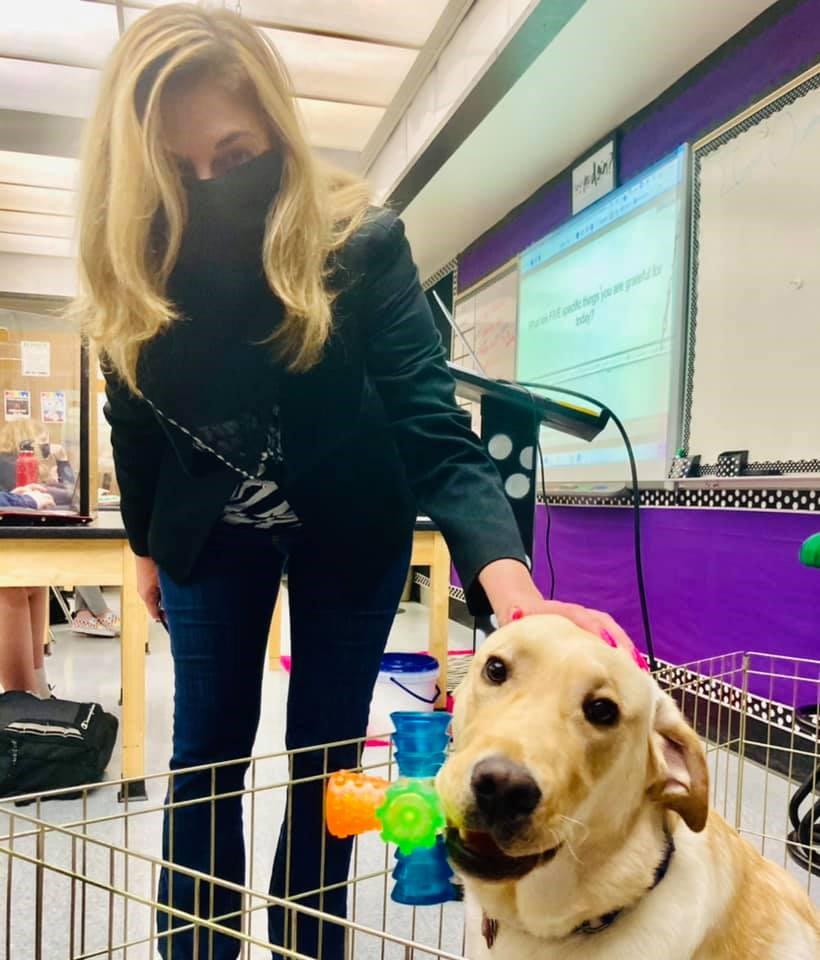 Huntington Beach, CA-We visited all subject area classes, Geometry
included and GATE as well. What a joy it was to see our newest guide dog
in training right in a classroom with kids and all. Our stundents interact with the pup, helping to teach interaction with people while at work. President Singer and I were given a tour by Dr. Conroy and Principal Grunbaum. The Mesa garden looks amazing and we thank all of the volunteers including the HB Shipley family that put in work weekly to keep everything alive and well. Click hyperlink above to see more photos from our Mesa View visit.
---
Thursday, February 11, 2021 1:48 PM
Chúc Mừng Năm Mới, Happy New Year 2021, Year of the Buffalo (Ox) 🐂!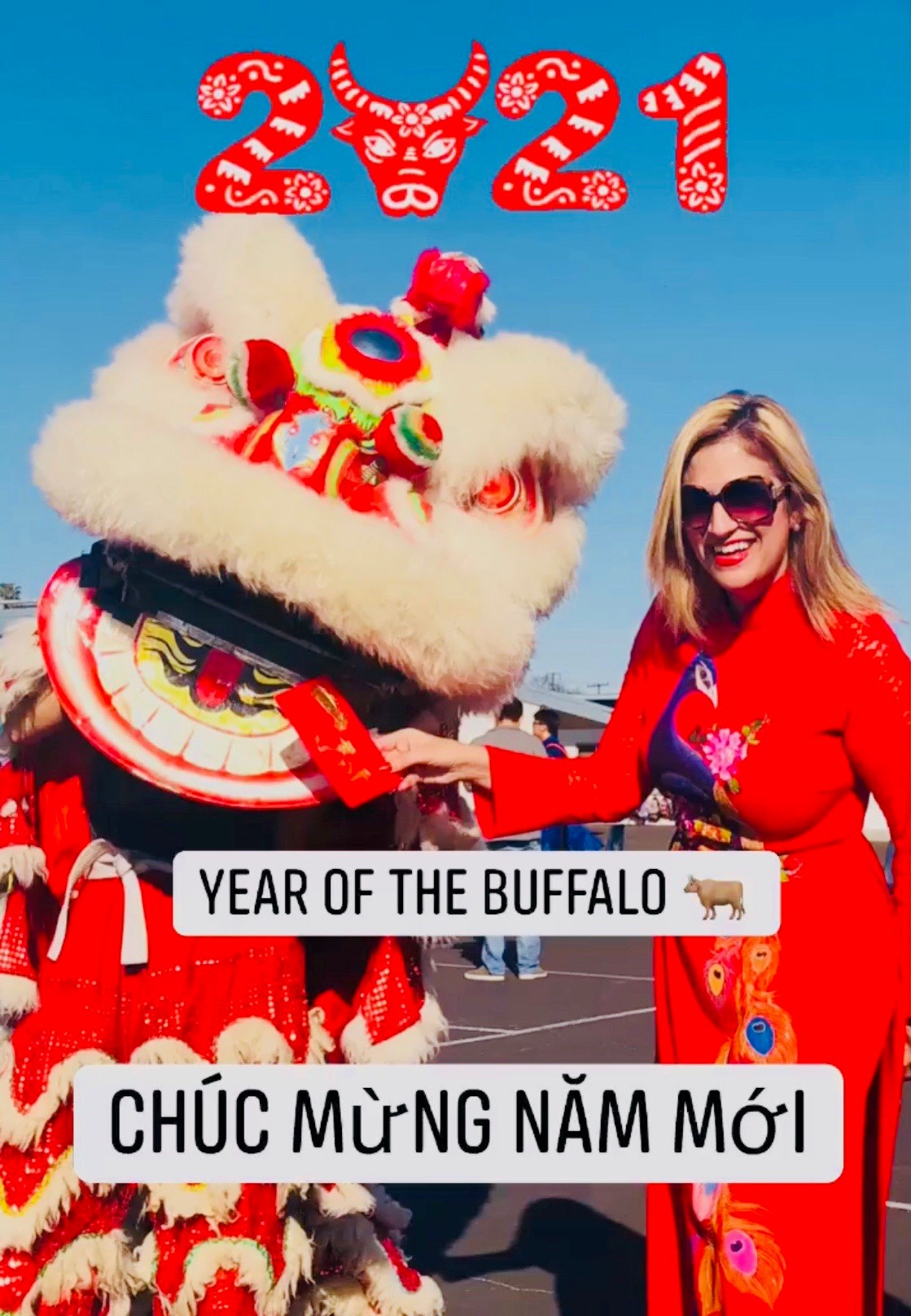 Midway City, CA-Chúc Mừng Năm Mới, Happy New Year 2021, Year of the Buffalo (Ox) 🐂 to our Vietnamese Community of OVSD. Due to COVID-19 restrictions we were unable to visit classrooms like usual, see the amazing Westminster HS dragon dancers, or participate in the beautiful Tet Parade. We hope to all be together again next year.
---
Tuesday, February 9, 2021 8:22 PM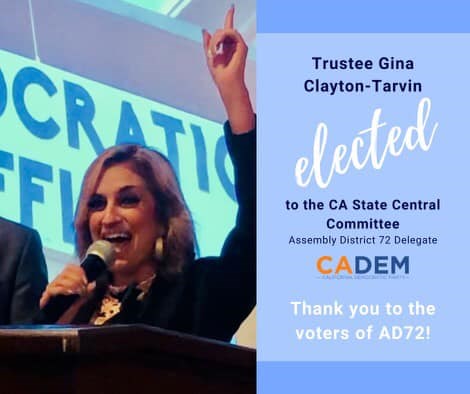 Huntington Beach, CA-I'm deeply honored to announce that I've been elected to the CA State Central Committee in the statewide ADEM election. In the past, I've served as an elected member for AD72, and last term, as Congressman Harley Rouda's appointed delegate. It's great to be back for my 3rd term. I look forward to serving the voters of our district at the state level. What's even better? That so many wonderful people right along side me for AD72 and beyond. Lastly, I want to thank the CA Federation of Teachers for endorsing me. Their confidence in me speaks volumes. My number one job is to fiercely protect our children, and I pledge to continue to do that. Thank you AD72!
---
Thursday, January 21, 2021 3:14 PM
Congratulations OVSD's Hope View Hawks, recipients of the CSBA Golden Bell Award 🔔
Huntington Beach, CA-The Board of Trustees is so proud to have such exceptional staff members like Hope View teacher Holly Sjogren. She has done what few can, run a successful guide dog program right in her own classroom. She trains dogs while teaching students, truly an integrated and innovative endeavor. Thanks to all who worked on the application. The CA School Boards Association awarded OVSD and just released this video to commemorate the hard work of our staff. Please watch to hear a message from CSBA. It was my honor to serve as the board's president for 2020 and to be a part of this amazing experience. Great work Team OVSD!
---
Wednesday, January 20, 2021 1:19 PM
Thank you OVSD, I am honored to serve 🇺🇸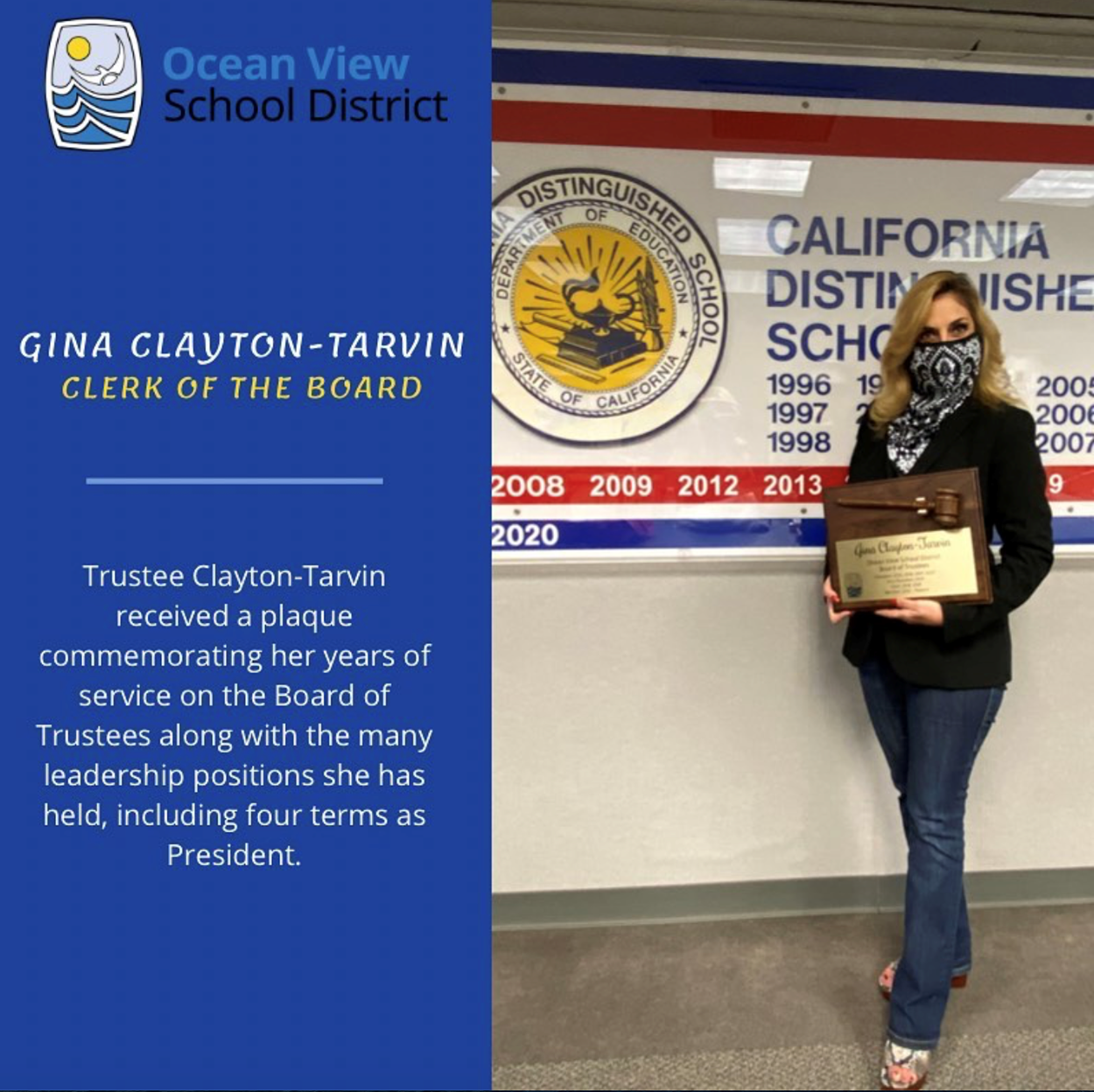 Huntington Beach, CA-Thank you to Superintendent Dr. Carol Hansen, Executive Assistant Cindi Lee, and OVSD staff for honoring me last night with this plaque and my very own gavel, in commemoration of my 2020 term as president of the board of trustees. I'm grateful to continue to serve our students and families. Today is not only a time for me to be thankful, but for our entire nation. Congratulations to Joseph R. Biden Jr. and Kamala D. Harris on their inaugurations. America is upon a new and positive day in hopes of unity once more
.