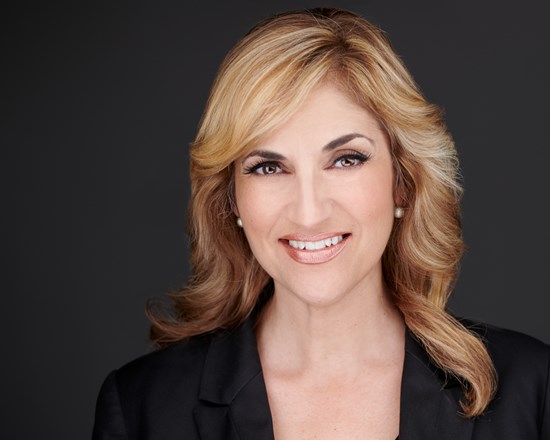 COVID-19: A Message from President Clayton-Tarvin
You may recall in our reopening plans, we indicated that when we transitioned to the Hybrid Model for In-Person learning on September 28, that we would reevaluate the situation at the conclusion of 6 weeks. Our Board of Trustees will hold a Special Board Meeting on November 5 to discuss next steps in our reopening plans. Please be assured that no schedule changes will be made without giving our parents plenty of advance notice. You may be aware that there is a four-tiered state system used to track COVID-19 rates by county.
The COVID- 19 tiers are categorized as follows:
Tier 1/Purple - Widespread
Tier 2/Red - Substantial
Tier 3/Orange - Moderate
Tier 4/Yellow - Minimal
Orange County remains in Tier 2/Red - Substantial, and most of our surrounding counties are in Tier 1/Purple - Widespread. Nationally, COVID-19 numbers are trending up and many are speculating that we will see cases rise as we head into winter, the holiday season, and a traditionally higher risk period for illnesses in general. During visits to our school sites, our staff has shared that they feel safe and confident with our current protocols and instructional model. Furthermore, they feel like everyone has just now settled into a comfortable routine. Transitions take time as they require staff input, changes to be implemented, and clear communication to be sent to staff and families. Therefore, it is unlikely that we will be making any significant changes to our schedule anytime soon. However, our Board of Trustees will set the direction at the November 5 Special Board Meeting. We would also like to update you on our upcoming Parent/Teacher Conferences. All conferences will be held virtually and your child's teacher(s) and school will be providing you information specific to your school shortly. We have been very pleased with the smooth reopening of our school campuses but this is not a time to rest on our laurels. We will continue to be vigilant in our safety practices and look for ways to improve. As always, we thank you for your partnership, patience and support.
General Information about OVSD
Ocean View School District is one of the top performing school districts in Orange County and the state. With award winning teachers, classified employees, administrative leadership and an experienced board of trustees, the district is a destination educational institution in California.
Thanks to the voters of OVSD and the passage of Measure R, the plans for modernization, repairs, and upgrades to school facilities are making OVSD the premiere school district in Southern California, providing state of the art facilities along with first class learning opportunities for 21st Century learners.
I have been elected as board president for the year 2020, and served as vice-president for the year 2019, served as clerk in 2018, and served as president for 3 consecutive terms (2014-2017) prior to that. During my time on the board of trustees, I have worked diligently to build a team that made partnerships, not politics, a priority. School improvement in the Ocean View School District is an ongoing process. Parents and teachers now have a seat at the table where quality education decisions are made. Measurable results include: improving student achievement, providing challenging academics, decreasing class sizes, and increasing the number of art, music, and after-school programs. We have improved technology and are dedicated to providing state of the art learning environments for all students.
During my twenty-four year career as a classroom teacher and union leader, I have learned the importance of actively listening to and collaborating with parents, teachers, and staff to increase efficiency, resolve issues, and empower the people who work with our students everyday. Students in the Ocean View School District are my top priority. I am proud to have been endorsed by hundreds of teachers, parents, and community members. I am thankful to have been elected in 2012, and re-elected in 2016 to serve the OVSD Community. I am proud to announce that I have been re-elected for the General Election 2020, as no one filed to run against me. I am pleased to be able to serve for another term. Thank you for your support, as we are Ocean View Strong!
News
Wednesday, October 21, 2020 5:25 PM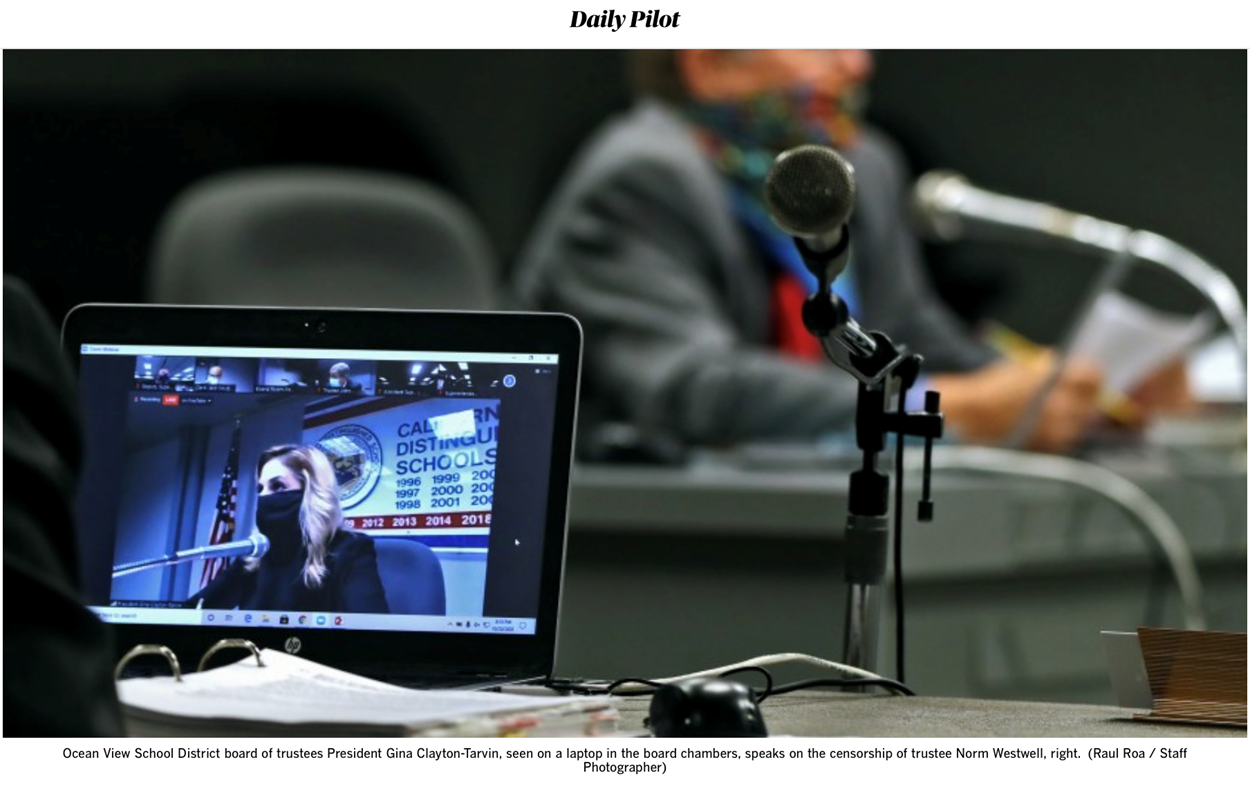 Huntington Beach, CA-Last night at the board of trustees' meeting, in a 4-1 vote, we decided to censure Trustee Norm Westwell for the 2nd time. Unfortunately, Westwell continues to disrupt, malign, and harass staff members, district parents and students. His continued disrespect of community members and colleagues cannot stand. This behavior is unacceptable and must cease. As seen in the photo by the LA Times, Westwell also refused to follow our district policy and CA health order and wear a proper mask, donning a scarf on his face instead. I asked him to do as I do and wear a medical grade mask and a face covering, he refused, turning his camera off, turned his back, and attempted to hide face. We all must be in compliance, just as we require our students and staff to do. He must set a proper example or he won't be allowed to enter the boardroom for our next meeting in November. Please read this very thorough and accurately written article by reporter Matt Szabo for more details.
---
Tuesday, October 20, 2020 8:33 PM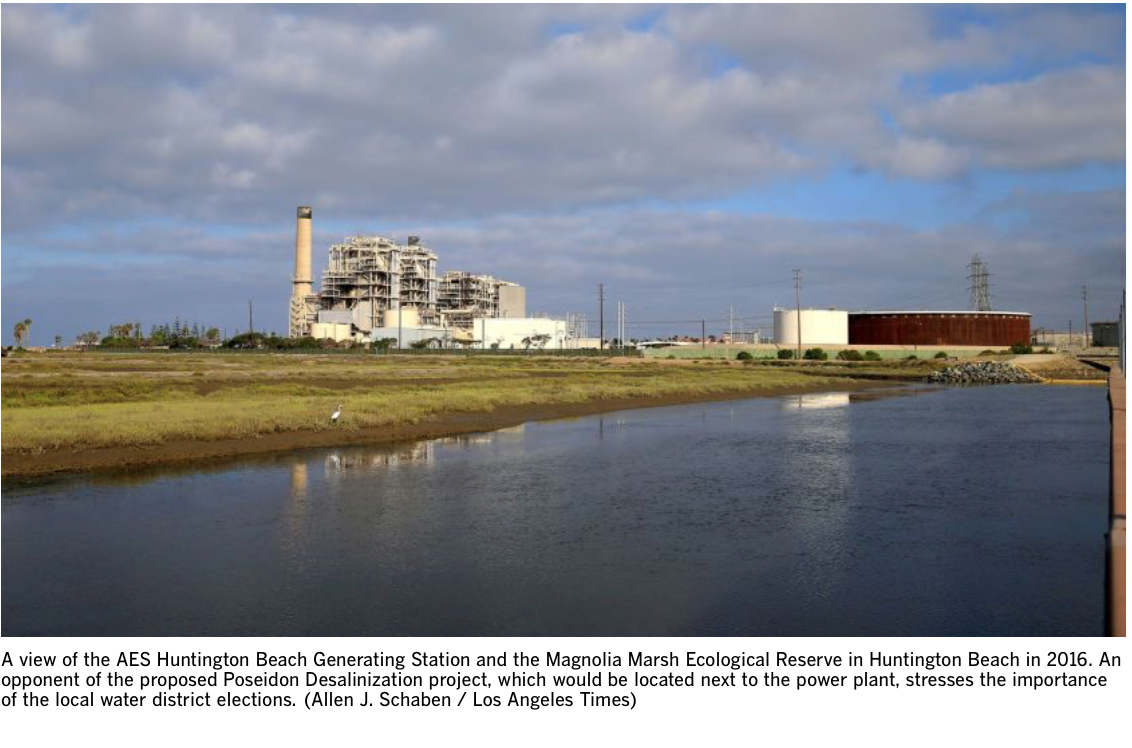 Huntington Beach, CA-Michelle Steel is not the right fit to represent us in Congress. The LA Times has published this bipartisan opinion piece that OVSD Trustee
Jack Souders
and I have written. Health and safety of our children is at stake. We must work to re-elect Congressman
Harley Rouda
to ensure that our children won't be poisoned by gross polluters, the same that Steel took thousands of dollars in special interest campaign contributions. She fought OVSD and we can't allow another trash dump to poison our students and teachers in Oak View or anywhere else ever again. Trustee Souders and I urge you to vote wisely in Congressional District 48. Vote Sierra Club endorsed Rep. Harley Rouda. Our children's lives depend on it. Read full OpEd by clicking hyperlink above.
*These are the opinions of Trustee Souders and myself and not the entire board of trustees. This is first amendment protected speech, and titles are used for identification purposes only.
---
Tuesday, October 20, 2020 7:17 PM
Board Meeting, Trustee Westwell Censured
Huntington Beach, CA-The Board of Trustees approved a resolution censuring Trustee Norm Westwell. Resolution No. 10:2021, initiated by Board Clerk Jack Souders, cites OVSD Board Bylaws, Board Policy, Robert's Rules of Order, and lists detailed findings regarding Trustee Westwell's conduct. The Resolution proclaims that the Board "disapproves of the aforementioned conduct and finds it to be a violation of the Board Bylaws, and that unacceptable behavior shall not be tolerated." It states that Trustee Westwell is ordered to "treat fellow Board Members and the Public with dignity and respect at all times."
---
Wednesday, October 14, 2020 1:12 PM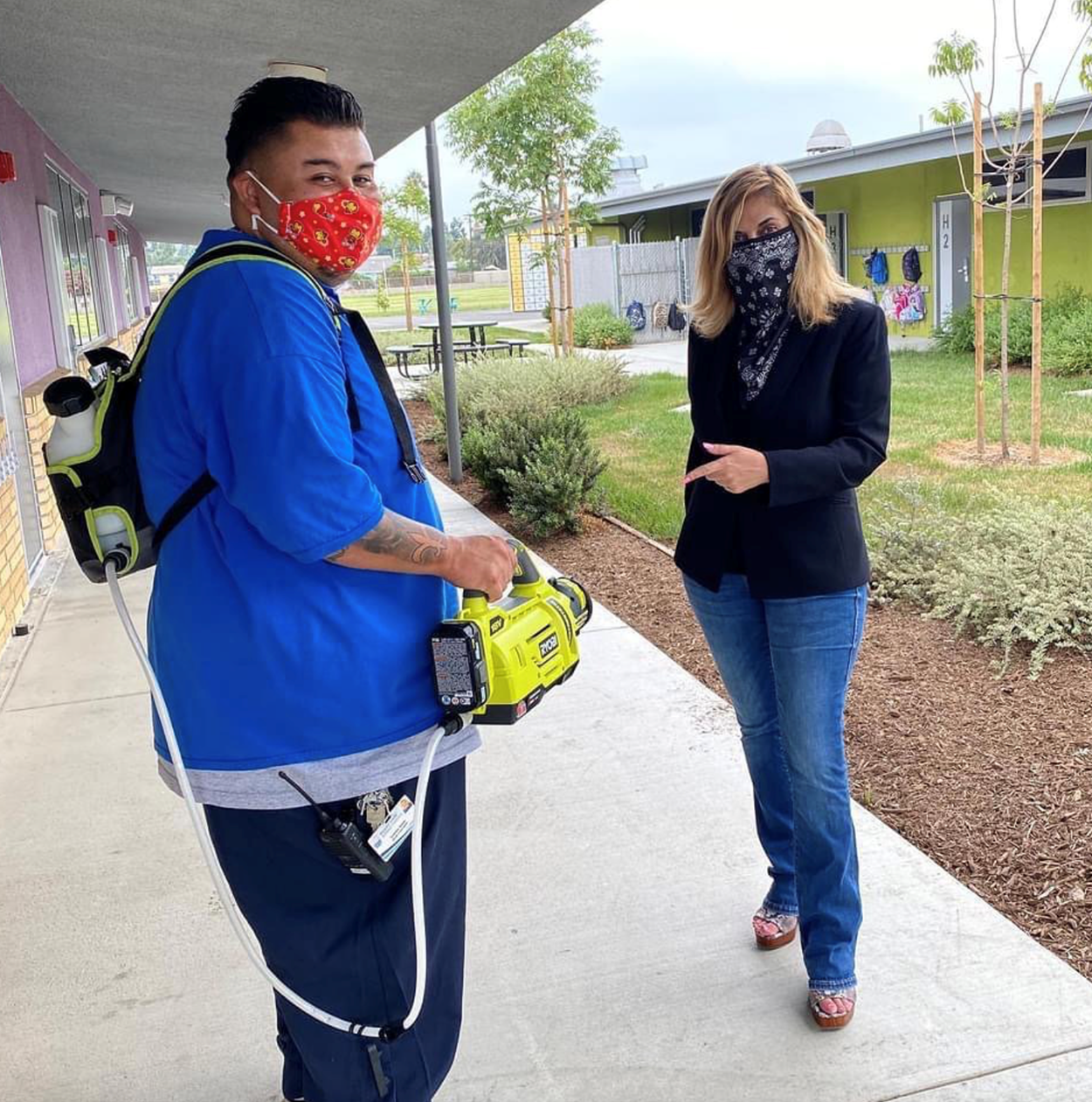 Westminster, CA-Westmont School staff is working it with their safety protocols from sanitizing classrooms and playground equipment to individually bagged student supplies. Principal Broderson also highlighted their emergency program for trauma mitigation. Wow Westmont, you're doing it all. We are so proud of you.
---
Friday, October 9, 2020 5:00 PM
OVSD Trustee and surfer 🏄 Jack Souders endorses Oscar Rodriguez for HB City Council!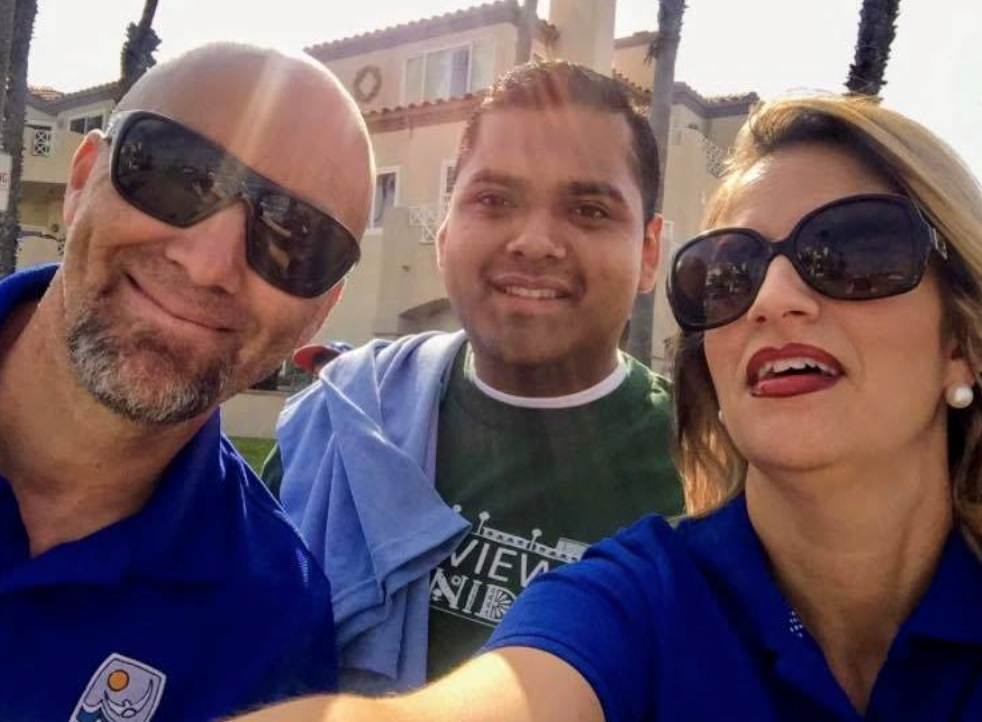 Huntington Beach, CA-Political Party is irrelevant when the preservation and defense of our environment is at stake. Lifelong surfer, HB resident, teacher, and school board trustee Jack Souders has made the call, he's on Team Oscar. When we needed a champion for the people of HB to fight for our students and staff to breath clean air, Oscar was there. As an avid lover of our beaches and ocean, Trustee Souders knows the only candidate to support is Oscar, as he's been a leading voice in fighting the Poseidon project in SEHB. Oscar will work to provide protections for our coastline and surrounding communities. What do you want this election, to stick to the same old partisan ways, or to think outside the box and get behind a grassroots native of HB? Trustee Souders and I may not be in the same political party, but we agree, Oscar Rodriguez is the right person to represent all of us in Huntington Beach. Let's do this HB, vote
now!
*Disclaimer: this post is my free speech and made on behalf of Trustee Jack Souders and myself, not the entire OVSD Board, not in coordination with any candidate, or a candidate controlled committee. Titles used for identification purposes only. Image is public domain, and taken pre-pandemic.