News
Latest updates from the campaign:
Friday, June 18, 2021 11:10 AM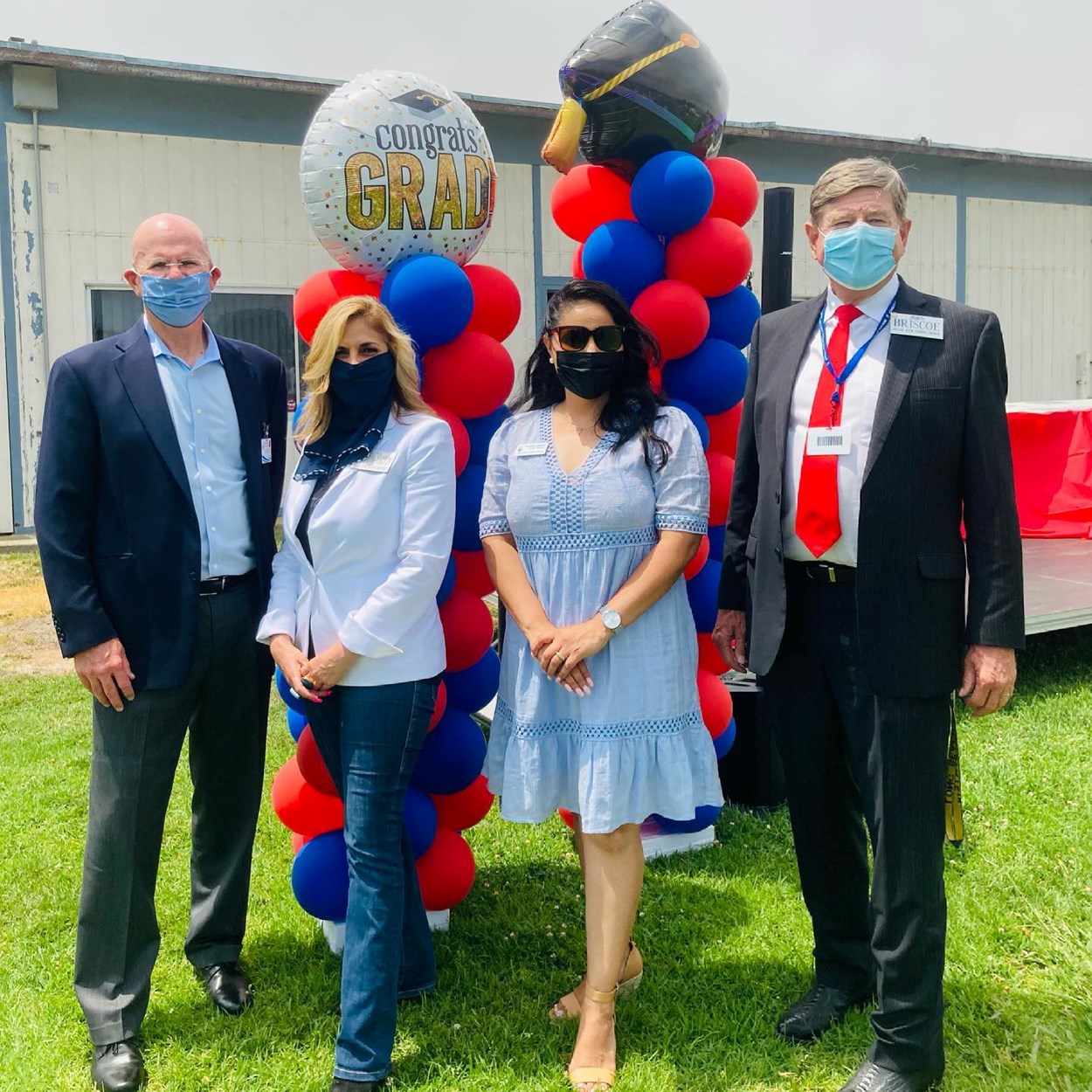 Huntington Beach, CA-The OVSD Board of Trustees and Executive Cabinet were proud to attend Hope View 5th Grade Promotions today at 10am and 1pm. Thanks to the Hope View PTO for setting up the decorations and making the event special for the kids and families. We got to hear from the principal and teachers and see the kids get their certificates. We look forward to next week's 5th and 8th grade promotions ceremonies to come. Congratulations OVSD students, you made it!

*Click link to see all of the photos from today
---
Wednesday, June 16, 2021 11:05 AM
---
Wednesday, June 16, 2021 7:54 AM
Vista View named CA Distinguished School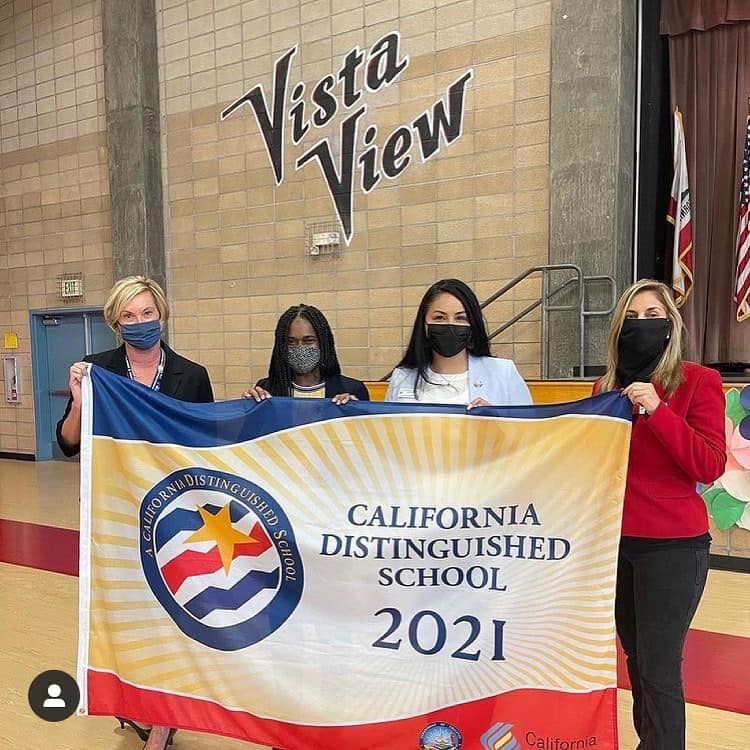 Fountain Valley, CA-We were so happy to be able to be with the Vista View staff this morning for the 2021 Distinguished School Award recognition in Fountain Valley, in-person. Vista View received special commendations from Senator Tom Umberg, and the City of Fountain Valley. In addition, President Singer, Superintendent Dr. Hansen and I, along with district administrators were present to honor the school for their exciting achievement. Congratulations team, we are so proud of you!

*Click link to see all of the photos from the celebration
---
Thursday, June 10, 2021 6:00 PM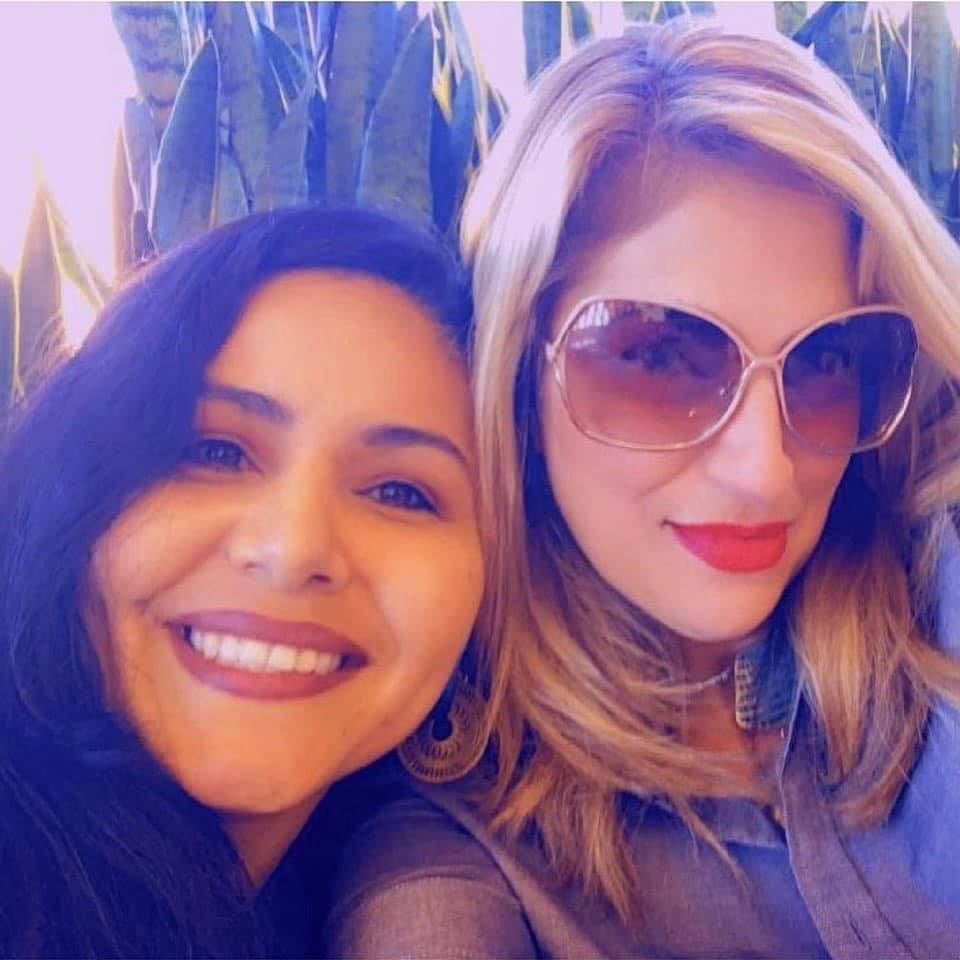 Huntington Beach, CA-We celebrated the soon to be arriving summer at HB's newest cervecería and Mexican fusion restaurant at Bella Terra, the new Puesto. OVSD President Patricia Singer, and I had the pleasure of seeing our friend and HB Planning Commissioner Oscar Rodriguez who joined us. The food was quite delicious, and very creative in taste and presentation. We started with appetizers of chicharrones (my son Max's favorite) guacamole 🥑, and then had tacos 🌮 of all sorts, including Baja style fish, quesabirria, carnitas, and al pastor. Patricia had the ceviche, and of course freshly made chips and salsa. The big attraction though, was the amazing secret "man in the mirror" according to Max, that sends messages while in the restroom. Scroll down through to see the video and check out the mystery message. Thank you to Puesto and the other businesses at Bella Terra which form the largest tax base in OVSD boundaries for Measure R projects, and help to support our school district. We appreciate you all!

*Patricia, Oscar and I are all COVID-19 vaccinated, and pleased to be out supporting local HB businesses. Click link to see all of the photos including the delicious food.
---
Wednesday, June 9, 2021 6:53 AM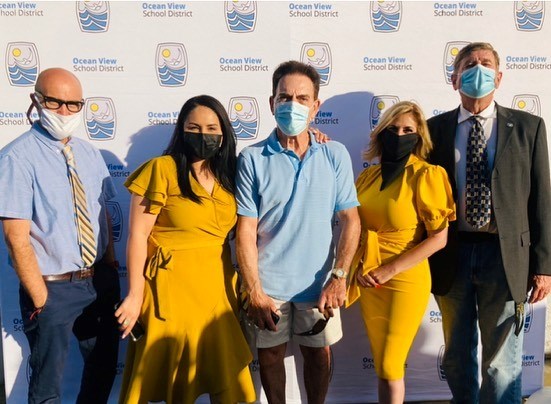 Huntington Beach, CA-At last night's OVSD Board Meeting, we celebrated our 2021 Retirees and Years of Service recipients. You can see the video honoring these dedicated employees by accessing the presentation below. Also, we got to see former trustee Joe Gaglione, he was present for the ceremony. Congratulations to all.
*Click link above to see video montage of our honorees
---
Tuesday, June 8, 2021 6:07 PM
Congratulations OVSD Employees!
---
Wednesday, June 2, 2021 7:01 PM
CNN Interview on QAnon Infiltration into HB
Huntington Beach, CA-Thanks go out to CNN's Anderson Cooper and journalist Sara Sidner for informing our nation about what has been occurring in our Orange County community. Sidner interviewed me along with several HB City Council members, and community residents about QAnon conspiracy theories infiltrating local government. Former Mayor Pro Tem Ortiz has made controversial anti-masking comments during the entire pandemic. He's refused to wear a mask on OVSD campuses, even at the height of the COVID surge in December 2020. When asked to do so to attend in-person city council meetings when they resumed this year, he declined again, prompting council members to continue to meet online for months. He then appeared at an anti-mask protest at the Orange County Department of Education on Monday, May 18, 2021, and stated that he instructed his children to defy their teachers, and take their masks off while in class. The following day, Ortiz's girlfriend Amber Miller filmed his sons in the morning with instructions to be "strong" and keep their masks off and defy school district rules. Miller posted this video on the internet in hopes that it would be shared far and wide, calling the school district safety protocols abusive and instructed the children to "not let their teachers bully them into wearing masks." CA has reiterated as of yesterday that masks remain mandatory in school settings to safeguard schoolchildren who are a population that are completely unvaccinated for COVID-19 if under 11 years old.
---
Wednesday, June 2, 2021 9:44 AM
Congratulations to our Cerritos Tigers 🐯.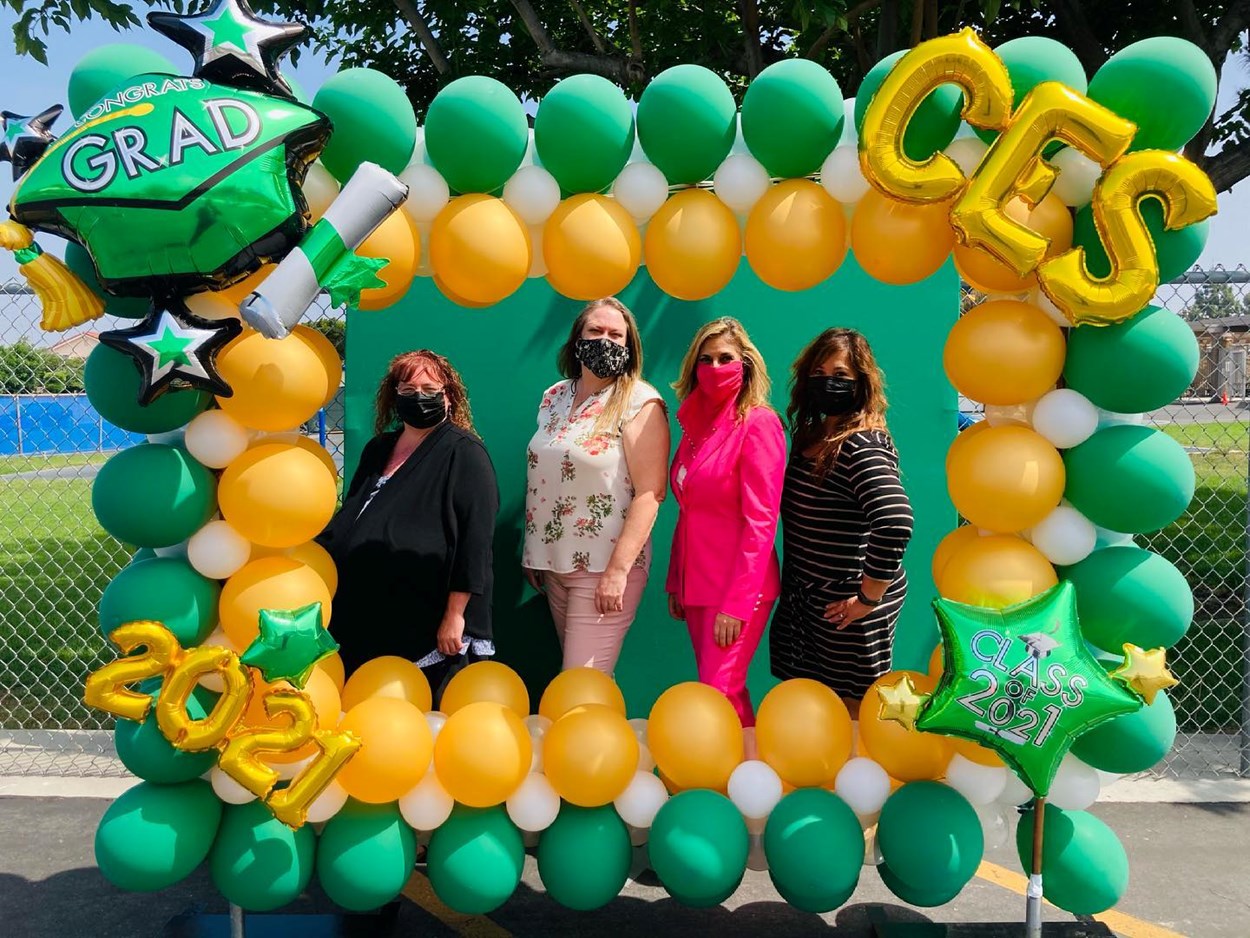 Cerritos, CA-First and foremost, I'm a teacher, and have been so for 25 happy years. Being a teacher led me to running for school board. With the pandemic, our classrooms, schools and students' lives have been stressed. However, today we celebrated, as it was our in-person 6th grade promotion day. This the our 6th grade team. We love our Cerritos 🐯. Congratulations to all!
---
Tuesday, June 1, 2021 7:29 PM
My HB City Council Comments, 6/1
Huntington Beach, CA-Tonight I attended the first in-person City Council meeting since last year. Unlike OVSD which reconvened in-person meetings June 30, 2020 with all board members masked, HB had a tough time getting compliance from council members. This ceased last night as the rules were changed, and now unmasked people can be in the chamber if they show proof of COVID vaccination or negative test status. It should be known that Mayor Pro Tem Tito Ortiz resigned effective immediately. Lastly, I want to continue to thank OVSD students, parents and staff for being so cooperative with our mask policies. When we are allowed to relax them, we will take action. We appreciate your continued support.
---
Tuesday, May 25, 2021 6:04 PM
---
Friday, May 21, 2021 3:13 PM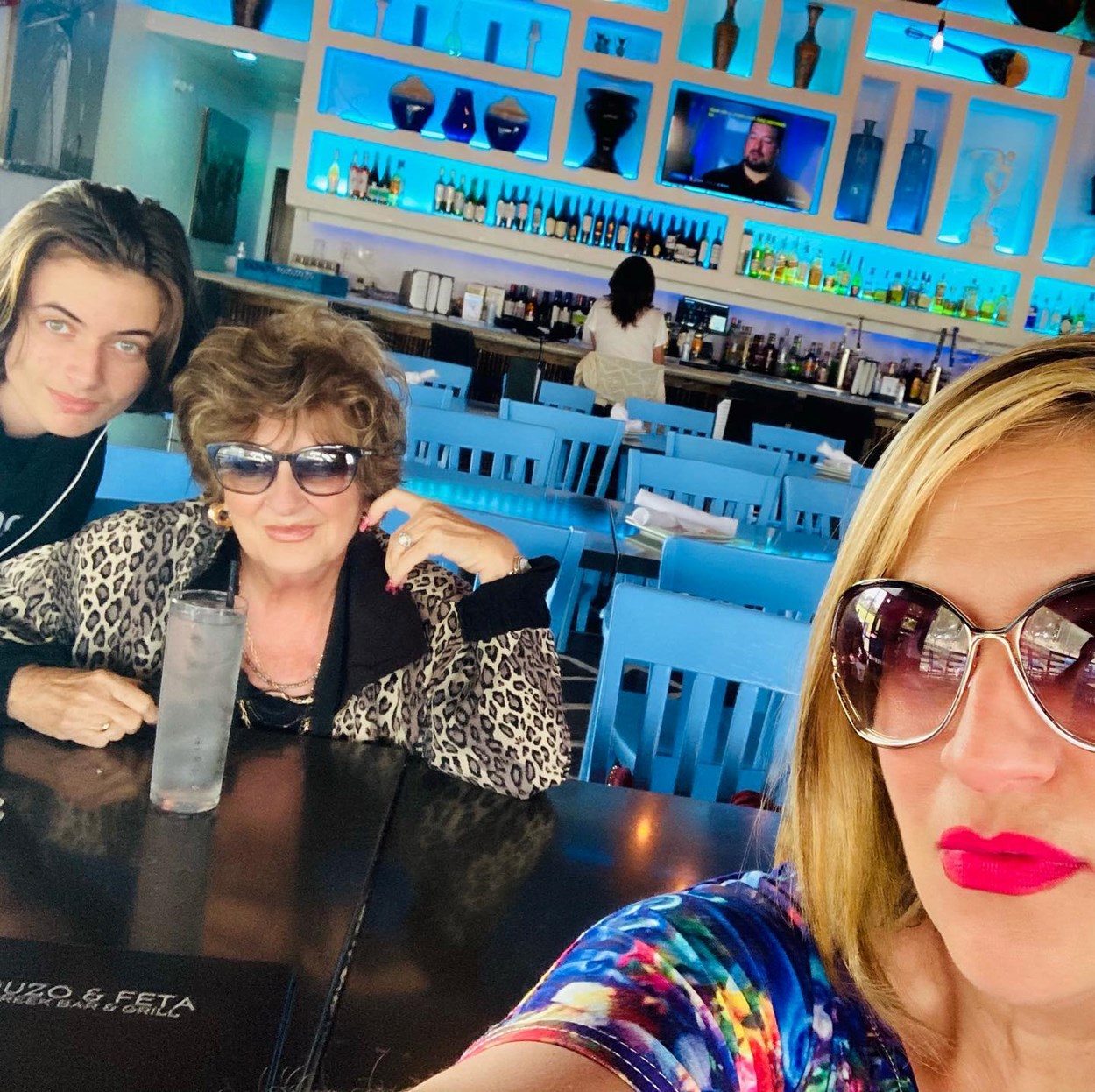 Huntington Beach, CA- Can't make it to Greece 🇬🇷? Don't worry, we have Ouzo and Feta restaurant right here in HB. This week my mom Dee, my older son Tony and I visited HB's Ouzo and Feta restaurant for a late lunch. The food was absolutely outstanding, the service stellar, and the ambience just like in Europe. In the past, I spent months in Greece and love the food, the people, and country as a whole. What I can say about Ouzo and Feta is that this HB restaurant encapsulates all the best of Greek cooking and life. We had the happy hour specials of gyros, calamari, and hummus, plus Tony had koftas kebabs plate and it was delicious. Check it out, click the link above for location and photos of food, you'll love it!
---
Wednesday, May 19, 2021 10:00 PM
KTLA-Huntington Beach Mayor Pro Tem Tito Ortiz's sons sent home from school for refusing to wear masks
---
Tuesday, May 18, 2021 7:12 PM
No Mask = No In-Person School in OVSD
Huntington Beach, CA-The rules are simple and they apply to all of our students and families. Sadly, HB Mayor Tem Tito Ortiz thinks he's above the rules of the Ocean View School District Board of Trustees, but he's not. "In line with the current guidance from the California Department of Public Health and the Orange County Health Care Agency, Ocean View School District requires staff and students to wear masks on our school campuses. If a student is unwilling to wear a mask, they may attend our Virtual Academy," Superintendent Dr. Carol Hansen said in a statement. President Patricia Singer and I both spoke to CBS2 news yesterday and we want to be abundantly clear, whether parents are former mixed martial arts fighters or a current elected leader, there would be no preferential treatment. Celebrity does not exempt you from following the rules. No mask means no in-person school. Thanks to all of our OVSD families who do follow our rules, we appreciate you and your commitment to the health and safety of our students and staff.
---
Wednesday, May 12, 2021 5:16 PM
Trustee Comments From 5/11/21
---
Monday, May 3, 2021 8:05 AM
Thank you Huntington Beach Police Department 👮‍♂️ 🚔
---
Sunday, May 2, 2021 10:02 AM
ACSA Award Winner-AJ Lopez from Spring View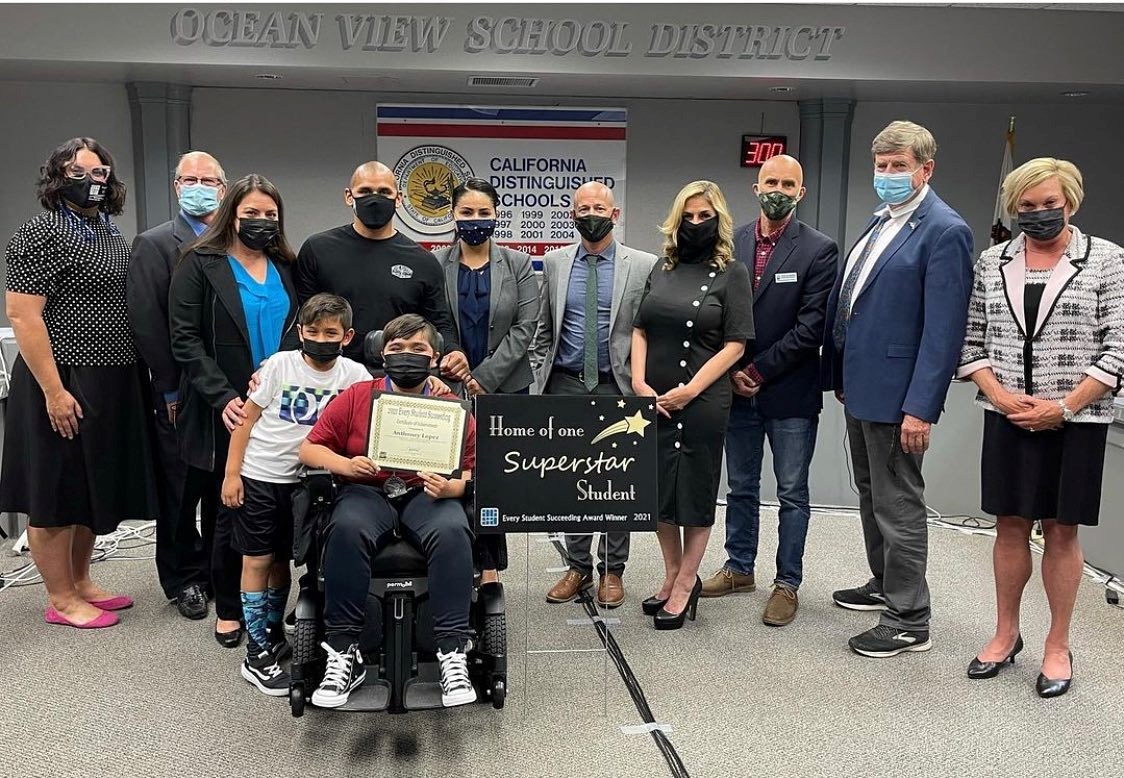 Huntington Beach, CA-At the last Board of Trustees' meeting, we were honored to see our student AJ Lopez receive a prestigious ACSA Award. Congratulations to Spring View student Anthony (AJ) Lopez, he has been named the Association of California School Administrators' (ACSA) Every Student Succeeding Award Winner for OVSD. AJ is an exceptional young man who has overcome tremendous obstacles to achieve academic excellence. He received special recognitions at Spring View and our Board of Trustees meeting. Great work AJ!
---
Wednesday, April 28, 2021 8:38 AM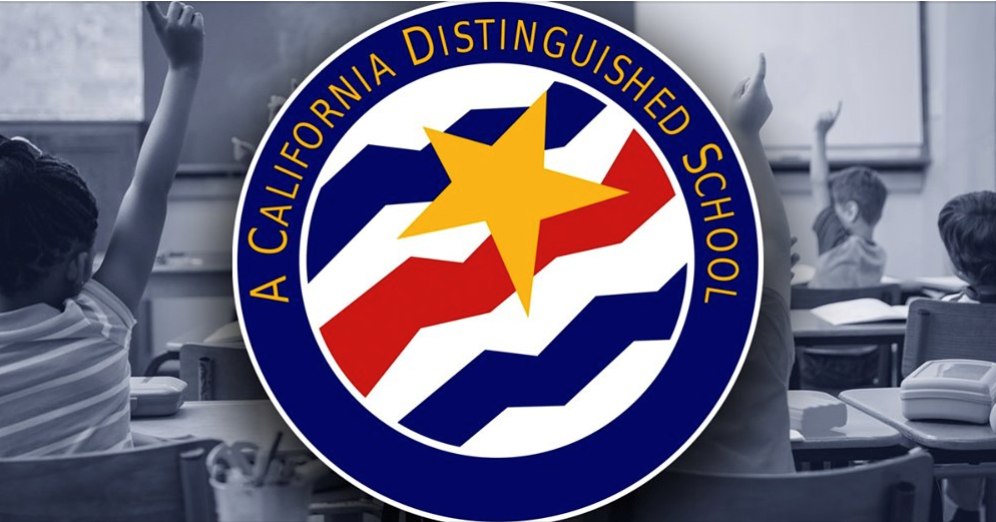 Fountain Valley, CA-Vista View Middle School Wins Distinguished School Award. OVSD students and staff, you just keep impressing us so much. Amazing news, our Vista View Falcons of Fountain Valley, California are in the news, as recipients of CA's highest school honor, the Distinguished Schools Award. Thank you State Superintendent Tony Thurmond for this award!
---
Tuesday, April 27, 2021 7:49 PM
Recap, Board of Trustees Meeting 3/27/21
Huntington Beach, CA-Tonight the Board of Trustees convened for its bi-monthly meeting. We had the honor of watching student AJ Lopez from Spring View Middle School, as he received an award from ACSA. He's a wonderful example of what a middle school student should be. We also voted to promote, reassign, or accept several resignations of our employees. Regretfully, we accepted the resignation of assistant superintendent Felix Avila due to his impending retirement. I am very sad to see Mr. Avila go, he has been an integral part of the Ocean View community and a fixture in our district providing stability in the most difficult of times. He even served as interim superintendent in 2015, when we were without a superintendent and after the asbestos issue. We are excited to welcome all of our new principals in their roles, you will be getting an email with all of the announcements on these promotions and other district level assignments. Lastly, thank you to our middle school teachers and their union, OVTA for successfully negotiating with us to bring back our 6-8 graders for in-person instruction for 5 days per week starting on May 3, 2021. We are the first in west OC to make tanks happen. Excellent work, team OVSD!
---
Tuesday, April 27, 2021 8:14 AM
Board of Trustees Meeting Tonight, Tuesday 4/27/21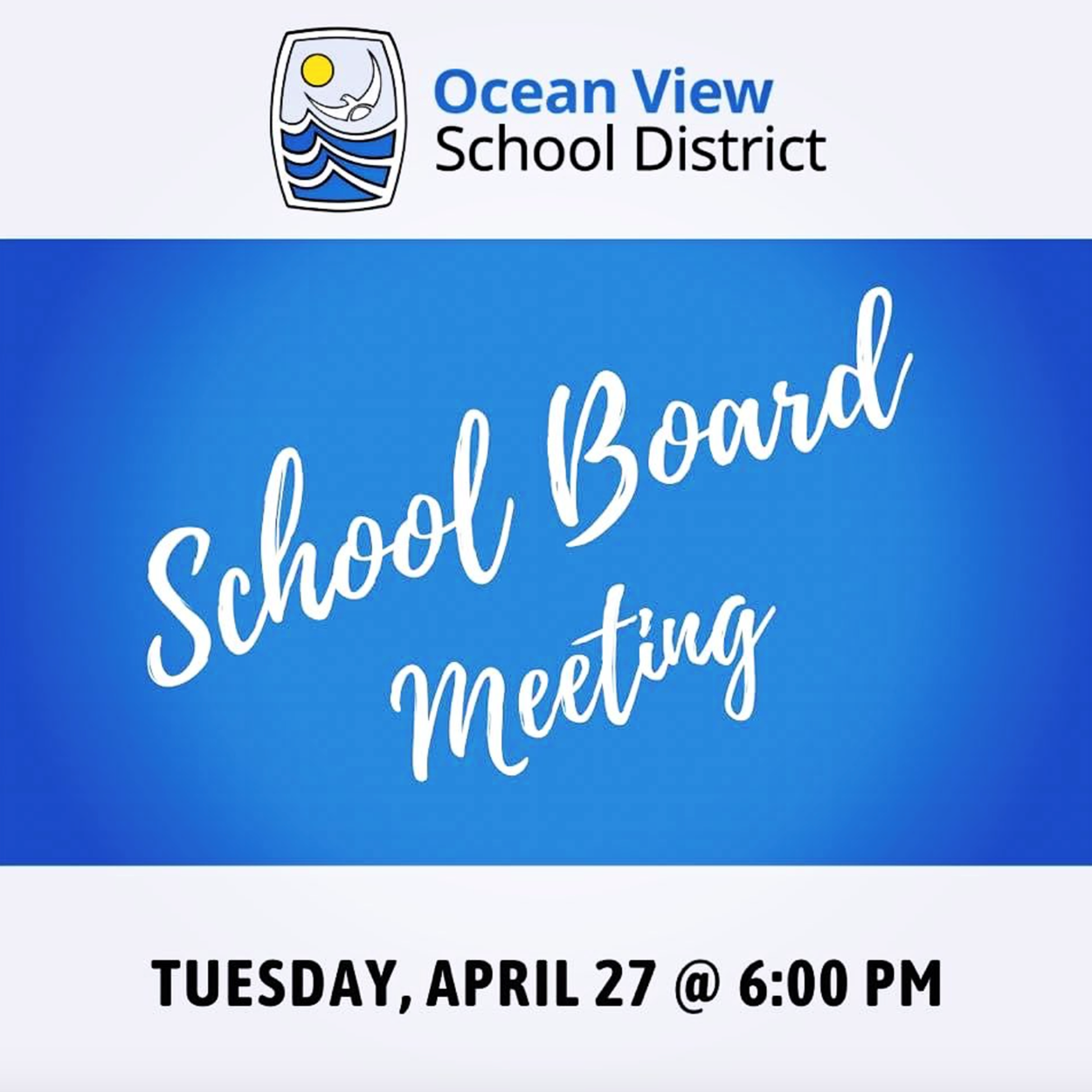 Huntington Beach, CA-Tonight's Board Meeting will be available by going to www.ovsd.org/boardmeeting. The link will go live at 6:00 p.m. for Open Session. Please note, if you have any public comments, send them by 3:00pm to www.ovsd.org/comment and they will be read into the record by President Singer and me. OR you may come to the OVSD Board Room at 5:45pm and wait until you are invited in to make a comment. Masks are required and social distancing must be followed.
---
Thursday, April 22, 2021 7:13 AM
Happy Earth 🌎 Day, 2021!
---
Tuesday, April 13, 2021 7:00 PM
Recap from OVSD Board of Trustees Meeting, 4/13/21
---
Tuesday, April 13, 2021 6:15 PM
Congratulations, Superintendent Dr. Carol Hansen!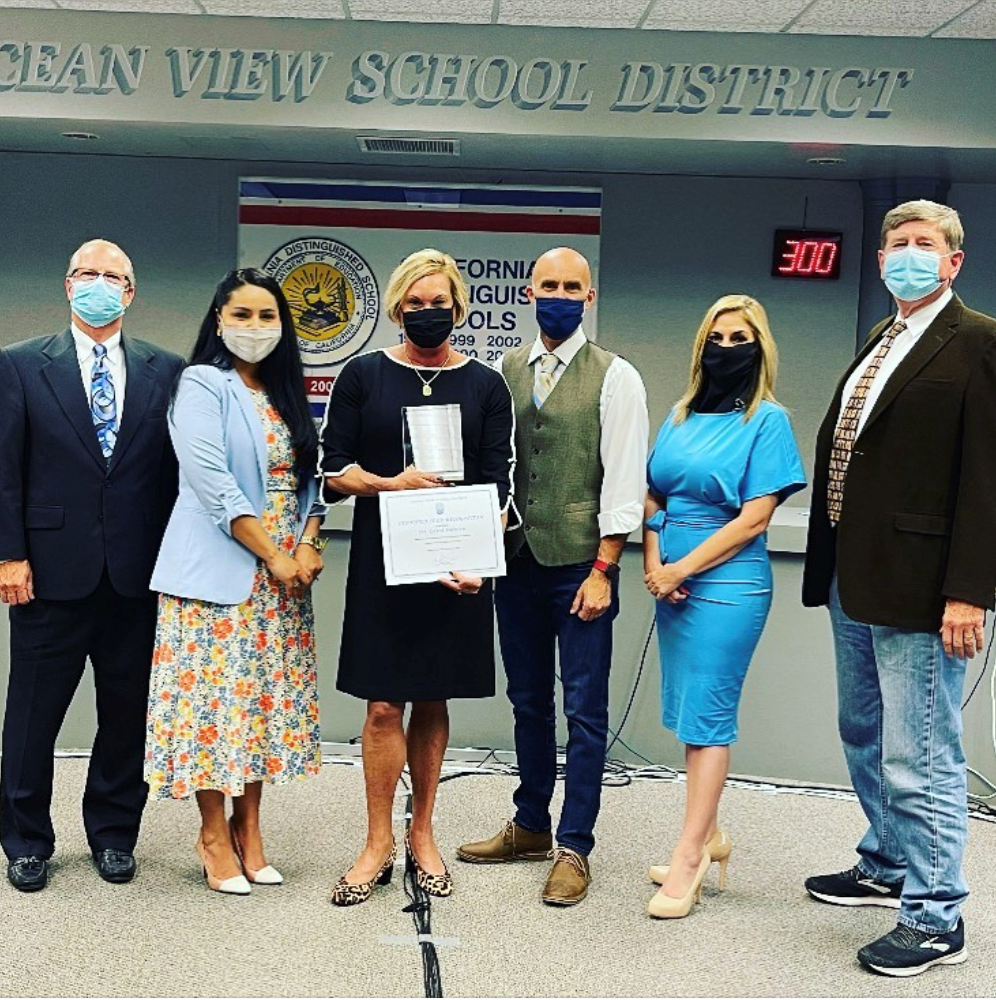 Huntington Beach, CA-Our very own superintendent, Dr. Carol Hansen is the recipient of the ACSA Tracy Gaffey award and the OCCSBA Marilyn DeMarco award as well. She's accomplished so much this year under very tough circumstances and we very proud of her achievements. Congratulations!
---
Thursday, April 1, 2021 4:33 PM
Moderna 💉 #2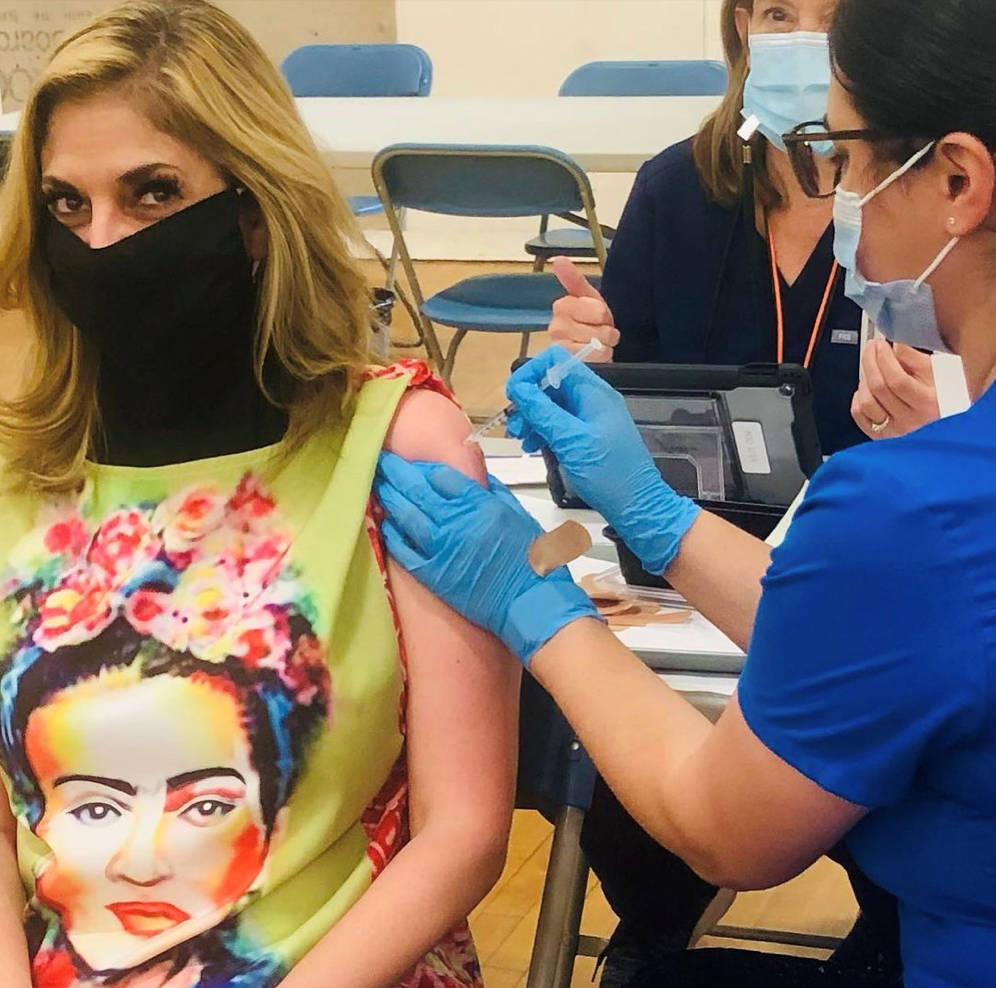 Westminster, CA- COVID Vaccine, Moderna
#2 in the arm, immunity is on its way. Thanks again to Governor Gavin Newsom for making it possible for teachers like me to receive the shots. We feel like we are a priority in CA.
---
Wednesday, March 24, 2021 7:21 PM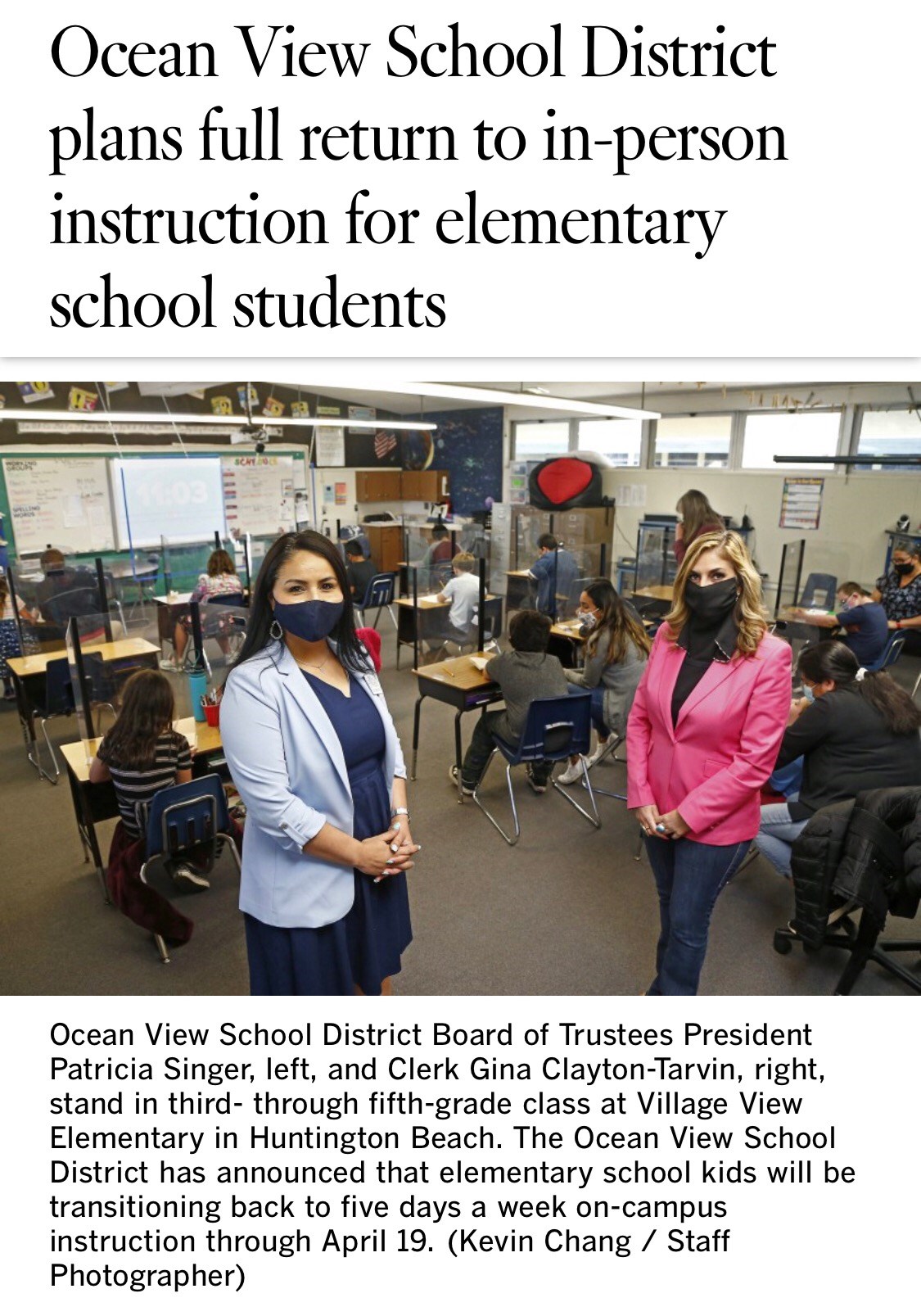 Huntington Beach, CA-Thanks to LA Times Daily Pilot reporter Matt Szabo and photographer Kevin Chang for visiting Village View today to see what our 5 day per week in-person elementary program will look like districtwide starting on March 29, 2020. We are very proud of our students and staff in all of our OVSD schools. See link above for full article.
---
Friday, March 19, 2021 11:12 AM
KCAL9 reports on OVSD 5-days per week starting 3/29
---
Thursday, March 4, 2021 6:15 PM
---
Friday, February 26, 2021 1:45 PM
---
Thursday, February 25, 2021 9:45 AM
---
Friday, February 12, 2021 10:51 AM
---
Thursday, February 11, 2021 1:48 PM
Chúc Mừng Năm Mới, Happy New Year 2021, Year of the Buffalo (Ox) 🐂!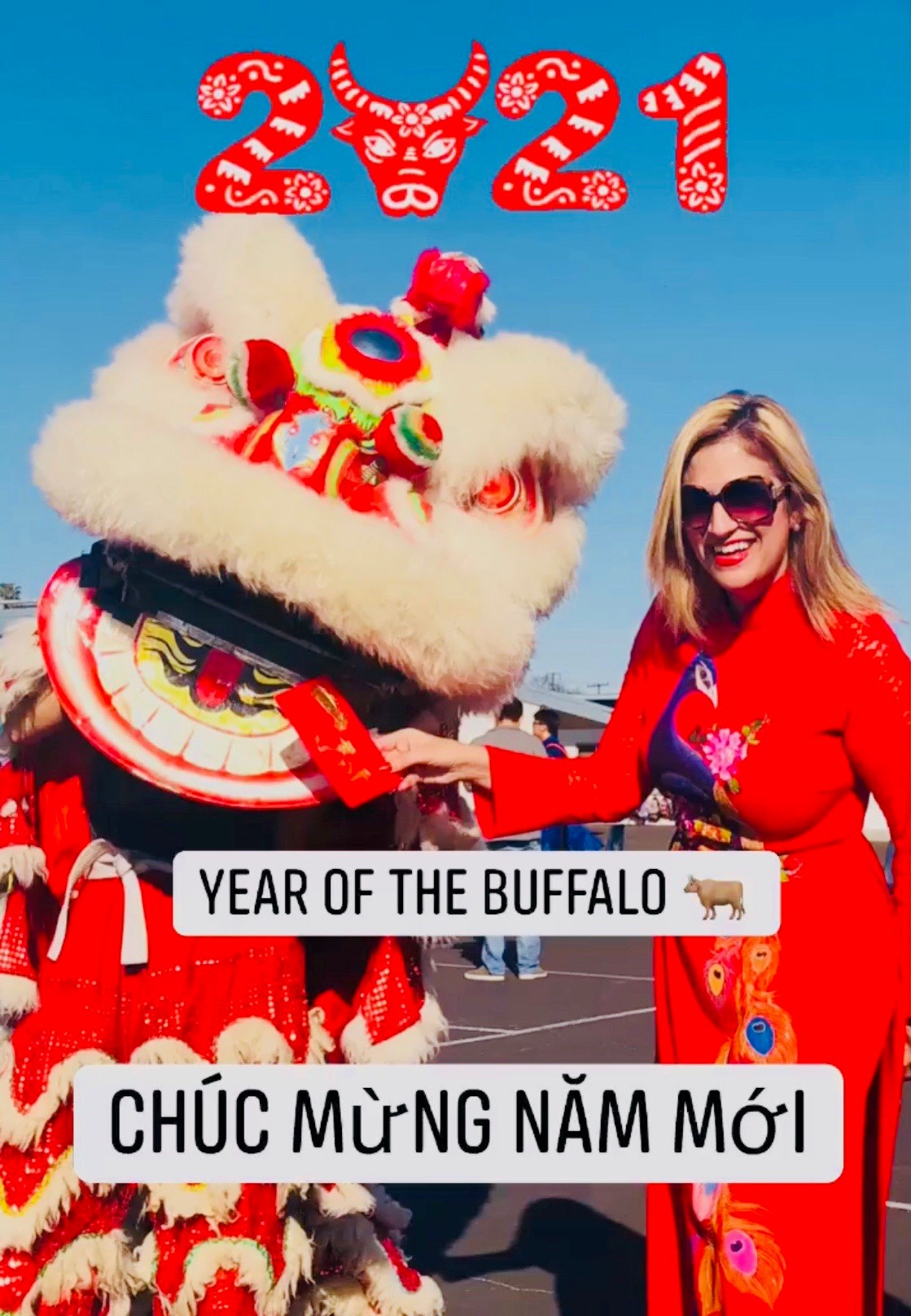 Midway City, CA-Chúc Mừng Năm Mới, Happy New Year 2021, Year of the Buffalo (Ox) 🐂 to our Vietnamese Community of OVSD. Due to COVID-19 restrictions we were unable to visit classrooms like usual, see the amazing Westminster HS dragon dancers, or participate in the beautiful Tet Parade. We hope to all be together again next year.
---
Tuesday, February 9, 2021 8:22 PM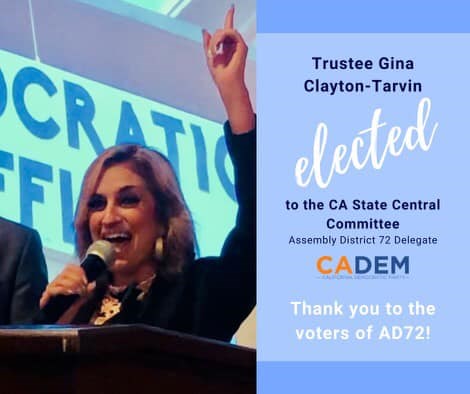 Huntington Beach, CA-I'm deeply honored to announce that I've been elected to the CA State Central Committee in the statewide ADEM election. In the past, I've served as an elected member for AD72, and last term, as Congressman Harley Rouda's appointed delegate. It's great to be back for my 3rd term. I look forward to serving the voters of our district at the state level. What's even better? That so many wonderful people right along side me for AD72 and beyond. Lastly, I want to thank the CA Federation of Teachers for endorsing me. Their confidence in me speaks volumes. My number one job is to fiercely protect our children, and I pledge to continue to do that. Thank you AD72!
---
Thursday, January 21, 2021 3:14 PM
Congratulations OVSD's Hope View Hawks, recipients of the CSBA Golden Bell Award 🔔
---
Wednesday, January 20, 2021 1:19 PM
Thank you OVSD, I am honored to serve 🇺🇸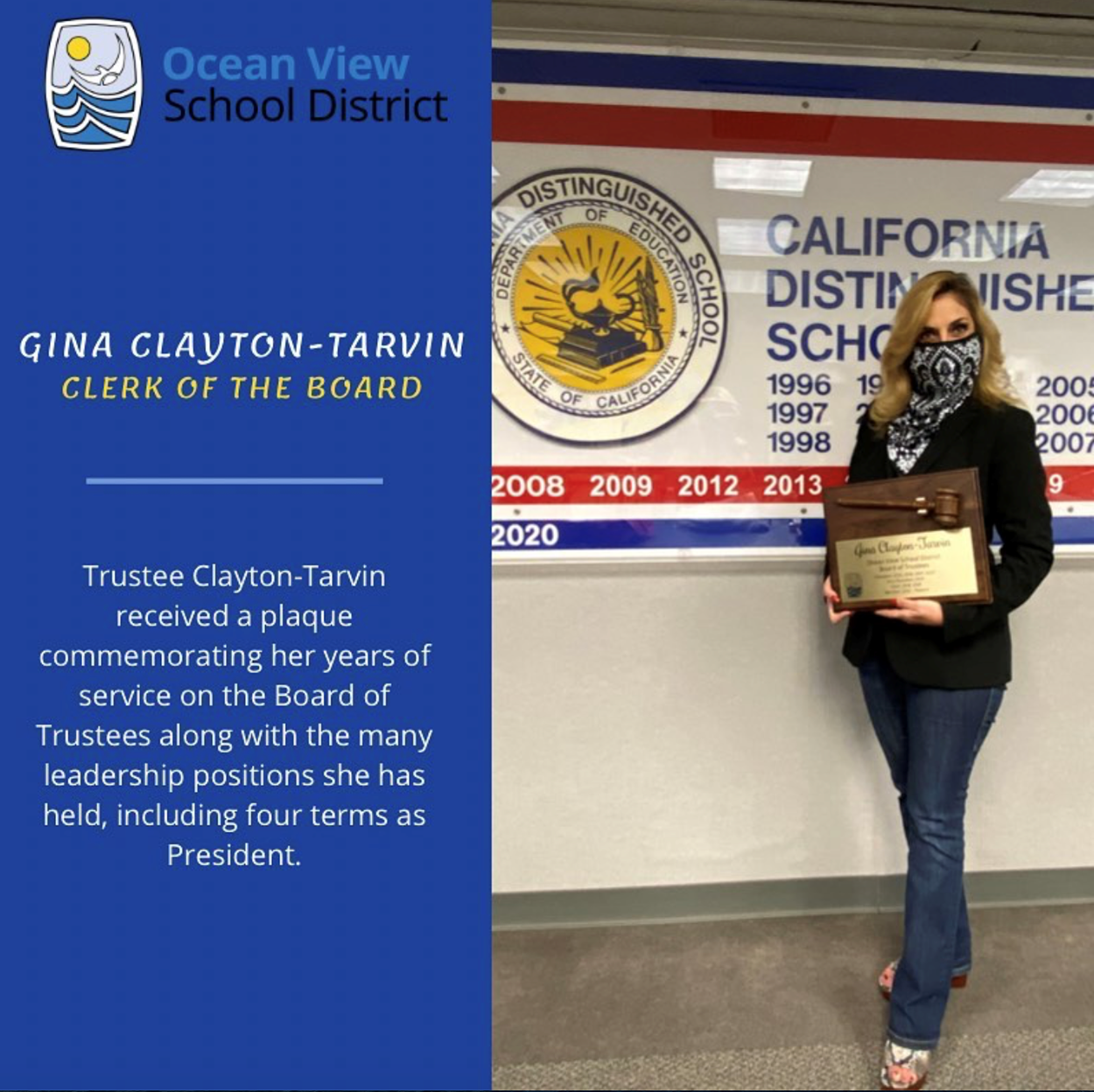 Huntington Beach, CA-Thank you to Superintendent Dr. Carol Hansen, Executive Assistant Cindi Lee, and OVSD staff for honoring me last night with this plaque and my very own gavel, in commemoration of my 2020 term as president of the board of trustees. I'm grateful to continue to serve our students and families. Today is not only a time for me to be thankful, but for our entire nation. Congratulations to Joseph R. Biden Jr. and Kamala D. Harris on their inaugurations. America is upon a new and positive day in hopes of unity once more
.
---
Wednesday, January 13, 2021 9:07 PM
OVSD Special Board Meeting, Distance Learning Extended to 1/29/21
---
Tuesday, January 5, 2021 9:24 PM
Recap of OVSD Regular Board of Trustees Meeting, 1/5/21
---
Monday, January 4, 2021 2:55 PM
OVSD is returning to Temporary Distance Learning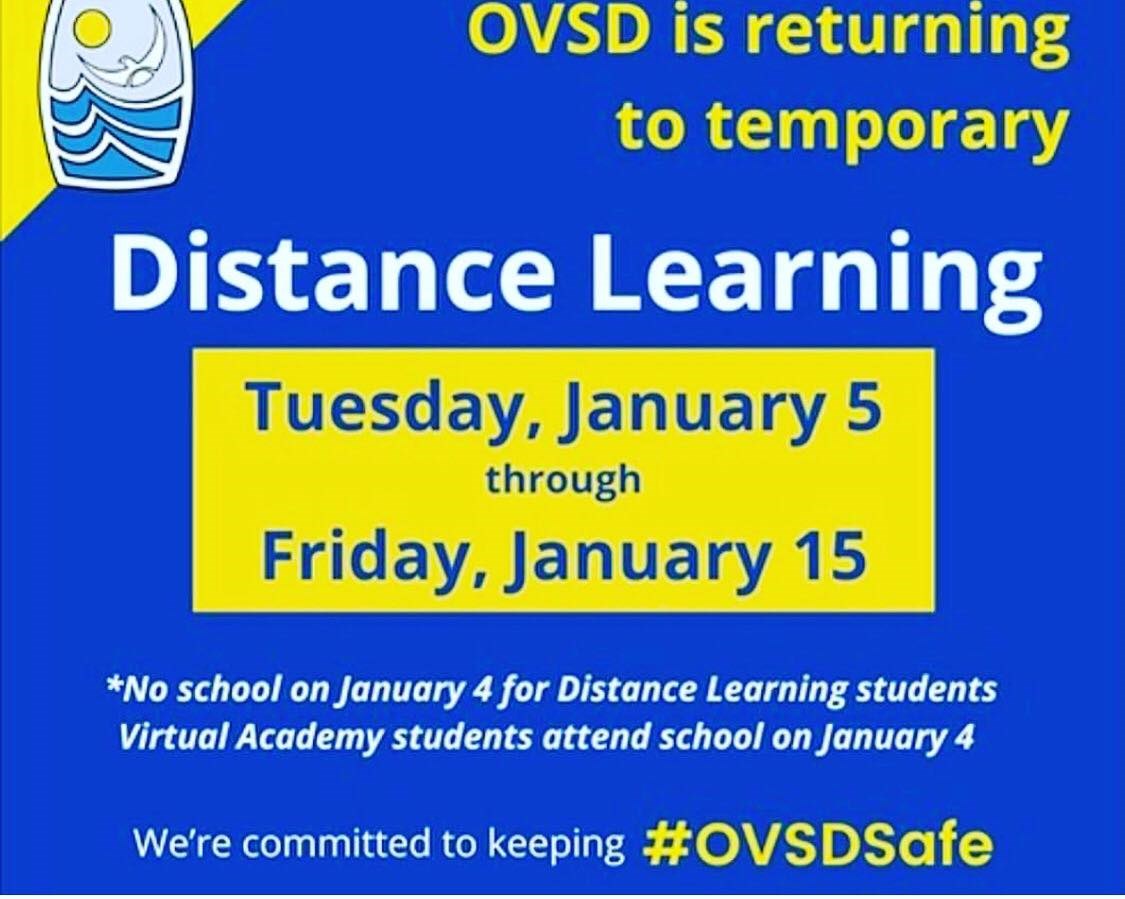 Huntington Beach, CA-Tuesday, 1/5/21, all OVSD students that have been attending in-person hybrid model, will be online until 1/19/21, due to a decision of the Board of Trustees in response to 0% ICU bed capacity in Orange County and neighboring Southern California counties. No school today, 1/4/21 for students, as teachers are preparing for the change. School resumes tomorrow morning, on Tuesday, so please see your school schedule for details and start times.
---
Friday, January 1, 2021 1:50 PM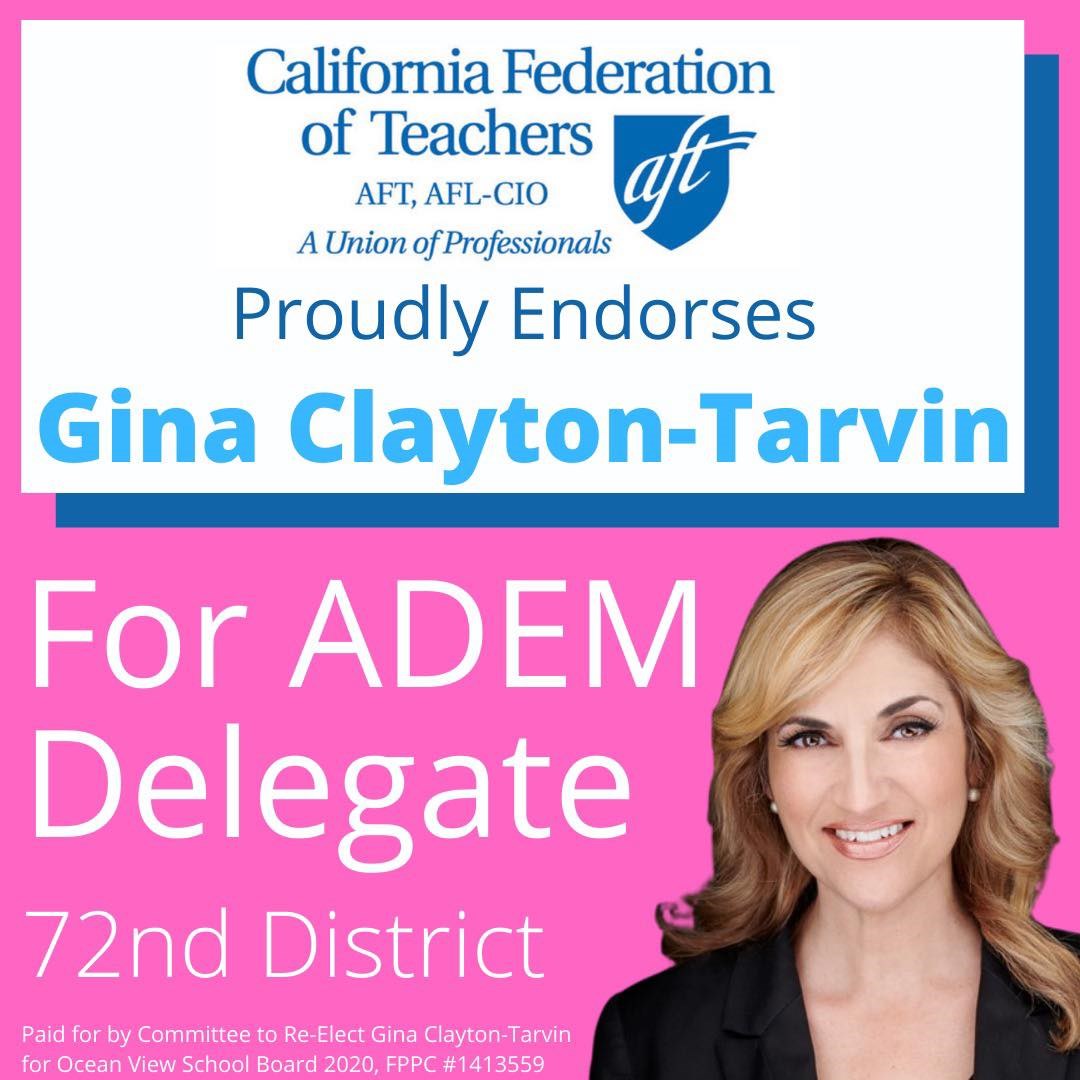 Huntington Beach, CA-Democrats throughout the state of California will be running to add their voices to the state party's platform and agenda. We also decide and vote upon who the State Party will endorse for major offices, like Governor, Attorney General, U.S. Congress and more. I am pleased to once again be running as a candidate for the CA State Democratic Central Committee in District 72. I've been honored to serve you since 2017, and would like to serve for another term. I'm pleased to announce that I have earned the endorsement of the California Federation of Teachers, an organization that I myself am a member of as a rank and file 6th grade teacher in LA County. Thank you California teachers for believing in me. To my Democrat constituents, I hope to earn your support and vote for Assembly District delegate. There will be NO in-person voting this year and any registered Democrat that resides in AD72 is eligible to vote. Just follow the link below to do so. Any questions, please ask me via message here on my site, and note that this delegacy is not connected to my trusteeship in OVSD. Register to vote by Jan. 11 at: ademelections.com/
---
Monday, December 28, 2020 12:41 PM
Clerk Clayton-Tarvin's Official Statement on Oak View Incident with HB Mayor Pro Tem Ortiz
---
Thursday, December 24, 2020 7:42 PM
Merry Christmas from Huntington Beach 🎄🎁🎅🏼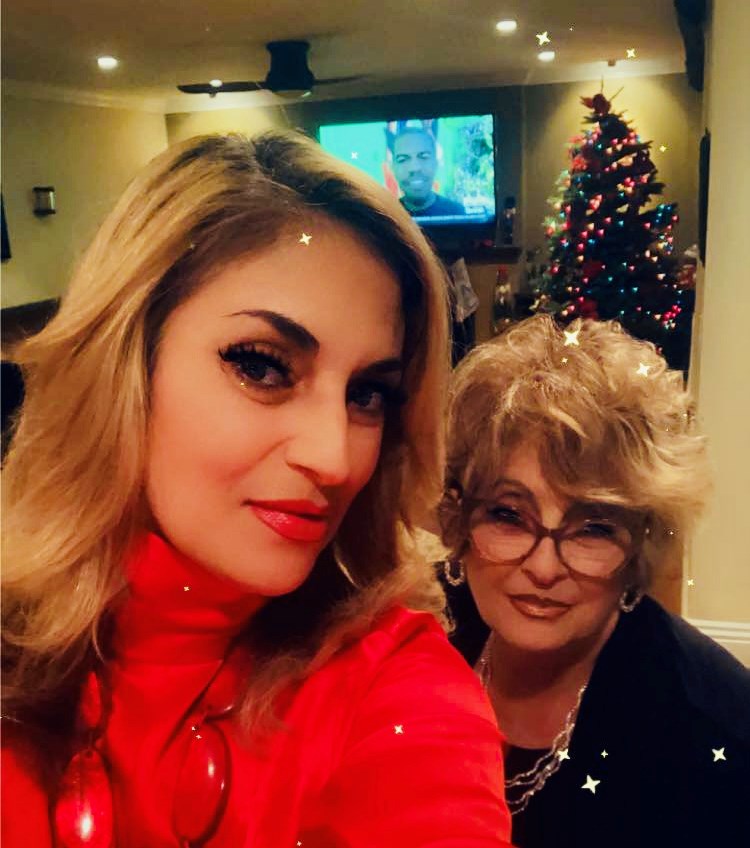 Huntington Beach, CA-Merry Christmas, Feliz Navidad, Buon Natale, and Sretan Božić to our family, friends, and community members from here in HB, across the nation, and around the world from our immediate family to yours.
---
Wednesday, December 23, 2020 6:43 PM
CBS2 News-Huntington Beach Mayor Pro Tem Tito Ortiz Caught On Camera In Maskless Confrontation
HUNTINGTON BEACH (CBSLA) — Huntington Beach Mayor Pro Tem Tito Ortiz was caught on cell phone camera Wednesday getting in the face of a resident.The confrontation happened during a food distribution event after people were alerted to the fact that the former Ultimate Fighting Championship fighter was handing out food without a face covering. The event was being held on Ocean View School District property, which has strict pandemic safety guidelines. "Having close contact with little children, like he did today, and leaning into strollers and into car windows with no mask on is unacceptable to us," Gina Clayton-Tarvin, a school board member, said. "This is a public health emergency." "A leader of our city, a representative of our city, to be in complete denial and not take safety measures, it's not a joke," Victor Valladares, a Huntington Beach resident, said. "People are dying, people are in hospitals, there are zero ICU beds available."
Following the confrontation, Ortiz left and went into a city building.
Police were eventually called to the scene, though it was not immediately clear if any citations were issued.
---
Monday, December 21, 2020 5:19 PM
COVID Case Reporting, Winter Recess
---
Tuesday, December 15, 2020 7:00 PM
Election of New OVSD Board Officers, 2021
---
Monday, December 14, 2020 8:23 AM
Happy Holidays from the Ocean View School Disrict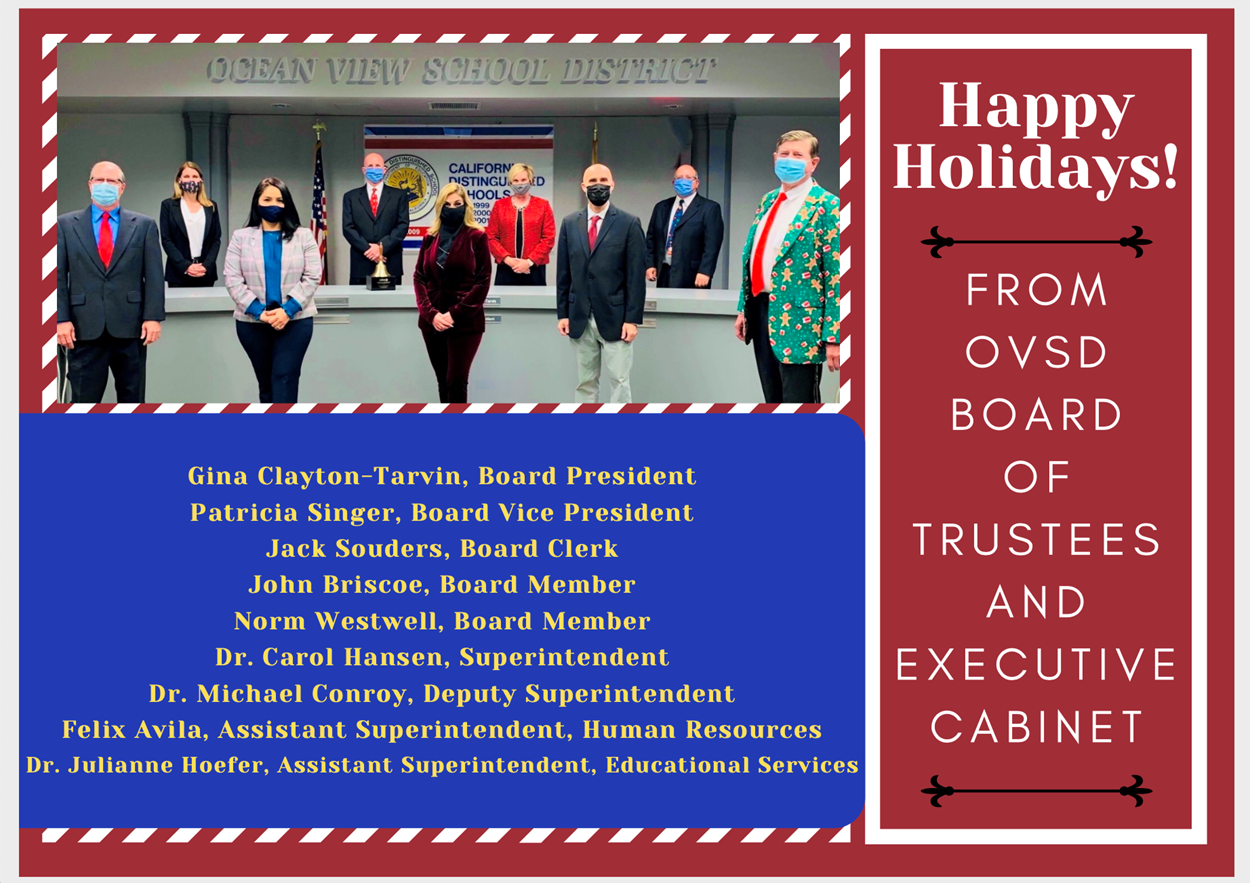 ---
Saturday, December 12, 2020 1:50 PM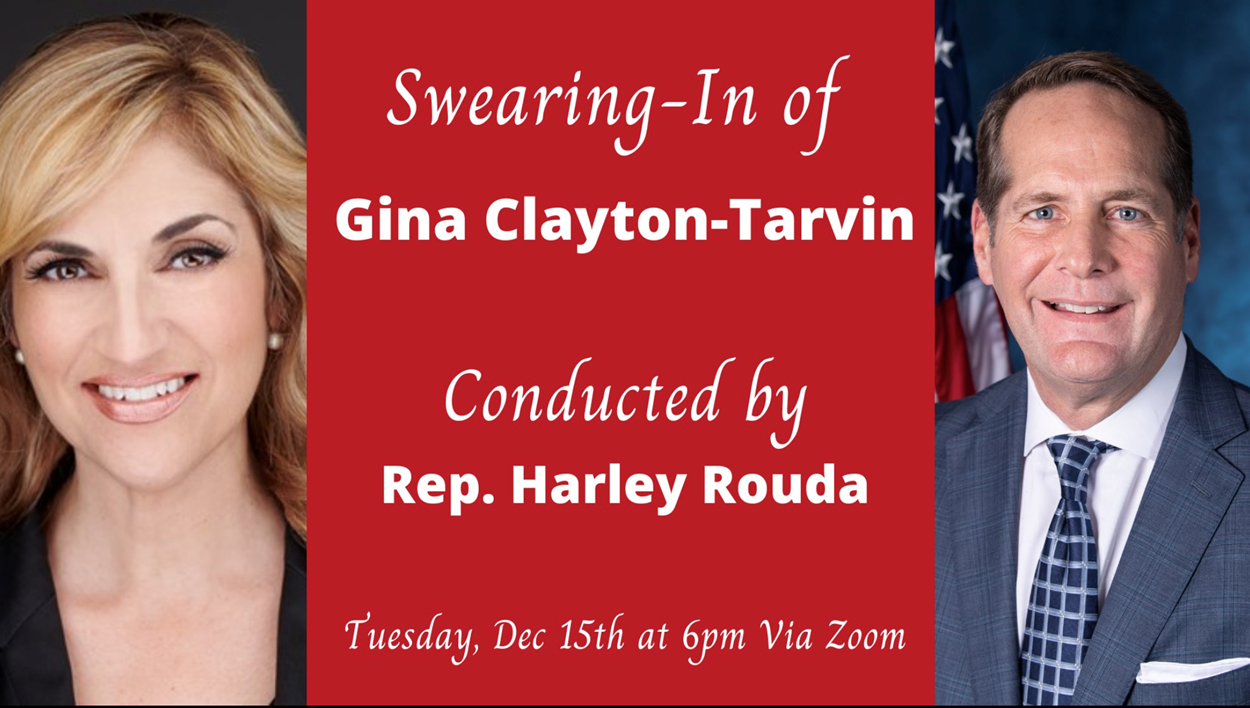 Huntington Beach, CA-Please join the OVSD Board of Trustees for my 2020 swearing-in on December 15th at 6:00pm administered by U.S. Representative Harley Rouda, live from Washington DC. Also, we are pleased to welcome new Interim Huntington Beach Police Chief Julian Harvey to be introduced to the OVSD Board and community. He will make a brief report. Should you wish to make a public comment, you may do so in-person at 16700 Pinehurst Lane, Huntington Beach, Building A, while wearing a mask. Also, public comments can be submitted here: www.ovsd.org/comment and will be read into the record by the Clerk of the Board. To watch the swearing-in and meeting, please attend via zoom at https://www.ovsd.org/boardmeeting (link in event) or by watching via YouTube at https://youtu.be/Y4VxsXH4Z4I.
---
Thursday, December 3, 2020 6:00 PM
Video from Special Board Meeting, Hybrid Update
Huntington Beach, CA-Special Board Meeting/Update on the OVSD Hybrid Schedule


Governor's Stay At Home Order
Yesterday, in response to an increase in coronavirus cases throughout the state, Governor Newsom announced a new stay at home order for regions of California where hospitals are in danger of exceeding capacity. Although this order imposes restrictions on businesses and various activities, it does not affect in-person instruction for school districts that have already opened. The Governor stated that schools should remain open with the necessary precautions in place. In alignment with the Governor's order, OVSD schools will remain open for in-person hybrid instruction.
State and local health officials have cited a large body of evidence that schools' health and safety measures, which include physical distancing, masks, smaller cohorts, timely contact tracing and notifications, and enhanced cleaning and disinfecting protocols, have been effective in combating COVID-19. Dr. Ghaly, secretary of California's Health and Human Services Agency, has said schools are not the source of the recent COVID-19 surges and continue to have low case and transmission rates. OVSD's COVID-19 Dashboarddata provides further evidence that schools are not creating or contributing to the recent increase in confirmed cases. Thus far, OVSD has not had any person-to-person transmission in schools or other facilities. This is largely due to your diligent efforts in helping to keep our schools safe. Together, our staff and students continue to follow guidelines and protocols on our campuses and parents continue to support these important efforts, which is making a difference.
OVSD will maintain the current Hybrid schedule until further notice. However, when COVID-19 cases become more manageable, the District will augment the current split week schedule with more time in school and more direct instruction via Zoom when students are at home. A longer school day will allow for more socialization and instruction. The plan also allows children to keep attending school on the same days to minimize disruption to family schedules.
We will continue to monitor COVID-19 rates in our community, and any changes in the hybrid schedule are dependent upon a decrease in the current COVID-19 surge. A tentative timeline for implementation of the enhanced Hybrid schedule is:
Elementary Schools - January 25th
Middle Schools - February 8
We appreciate your continued partnership, flexibility, and patience as we navigate this challenging and unprecedented chapter in OVSD's history together.
---
Thursday, December 3, 2020 5:01 PM
---
Wednesday, December 2, 2020 2:20 PM
College View Ribbon Cutting and School Tour
Huntington Beach, CA-President Clayton-Tarvin, Superintendent Hansen, Deputy Superintendent Conroy, and Principal Burney narrate this video about the College View Grand Re-Opening and Ribbon Cutting. Brand new interior designs, HVAC systems and playgrounds are highlighted. Measure R funds were used to complete this $18M project.
---
Tuesday, November 24, 2020 5:00 AM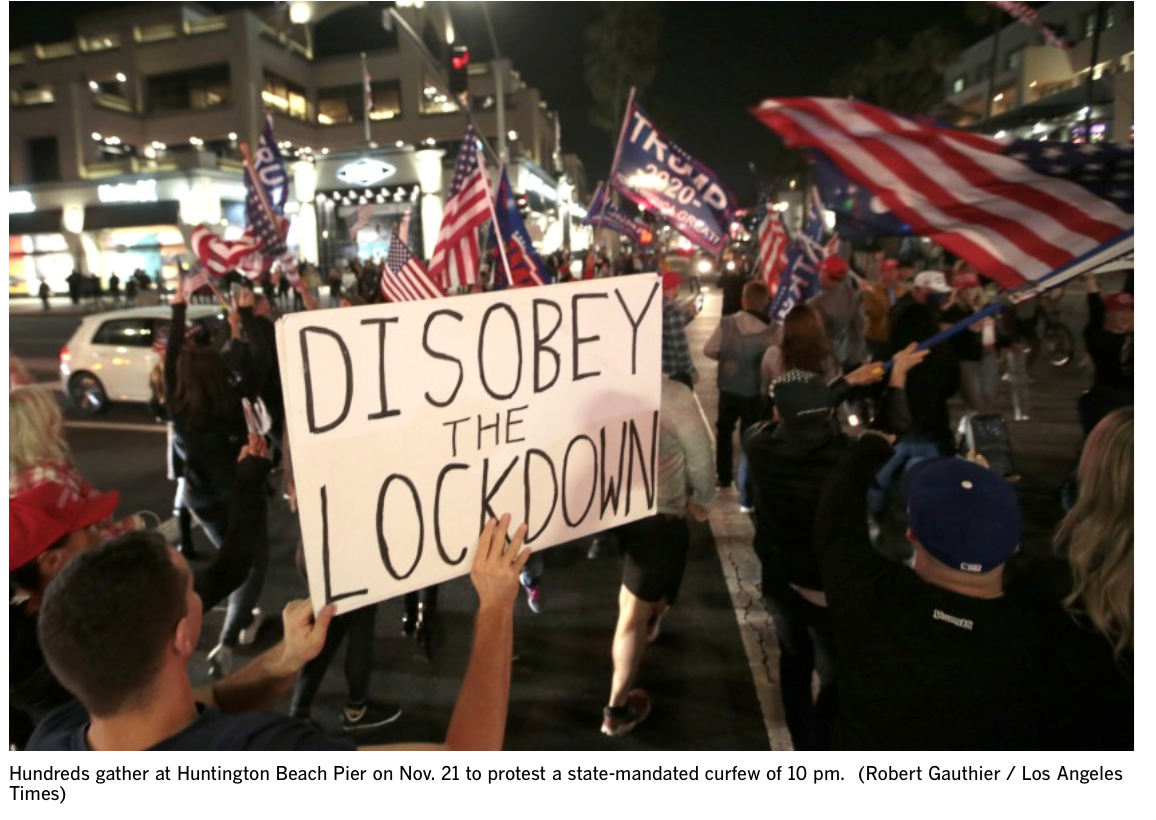 Huntington Beach, CA-Thank you to LA Times' columnist Gustavo Arellano for always taking a closer look at HB, and writing about the sometimes spirited take on matters Californian. Surf City is my town since 1993. Thanks for highlighting my voice, and for always telling the stories of HB for better or for worse. We love our neighbors all the same. Please visit the link above for the column.
---
Thursday, November 19, 2020 2:18 PM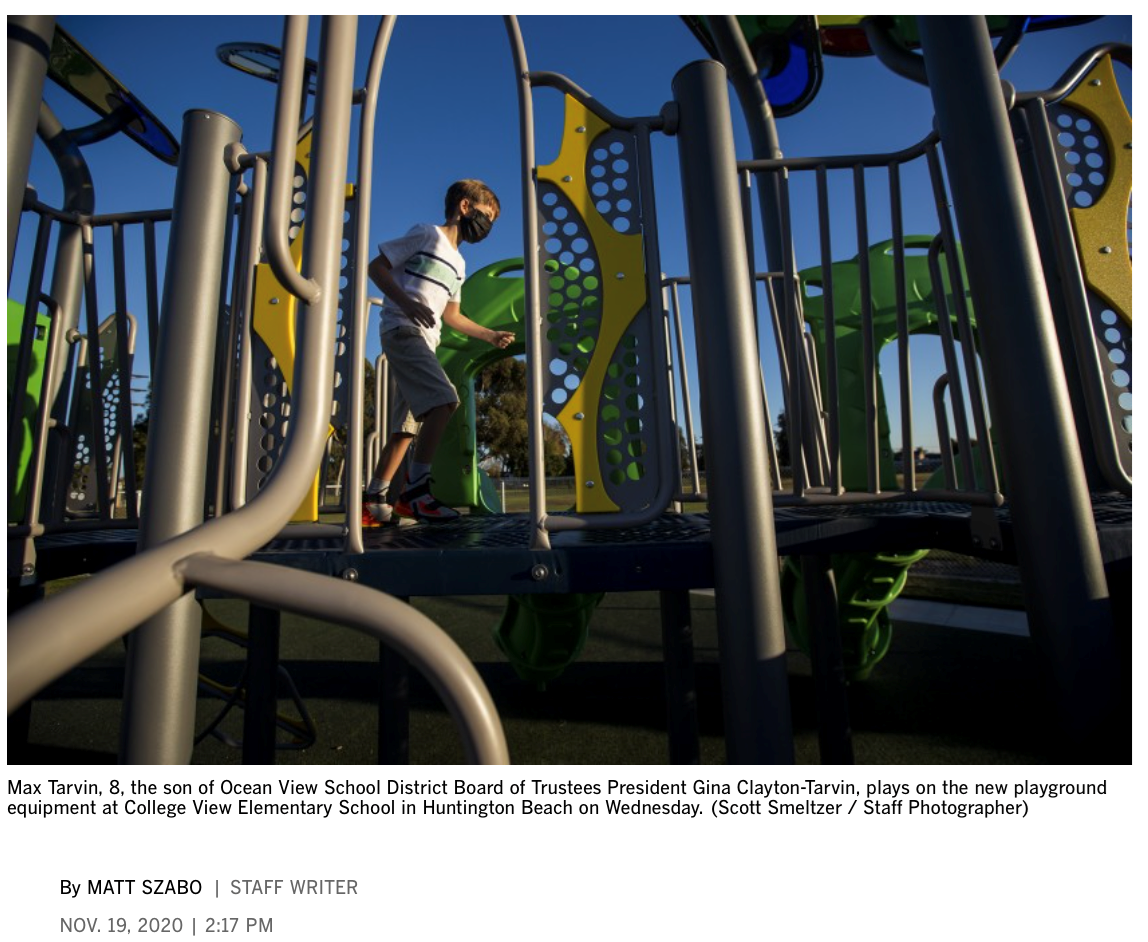 Huntington Beach, CA-We celebrated the reopening of College View Elementary, following an $18 million modernization. While we couldn't have a traditional Grand Reopening, due to COVID-19 restrictions, we commemorated the special occasion with a Ribbon Cutting Ceremony with our Board Members Vice President Patricia Singer and Clerk Jack Souders, Superintendent Dr. Hansen, HB City Council Mayor Pro Tem Kim Carr and staff. We'll be sharing more of this beautifully transformed school in a video coming soon. Thank you LA Times reporter Matt Szabo for reporting.
---
Wednesday, November 18, 2020 12:01 PM


Fountain Valley, CA-Please click hyperlink above to view presentation for Vista View's modernization plans. Designs are being formalized now for the eventual start of projects to begin sometime in summer 2021. We are excited to utilized Measure R funds in such an innovative way.
---
Tuesday, November 17, 2020 6:55 PM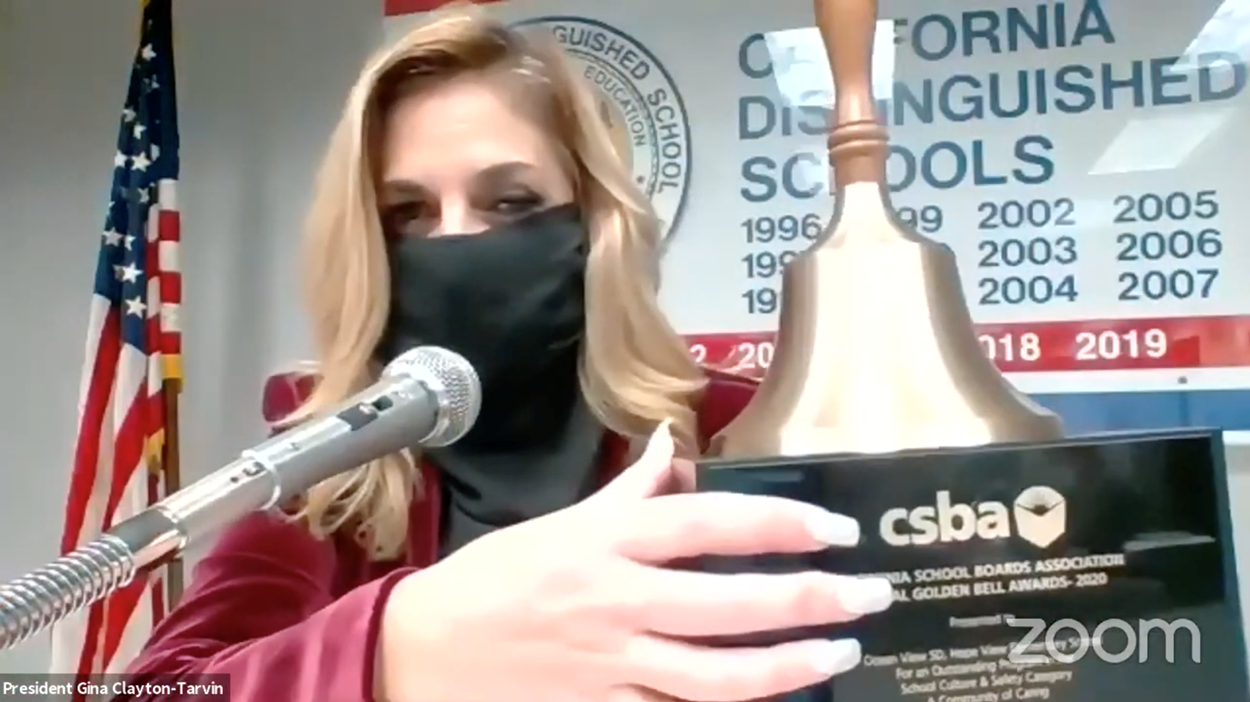 Huntington Beach, CA-OVSD Wins CSBA Golden Bell Award
. The Ocean View School District Board of Trustees are members of the California School Board's Association (CSBA). Each year CSBA provides recognition to a select school districts for outstanding school programs. For the 2020-21 school year, OVSD earned the Golden Bell in the School Culture and Safety Category for Hope View Elementary School's "A Community of Caring." Hope View coordinates a strong and purposeful Social Emotional Learning Program, which integrates the guide dog of America Program. Our teacher of the year, Holly Sjogren leads the program, regularly raising guide pups in her classroom. Now, other schools are beginning to adopt the program, for example we now have a guided puppy in training at Mesa View. Great work Team OVSD!
---
Monday, November 16, 2020 1:40 PM
---
Thursday, November 5, 2020 5:00 PM
Special Board of Trustees Meeting-In Person School Review
---
Friday, October 30, 2020 8:00 AM
Vote 🗳 Center at OVSD, starting Friday, 10/30!
---
Wednesday, October 28, 2020 5:00 AM
---
Wednesday, October 21, 2020 5:25 PM
---
Tuesday, October 20, 2020 8:33 PM
---
Tuesday, October 20, 2020 7:17 PM
Board Meeting, Trustee Westwell Censured
Huntington Beach, CA-The Board of Trustees approved a resolution censuring Trustee Norm Westwell. Resolution No. 10:2021, initiated by Board Clerk Jack Souders, cites OVSD Board Bylaws, Board Policy, Robert's Rules of Order, and lists detailed findings regarding Trustee Westwell's conduct. The Resolution proclaims that the Board "disapproves of the aforementioned conduct and finds it to be a violation of the Board Bylaws, and that unacceptable behavior shall not be tolerated." It states that Trustee Westwell is ordered to "treat fellow Board Members and the Public with dignity and respect at all times."
---
Wednesday, October 14, 2020 1:12 PM
---
Friday, October 9, 2020 5:00 PM
OVSD Trustee and surfer 🏄 Jack Souders endorses Oscar Rodriguez for HB City Council!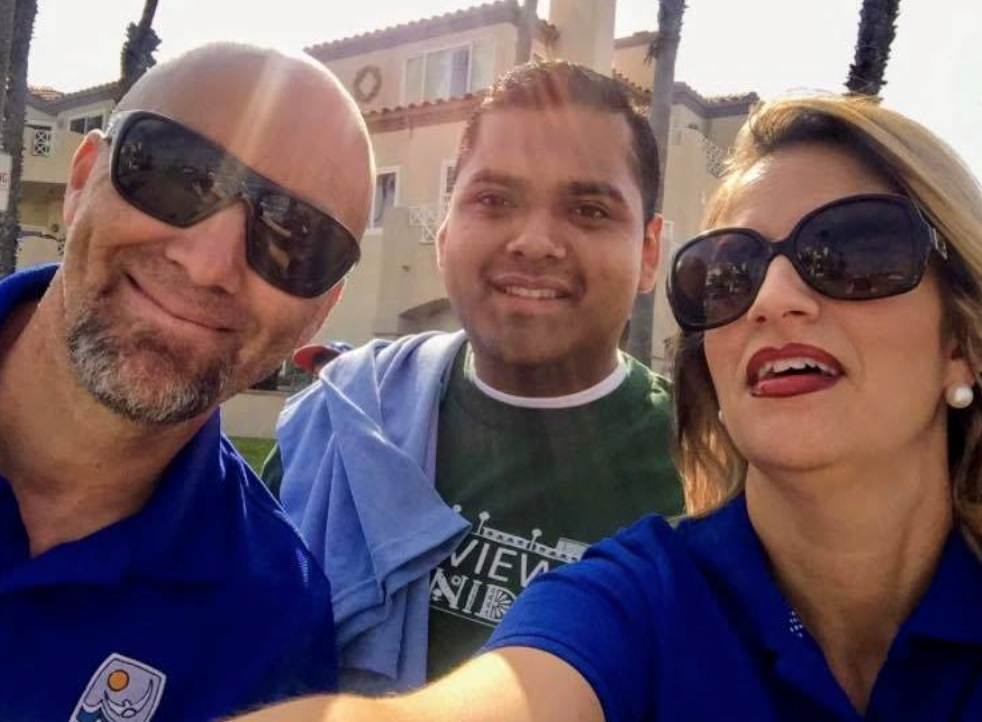 Huntington Beach, CA-Political Party is irrelevant when the preservation and defense of our environment is at stake. Lifelong surfer, HB resident, teacher, and school board trustee Jack Souders has made the call, he's on Team Oscar. When we needed a champion for the people of HB to fight for our students and staff to breath clean air, Oscar was there. As an avid lover of our beaches and ocean, Trustee Souders knows the only candidate to support is Oscar, as he's been a leading voice in fighting the Poseidon project in SEHB. Oscar will work to provide protections for our coastline and surrounding communities. What do you want this election, to stick to the same old partisan ways, or to think outside the box and get behind a grassroots native of HB? Trustee Souders and I may not be in the same political party, but we agree, Oscar Rodriguez is the right person to represent all of us in Huntington Beach. Let's do this HB, vote
now!
---
Thursday, October 8, 2020 4:21 PM
General Election 🗳 2020!
Santa Ana, CA-There's nothing like sharing the experience of voting with our own children. My son Max and I visited the OC Registrar of Voters just now, got to see our old friends who keep this excellent agency running like a fine oiled machine, and to vote for our preferred candidates. No matter who you vote for, please get to the polls and make your voice heard.
---
Tuesday, October 6, 2020 6:00 PM
Regular Board of Trustees Meeting Video
Huntington Beach, CA-Video from Regular Board of Trustees video of Dr. Carol Hansen, Superintendent, providing the Board with an update on the reopening of our school campuses. On September 28, schools opened for in-person instruction with our hybrid model. Staff reported that health screenings and touch-less temperature checks went smoothly, and that classroom safety enhancements were in place and being used effectively. In the event of a positive COVID-19 case, she said the District would take swift action, collaborate with the OCHCA, follow specific protocols established, and provide transparent communication. In addition, as recommended by the Governor, OVSD has started surveillance testing for all staff.
---
Tuesday, October 6, 2020 1:40 PM
Voting Has Begun, HB USA 🇺🇸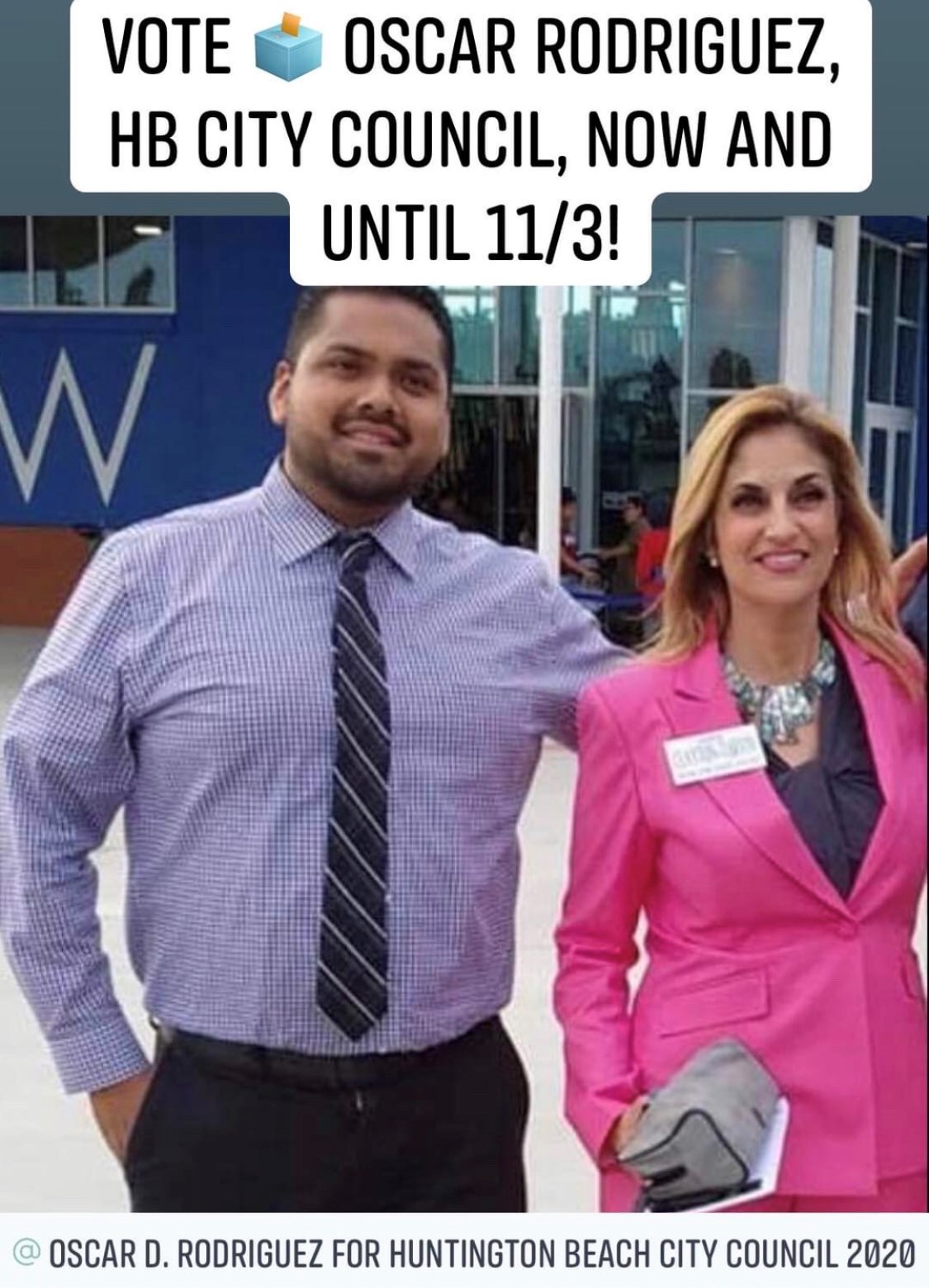 Huntington Beach, CA-Let's make the move to a more balanced Huntington Beach City Council with a vote for an actual community servant that cares about ALL of HB's residents. Whether it be fighting the corporate polluter across the street from our Oak View Schools in Ocean View School District, to feeding kids in need and working to save Perry School in Huntington Beach City School District, to providing the largest weekly food distributions in HB for those in need during the COVID19 Pandemic, Oscar does it all. He's a local hero.
---
Tuesday, October 6, 2020 12:07 PM
Honorable Trustee Keri Kropke for North Orange County Community College District, Area 7
---
Thursday, October 1, 2020 10:42 AM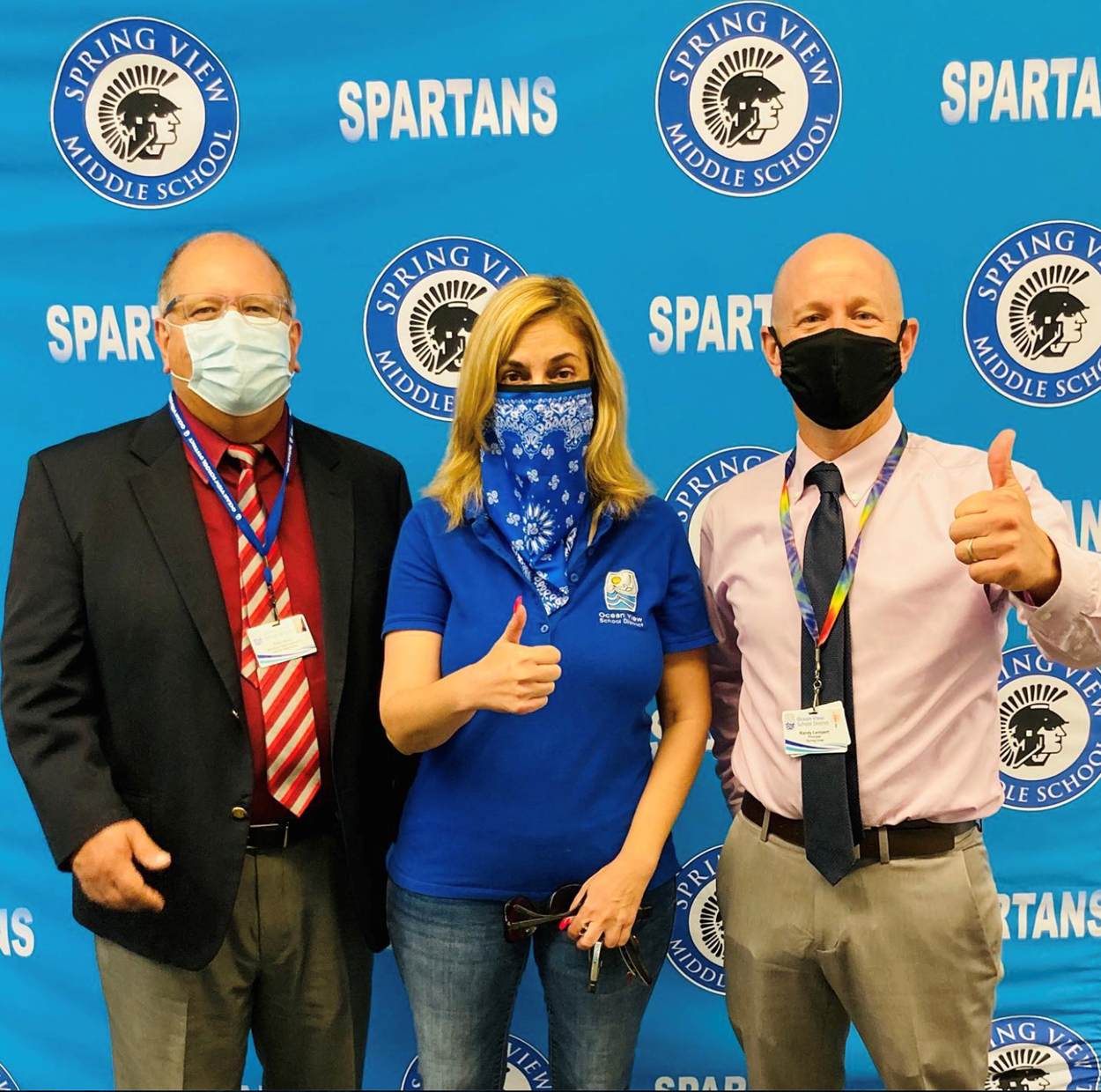 Huntington Beach, CA-Spring View First Day of School, Cohort B. Wow, you're amazing Spring View All is going well at our Spring View Middle School and we were so happy to see all of our students and teachers there, all ready to learn, with masks on and engaged. Our OVSD students are the best behaved kids I know. Visited all the classrooms with Mr. Lempert, principal and Mr. Avila, Assistant Superintendent, Human Resources. Thanks to Ms. Trace and Mr. DeLaChica for letting us peek in to listen and learn. Onward and upward, Spartans!
---
Wednesday, September 30, 2020 7:34 PM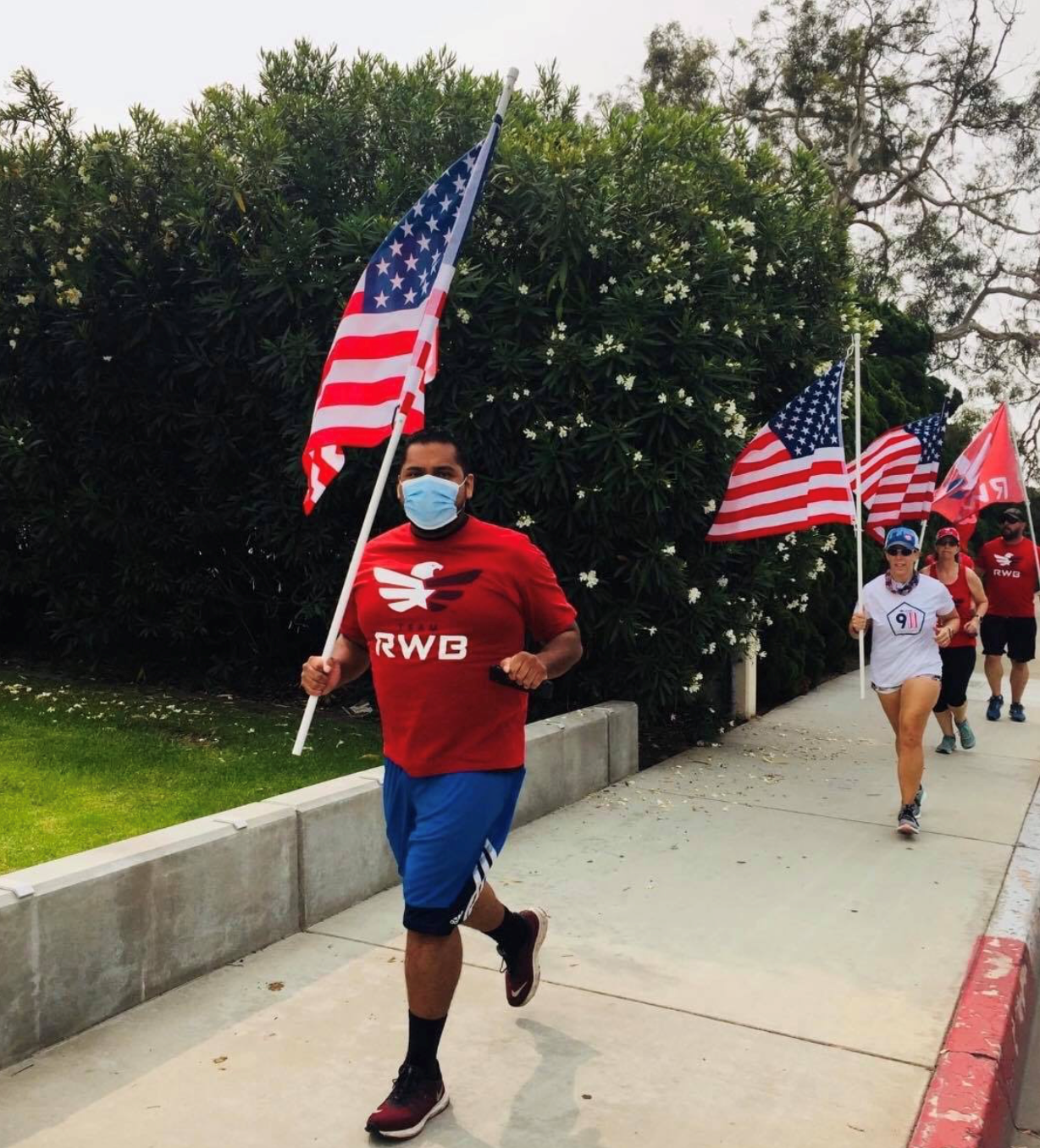 Huntington Beach, CA-When someone this extraordinary makes a commitment to serve the public, we should all stand up and take notice. No matter who you are, what party you belong to, which neighborhood you live in, Oscar Rodriguez will represent you. He is not just a local champion for environmental justice, he is a hero to the children he fought to protect in Ocean View, HB. He advocated for students and teachers that were being polluted by the Rainbow Trash Dump in the heart of Surf City in Oak View beginning in 2015. He's been a driving force to save Perry School in HBCSD this year. Oscar Rodriguez has been a leading voice on stopping HDD and gentrification in HB since 2014. He's been providing food to the community during the COVID Pandemic and does it all on his own time and dime. Oscar is the only candidate to take on Poseidon for SEHB, fighting this project since 2016. He works on a daily basis providing housing for our U.S. Military Veterans, and runs to honor the victims of 9/11. He serves without being asked, gives to all, and turns no one away. I wholeheartedly endorse patriot Oscar Rodriguez for HB City Council. Join our bipartisan group, and consider him for your vote starting this October 5th, with Election Day on November 3rd.
---
Monday, September 28, 2020 11:46 AM
KNBC4 News Report, All Schools Open 🍎 in OVSD!
Huntington Beach, CA-Schools Open
in OVSD. Such exciting news. We at OVSD were just featured on KNBC4 and for our in-person school reopening for all General Education students, as well as our September 9, 2020 opening for Special Education students. OVSD always first in everything, vanguards in education because we have excellent relationships with our labor groups including our hardworking teachers and staff. Doesn't cost us a thing but mutual respect and care for employees. This is what having a positive working relationship with unions equals. Click link to view KNBC4 news report.
---
Friday, September 25, 2020 11:50 AM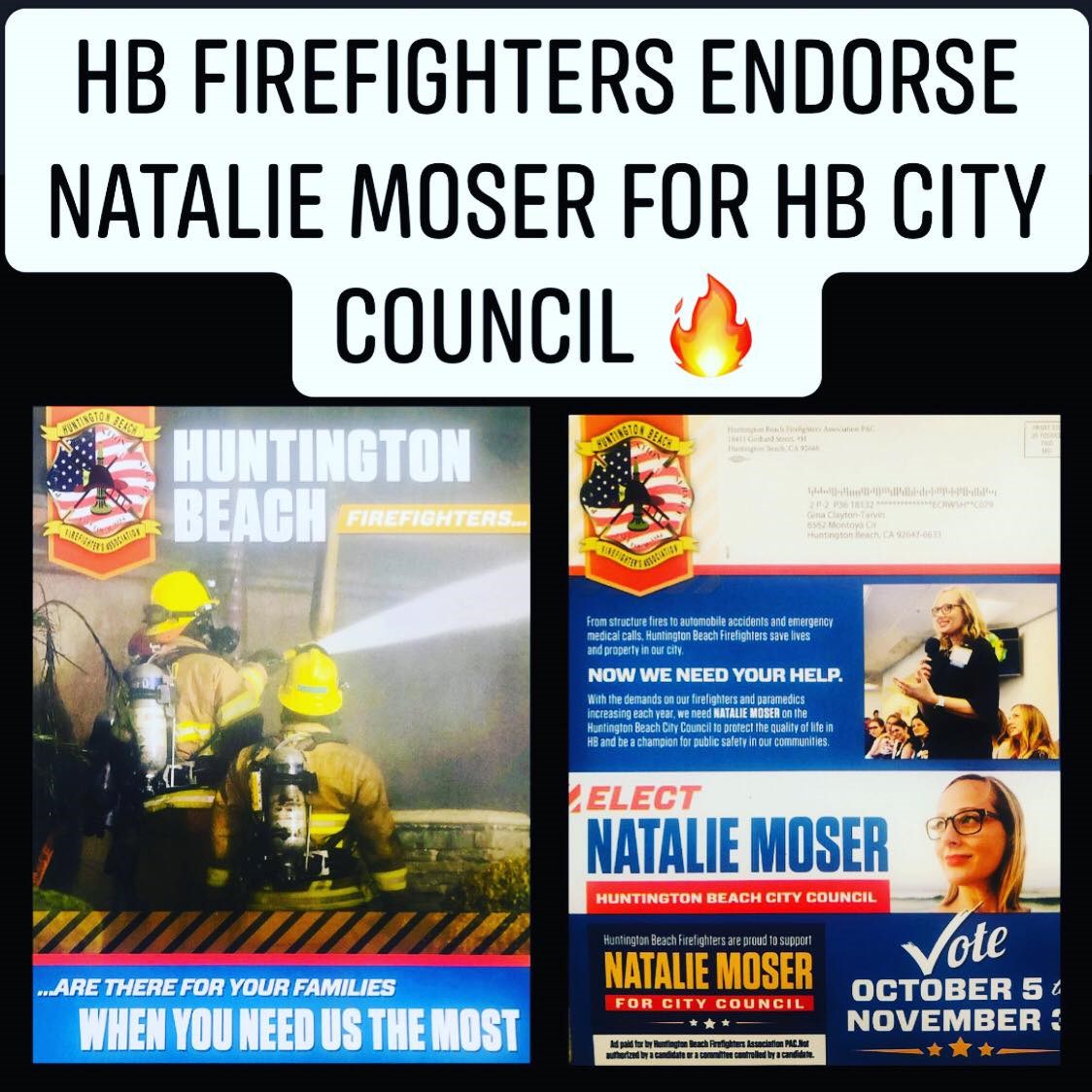 Huntington Beach, CA-Amazing work, Natalie Moser has been endorsed by the Huntington Beach Firefighters' Association. She was also named the OVSD Volunteer of the Year for her outstanding volunteer work at Circle View School. I believe that we as HB residents have another reason to support and vote for Natalie for HB City Council. I'm proud to stand with our firefighters and endorse Natalie Moser. Voting begins 10/5 and Election Day is 11/3. Please consider Natalie for your vote this General Election 2020. Let's do this HB, Vote
!
---
Tuesday, September 22, 2020 5:30 PM
Special Board of Trustees' Meeting
Huntington Beach, CA-Special Board of Trustees' Meeting to consider for approval several items including the Learning Continuity Plan (LCP) and the collective bargaining agreement between CSEA, Chapter 375 and OVSD for 2019-2022. See YouTube for video.
---
Thursday, September 17, 2020 10:38 AM
Vote For Oscar Rodriguez for HB City Council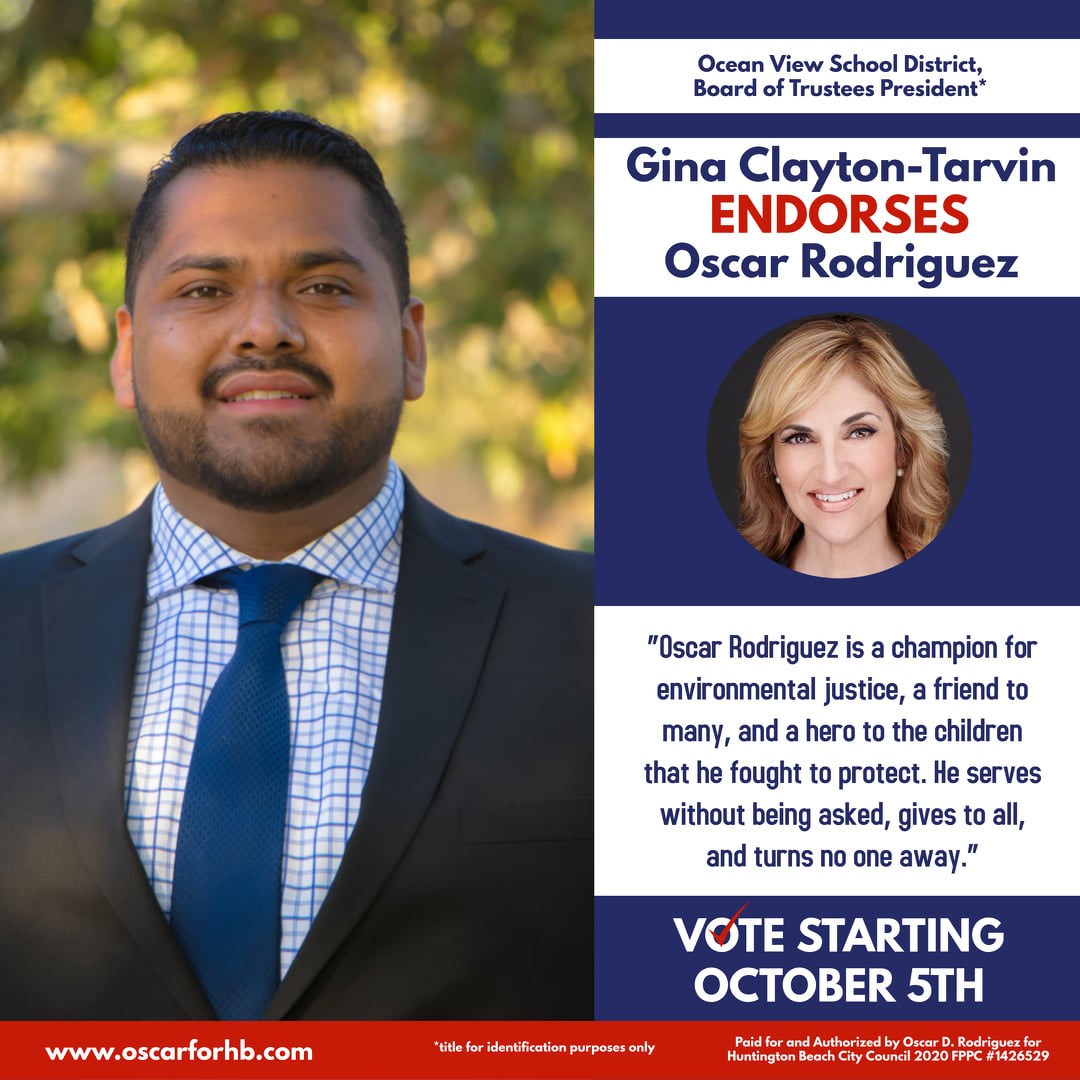 Huntington Beach, CA-What can I say? Oscar Rodriguez is a local hero. He is the example for so many in our community, to our students, to our youth. You are one of the finest "products" the Ocean View School District has helped to create. To know that one of our alumni is doing so much to give back to the community is phenomenal. Here's the thing, it is easy for people to say they care, but it's hard to actually do the work to show it. I support and endorse Oscar because he not only says it, he does it. He puts your money where your mouth is, a true leader that is not afraid of hard work. He does the hard work and never complains while doing it. I thank him for having our students' backs during the struggle for environmental justice in HB, getting this Rainbow Trash Dump under control. Without him, it would have never happened. We at OVSD are forever indebted. Starting this October 5th when absentee ballots begin to arrive and until Election Day, November 3, 2020, get out to vote. We can't afford any more inaction on our City Council. Anyone reading this, please do me a personal favor and donate to Oscar's campaign. Any dollar amount will help. I know how hard it is to win an election and it takes funds to get the message out. Even $5 will help, or if possible the maximum contribution of $600. Thank you for your consideration. Link to donate here, https://secure.actblue.com/donate/oscarforhb2020
---
Wednesday, September 16, 2020 8:30 AM
Las Fiestas Patrias, Mexican Independence Day Observed 🇲🇽
---
Tuesday, September 15, 2020 6:00 PM
OVSD Regular Board of Trustees Meeting
---
Monday, September 14, 2020 8:35 AM
New and Improved OVSD Lunch Schedule
---
Friday, September 11, 2020 10:26 AM
Patriot Day Observed, 9/11 Memorial
---
Wednesday, September 9, 2020 7:23 AM
Welcome Back to School 2020-2021 🏫 🍎 👩‍🏫
Huntington Beach, CA- From Vice President Singer and me, welcome back to our students, staff, and families. Today begins our first day (virtually). Let's keep up this good work in OC, keep COVID numbers down, and get off the list on 9/22. Come on OVSD, let's do this. Welcome Back!
---
Monday, September 7, 2020 11:20 AM
Labor Day, Education is Union Work 🍎!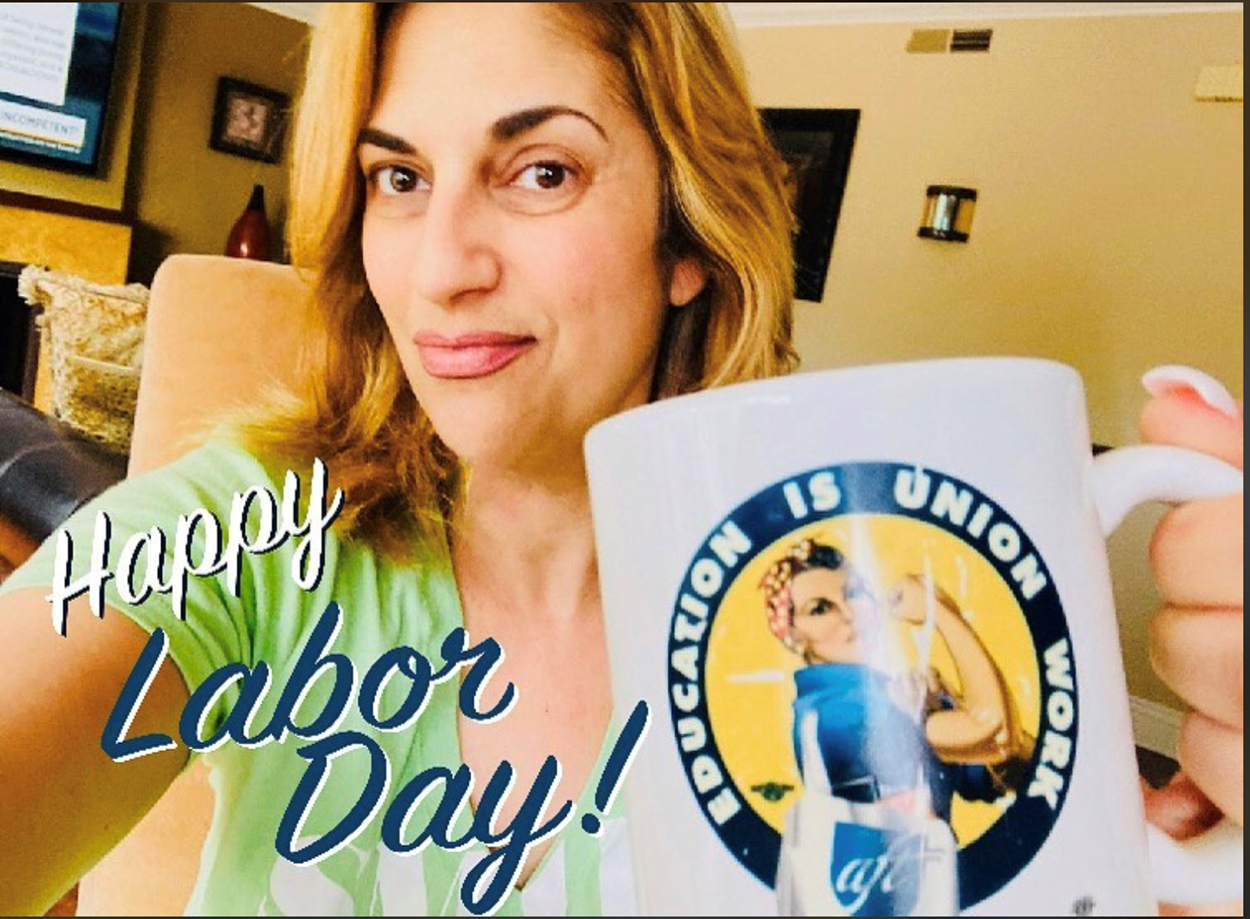 Huntington Beach, Ca-Happy Labor Day from this longtime rank and file public schoolteacher. I'm a proud union member of AFT Local 2317, AFL-CIO, the ABC Federation of Teachers. As well as being an educator myself, as president of OVSD, I'm the employer of over 1,000 school employees including CTA teachers and CSEA classified staff. Times are tough right now, during this pandemic, but I promise things will get better. At this time, I'm grateful to be employed and commit to work protecting jobs here in OVSD. Providing safe working conditions is my number one priority. We look forward to better times to come. This Labor Day, we thank those who have come before us to blaze the trail for workers' rights.
---
Sunday, September 6, 2020 3:57 PM
Republicans and Democrats Agree in OC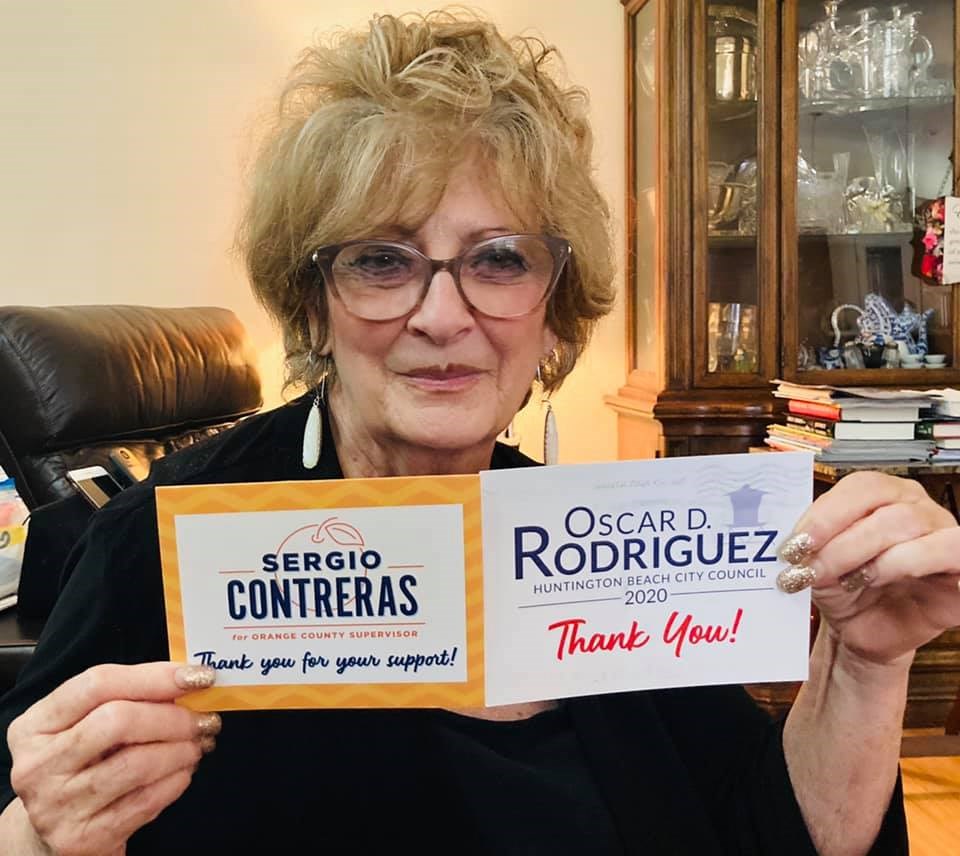 Huntington Harbour, CA-My mom, Dolores Clayton, a lifelong GOP member and voter is putting her money where it matters. She's pretty proud to show off her thank you cards from candidates Sergio Contreras and Oscar Rodriguez for elections in OC this year. She said, "it's time to bring balance to the Board of Supervisors and to the HB City Council." She donated. Join my mom and me in supporting and donating to Oscar and Sergio in their races. This is truly what country over party looks like. We need your support to make this happen OC!
---
Saturday, September 5, 2020 4:17 PM
Call to Action, Be Vigilant-Labor Day Weekend
---
Friday, September 4, 2020 4:00 PM
Marine View Bussing Decision Made By Board
---
Wednesday, September 2, 2020 8:05 AM
Critical Recap from Last Night's Board Meeting, Watch Now
---
Monday, August 31, 2020 8:26 AM
​ News from OC Health Care Agency
---
Tuesday, August 25, 2020 10:24 PM
Special School Board Meeting Recap
Huntington Beach, CA-Special board meeting recap discussion including school reopening and transportation update. Please watch YouTube video recap with the entire meeting.
---
Monday, August 24, 2020 5:20 PM
Back to School 📚 for this teacher!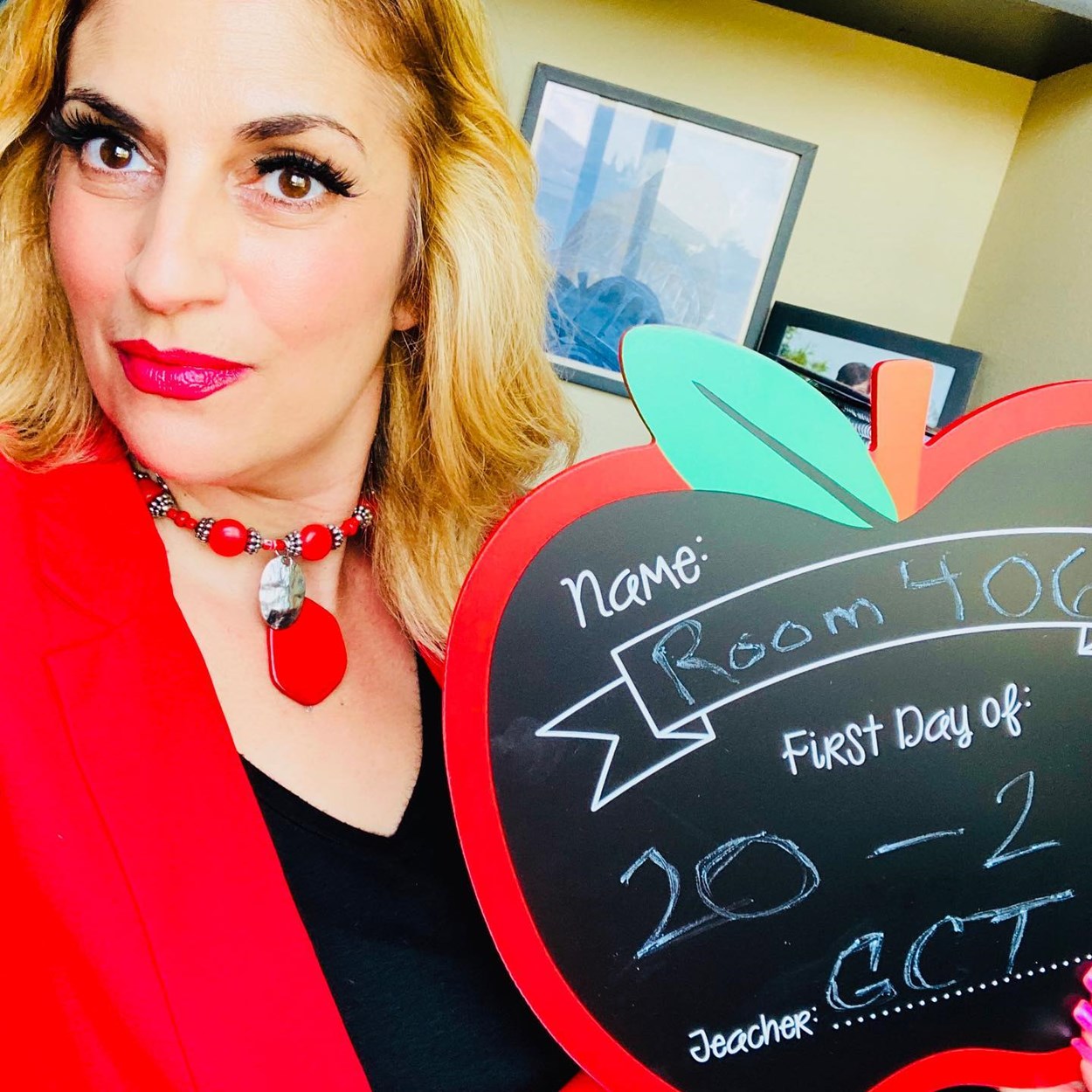 Cerritos, CA-Today was my first day back for the 2020-2021 school year. My Cerritos 6th grade students were piped into my home office here in Huntington Beach via Google Meetings for their first day of school. Distance learning is not ideal, but it's the mandate in LA County for now and we will make the best of it. I taught live from 8:30am to 1:40pm online. We can do this Cerritos!
---
Thursday, August 20, 2020 2:10 PM
Back to school for teachers in Cerritos!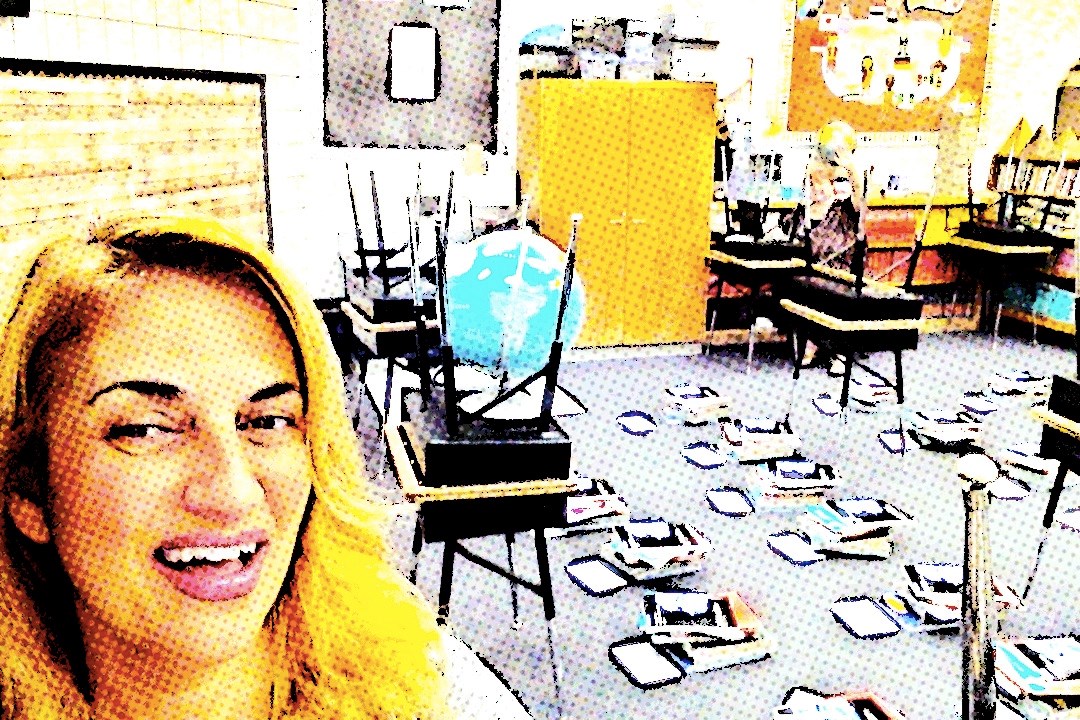 Cerritos, CA- Back to school for teachers in ABC Unified School District where I have been a teacher for 24 years. We are making piles of books and supplies for each student as they will come back to school next week virtually, but will pick up their books physically. We are starting out our school year virtually here in LA County and may not return until January. It is going to be long haul, but we have to what we have to do. We hope LA County can get its COVID numbers down soon. In the meantime, in all counties statewide that are on the COVID Watch List, let's all do our best to get this under control so that all can back to school, in-person when safe.
---
Monday, August 17, 2020 12:10 PM



Huntington Beach, CA-Schools & Communities First will reclaim over $12 billion every year for schools and local communities. Most of us want similar things like good schools for our kids, a healthy family, and safe neighborhoods. But for four decades, big corporations have not been paying their fair share, leaving California with the most overcrowded classrooms in the U.S. and with some of the worst ratios of counselors, librarians, and nurses per student. Schools & Communities First ensures that our schools and communities come first with the resources to educate all of our kids and the services to support all of our families. It closes commercial property tax loopholes benefiting a fraction of corporations and wealthy investors, without affecting homeowners or renters, and reclaims $12 billion every year to fund world-class schools and strengthen local economies to lift up all Californians. It's time to invest in California's future. Please consider voting YES on Prop 15. Click the hyperlink above to learn more.
---
Thursday, August 13, 2020 10:00 AM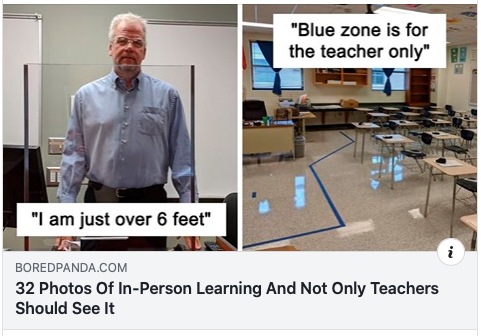 Huntington Beach, CA-Coverage on OVSD's Response to COVID-19. Thanks to the Bored Panda news agency for highlighting our District's response to eventual school reopening. I appreciate the extensive coverage on the matter, and the opportunity to be interviewed, see my responses at number 4 in the article. Article Excerpt: "Clayton-Tarvin's main source of inspiration that helps her to get through this difficult period is the children. "I want other parents to see that there are elected school board members out there that care and frankly, have the ability to get off their rear ends and buy safety equipment." She urged everyone to stop saying the money doesn't exist and go find it. "Demand accountability from your state and national leaders. No safety equals no school. Redress is critical, demand your child's safety." Click hyperlink for more of my thoughts on the matter, my tweet is number 4.
---
Wednesday, August 12, 2020 8:36 PM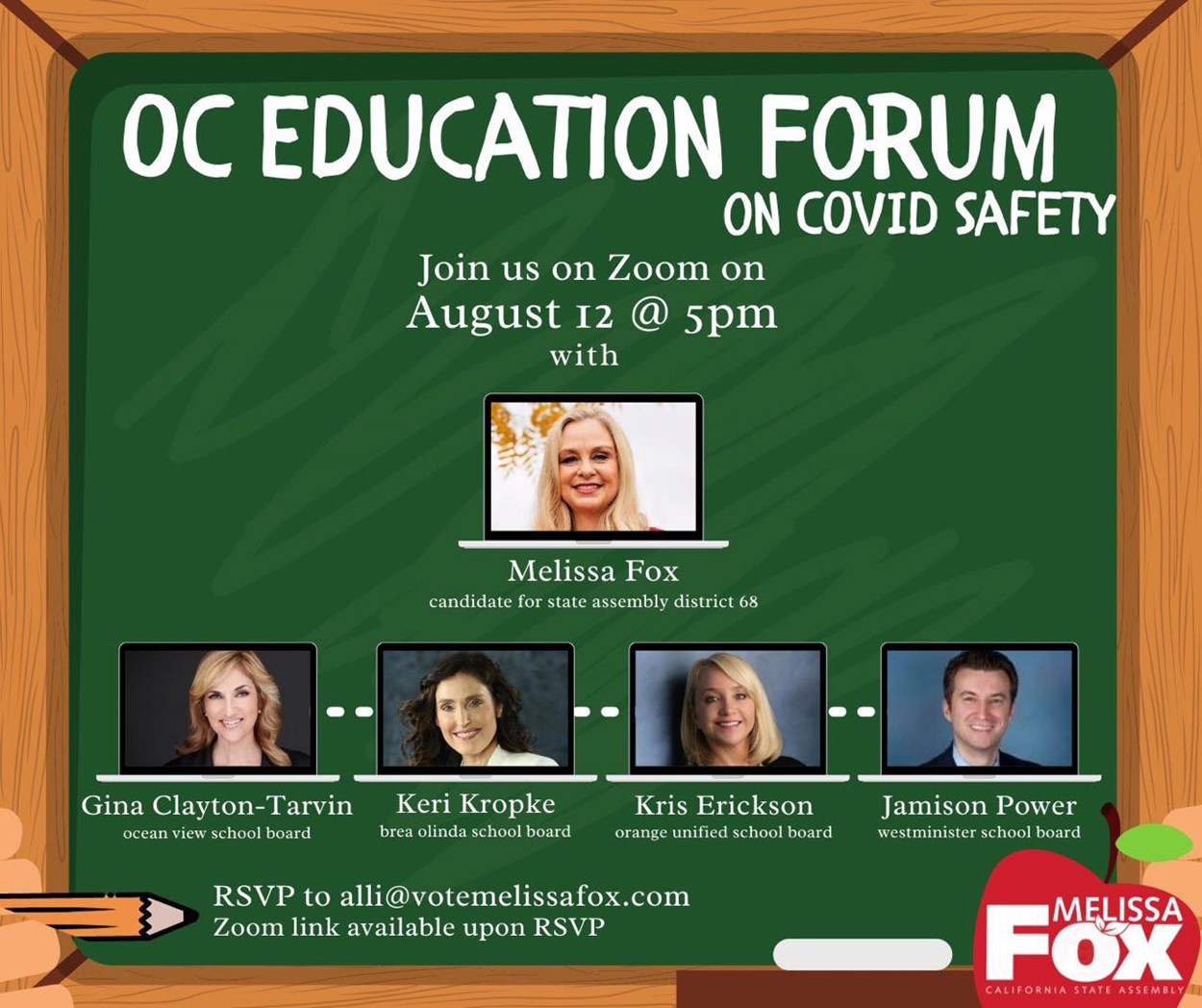 Irvine, CA-As one of Orange County's school board members, I'm pleased to be able to share information with other decisions makers on OVSD's plans for a safe school reopening when permitted. I invite our Ocean View community to join CA Assembly District 68 and Irvine Councilwoman Melissa Fox, and Trustees Keri Kropke (Brea Olinda USD), Kris Erickson (Orange USD), and Jamison Power (Westminster SD) and me for a spirited discussion on the realities of bringing our children back to schools this fall. Click hyperlink to watch forum via YouTube.
---
Wednesday, August 12, 2020 8:00 AM
---
Tuesday, August 11, 2020 7:39 PM
CBS2-Some Orange County Schools Prepare To Reopen For In-Person Instruction
---
Friday, August 7, 2020 7:57 PM
Important Election 2020 Announcement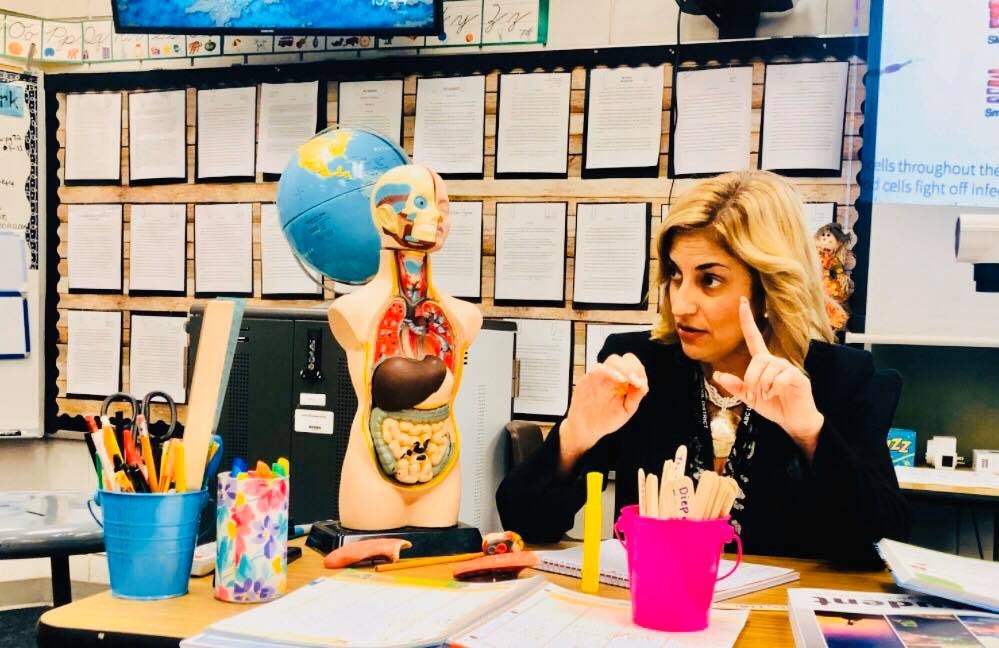 Huntington Beach, CA-Today was the last day to file to run for elected office in Orange County. I had anticipated facing multiple challengers as I have in past elections (2012 and 2016). However, no one filed to challenge me for the board of trustees seat this election season, therefore, I will retain my seat for 4 more years. We have prevailed. I look forward to continuing to serve the children and you, the residents of OVSD. Thank you all for your support. We will get through these tough times together, get our kids and teachers back to school safely, and our lives back on track. You can count on me to be stable and thoughtful in all I do to navigate our school district back to calm waters. Recall, that as a parent, teacher, and leader in our community, you can count on me. I'm here for our school community for another term.
---
Monday, August 3, 2020 7:42 PM
Voting is Foundational to Democracy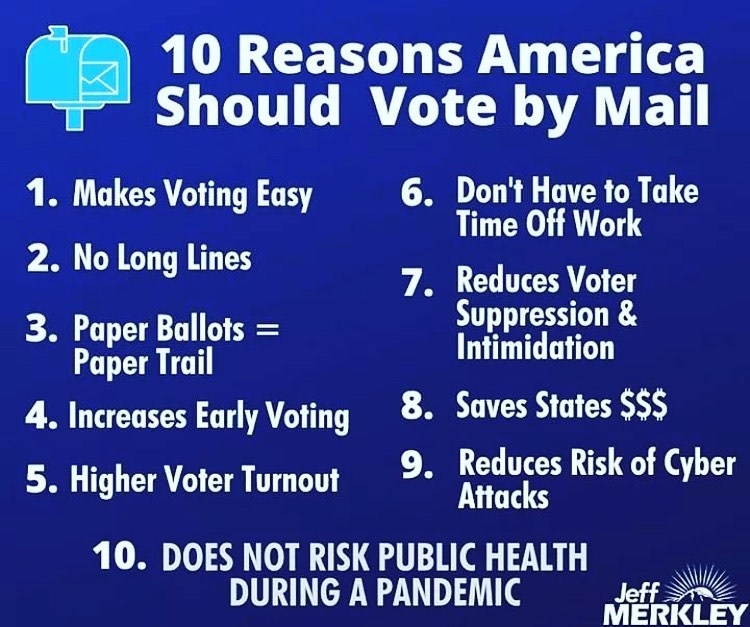 ---
Sunday, August 2, 2020 1:10 PM
---
Monday, July 27, 2020 6:08 PM
Coming this fall, Virtual Academy (Parent Choice)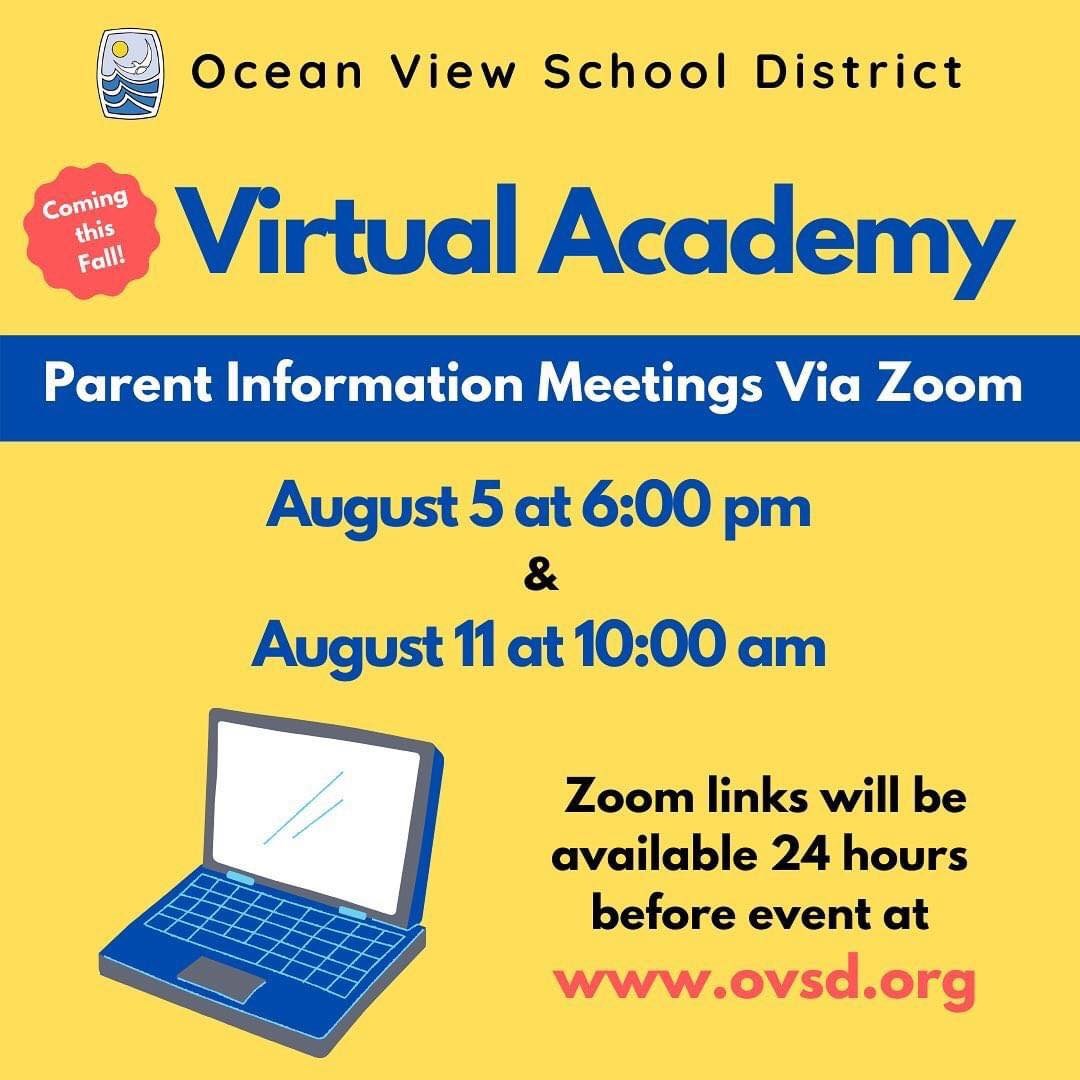 Huntington Beach, CA-This fall for those families who choose online learning for the entire 2020-2021 school year, they are invited to join one of the Parent Meetings via Zoom on August 5 or 11 to learn how your child may benefit from this model of instruction. Zoom links will be posted 24 hrs before the meeting at www.ovsd.org

---
Sunday, July 26, 2020 6:02 PM
Bolsa Chica Fire, Previous OVSD Property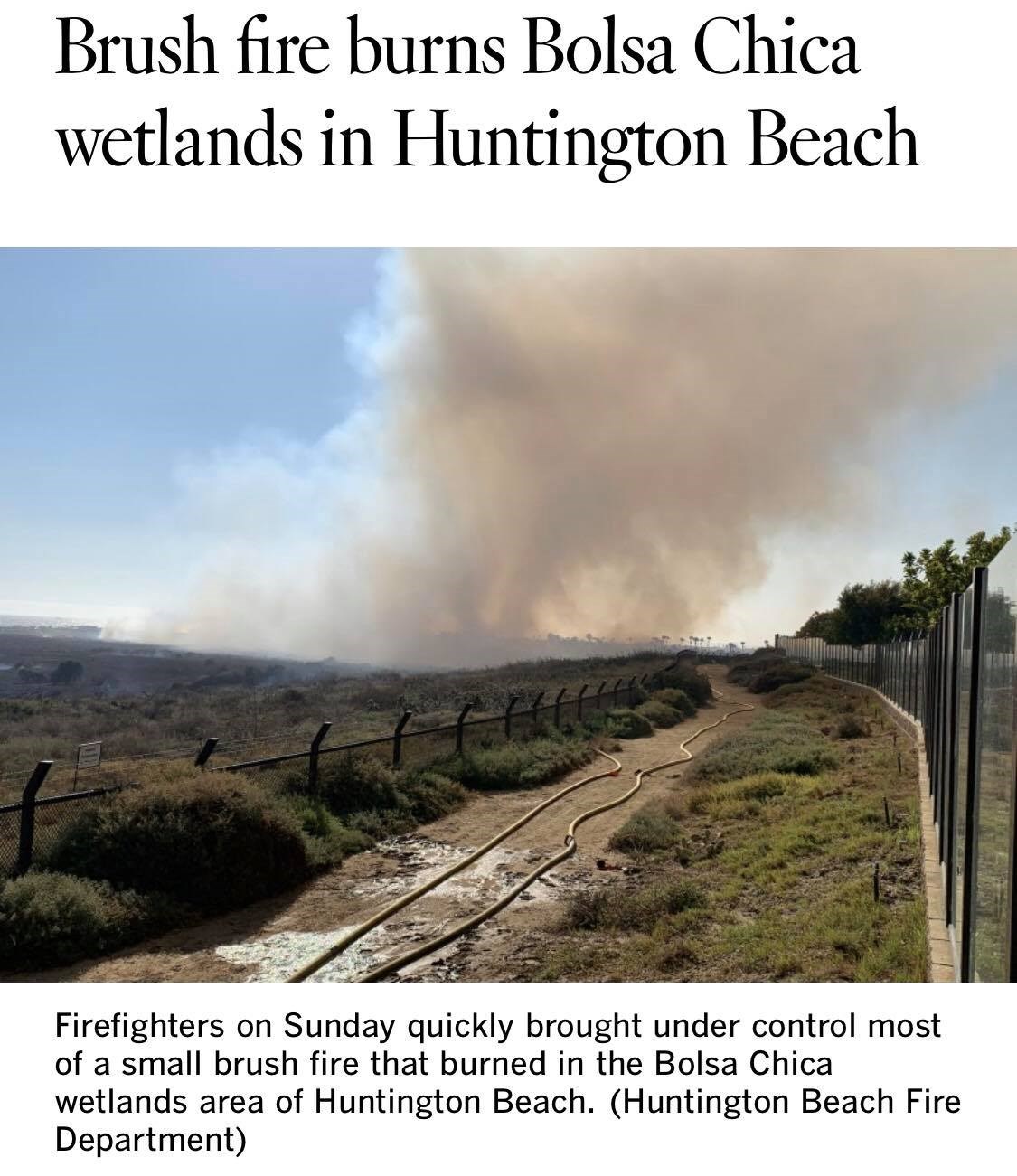 Bolsa Chica Wetlands, HB-Very sad to see the fire in the Bolsa Chica Wetlands. This part of the wetlands was previously owned by OVSD and then sold by the Board of Trustees to the State of California in a deal in 2004. The District sold this crucial piece of property to the state for inclusion in the environmentally sensitive Bolsa Chica Mesa. The District declared 15 acres of the mesa it owned as surplus property. The school district, which had owned the land since the 1966, was supposed to build a school there to accommodate a large development. Plans changed and the land was sold. The seemingly under-serviced the area and allowed brush to overgrow. We are sad to see our former property fall into the condition it has and this fire occur endangering our district families in the Brightwater area. We are pleased to know that no one was hurt or property damaged thanks to the tremendous work of the Huntington Beach Fire Department and supporting agencies such as the OC Fire Authority.
---
Friday, July 24, 2020 2:57 PM
Serving the Community, the Greatest Honor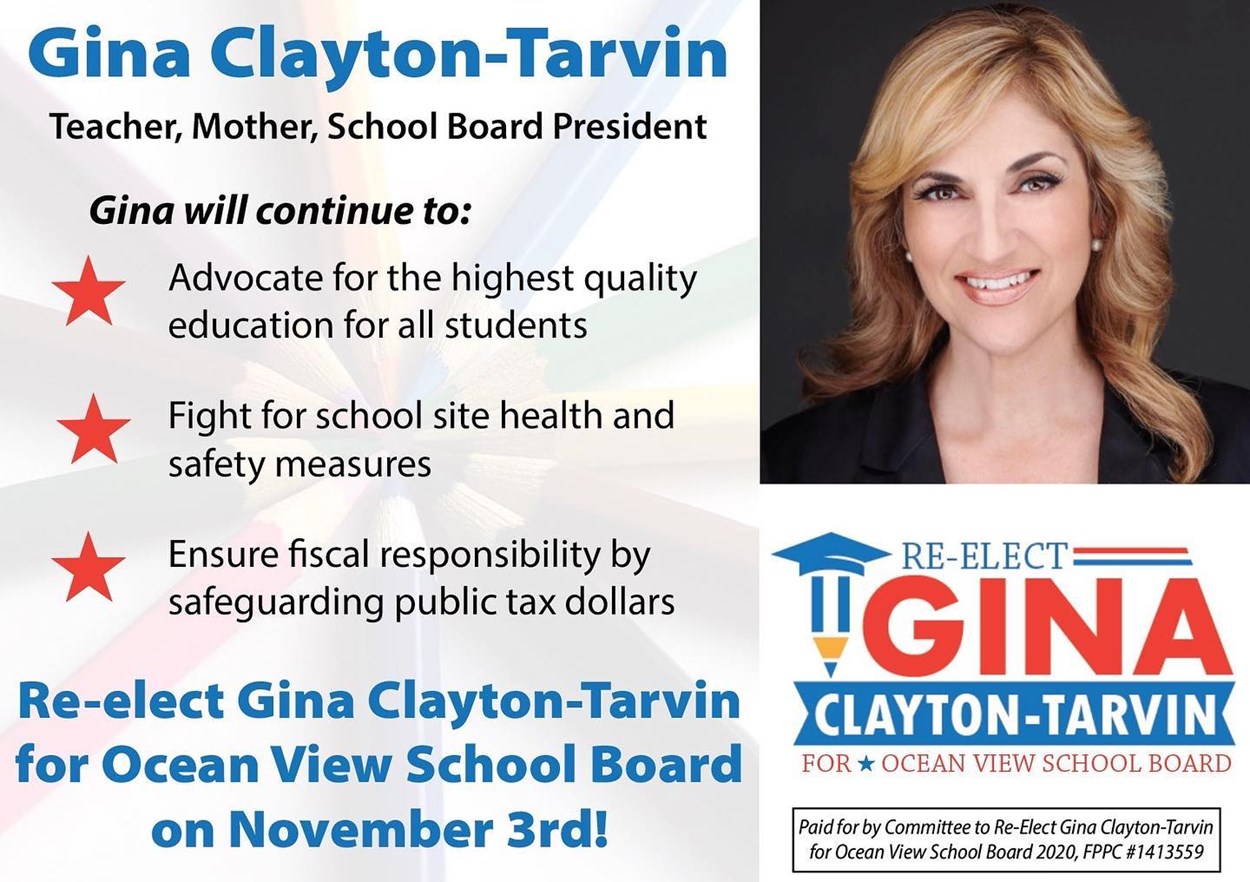 ---
Thursday, July 23, 2020 12:45 PM
OVSD Public Service Announcement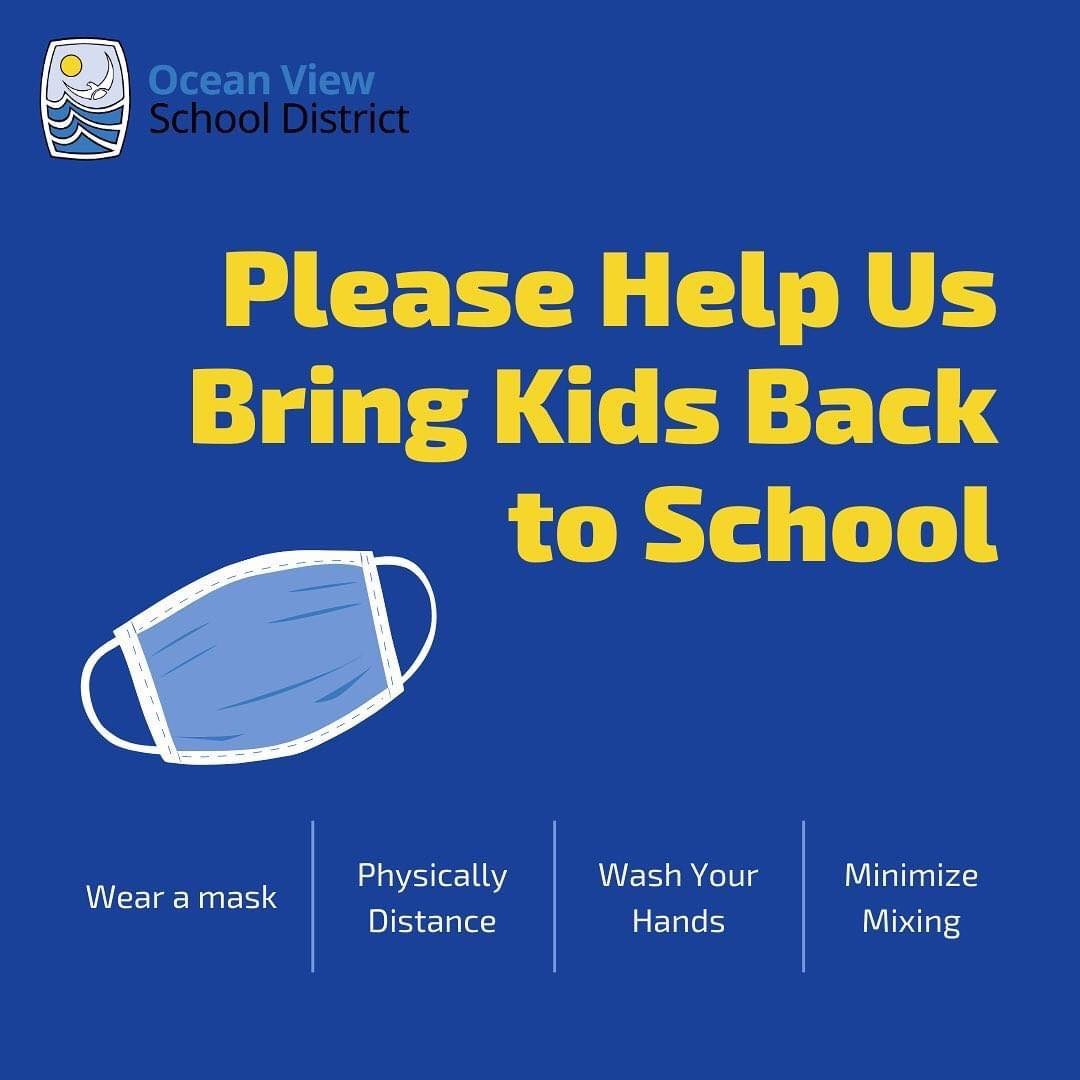 Huntington Beach, CA-Please HB, Fountain Valley, Westminster and Midway City, we need your help to bring kids back to school this fall in a safe manner. Our Governor, Gavin Newsom has given us a roadmap to reopening schools. The 5 metrics have to be met to get OC under control. Please do what we're asking: social distance, wear face coverings, stop mixing and wash your hands. Let's do this OVSD!
---
Tuesday, July 21, 2020 11:40 AM
We love our local Scouts!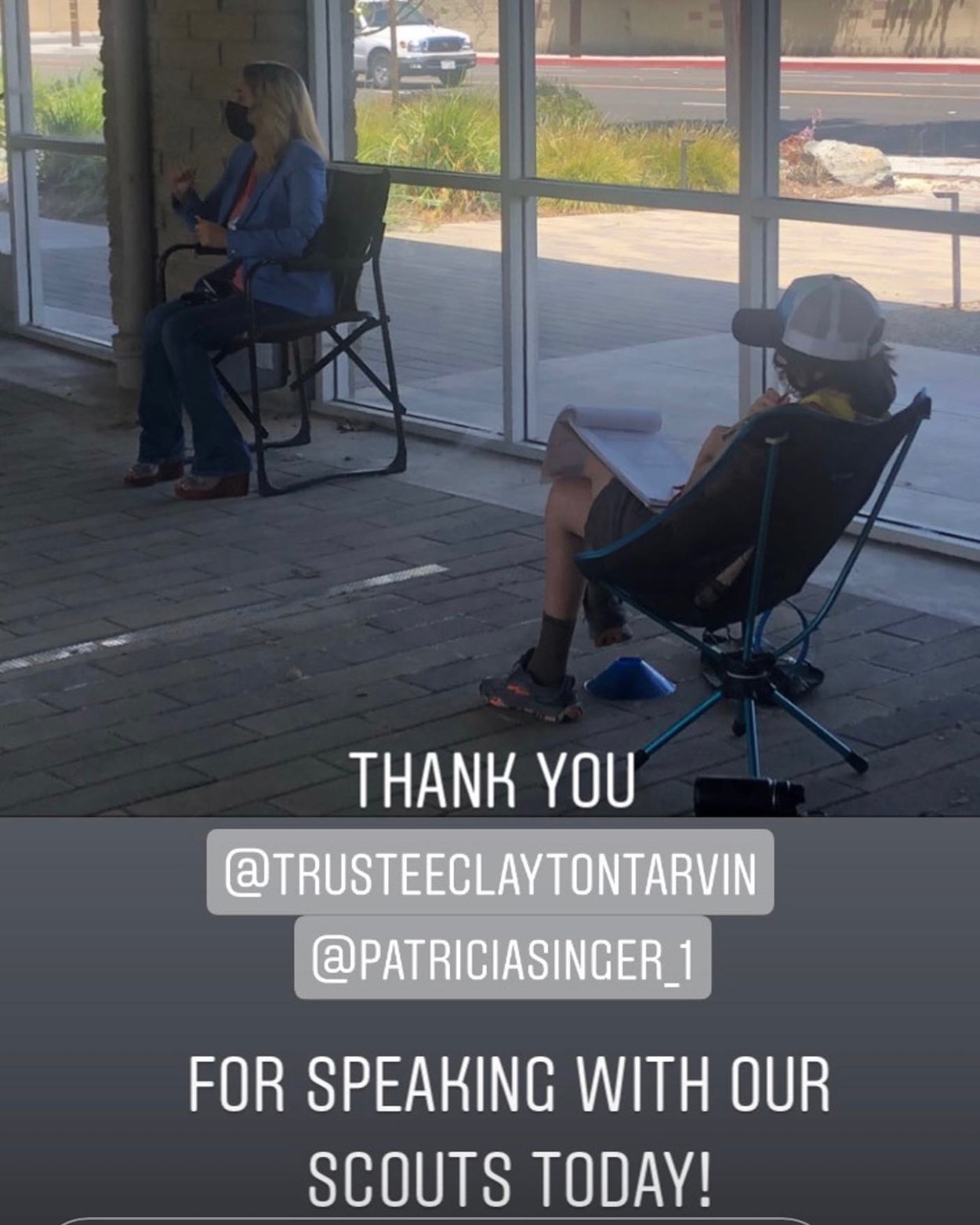 Huntington Beach, CA-Thank you for inviting Vice President Patricia Singer and me to speak with the Scouts this morning after interviewing us. They were able to earn their badges for Citizenship and the Community. The Scouts asked such thoughtful and intellectually advanced questions, and I was very impressed with them. What polite young ladies and gentlemen. All with masks on and socially distanced. Good work Scouts.
---
Monday, July 20, 2020 7:42 PM
HB City Council Meeting Public Comments
---
Sunday, July 19, 2020 11:40 AM
Team Ocean View School District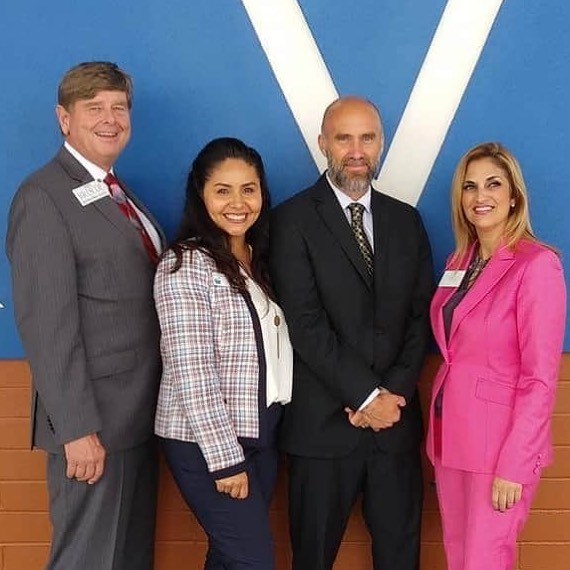 Huntington Beach, CA-Team OVSD, (from left to right) Trustee John Briscoe, Vice President Patricia Singer, Clerk Jack Souders and me President Gina Clayton-Tarvin met last year at the grand opening of the amazing Oak View Gym in HB. Celebrating a hard fought victory to secure environmental justice for 1,000 students and 100 staff members who had been polluted by the formerly out of control open air trash Rainbow Transfer Station and Trash Dump, we cherished this day. The gym financed by a legal settlement of over $26M from our dispute with owners Republic Services. No longer does anyone have suffer the stench of inequality in Surf City. We were proud to show corporate America that they would not abuse our predominantly Latino Oak View community anymore. We all need to step out of our comfort zone, have the courage, and fight for those who have been marginalized in our society. Stand up for your neighbors!
---
Saturday, July 18, 2020 12:45 PM
School Reopening, we can do this Orange County 🇺🇸